The meaning of "the weekend" has changed and it's boosting the economy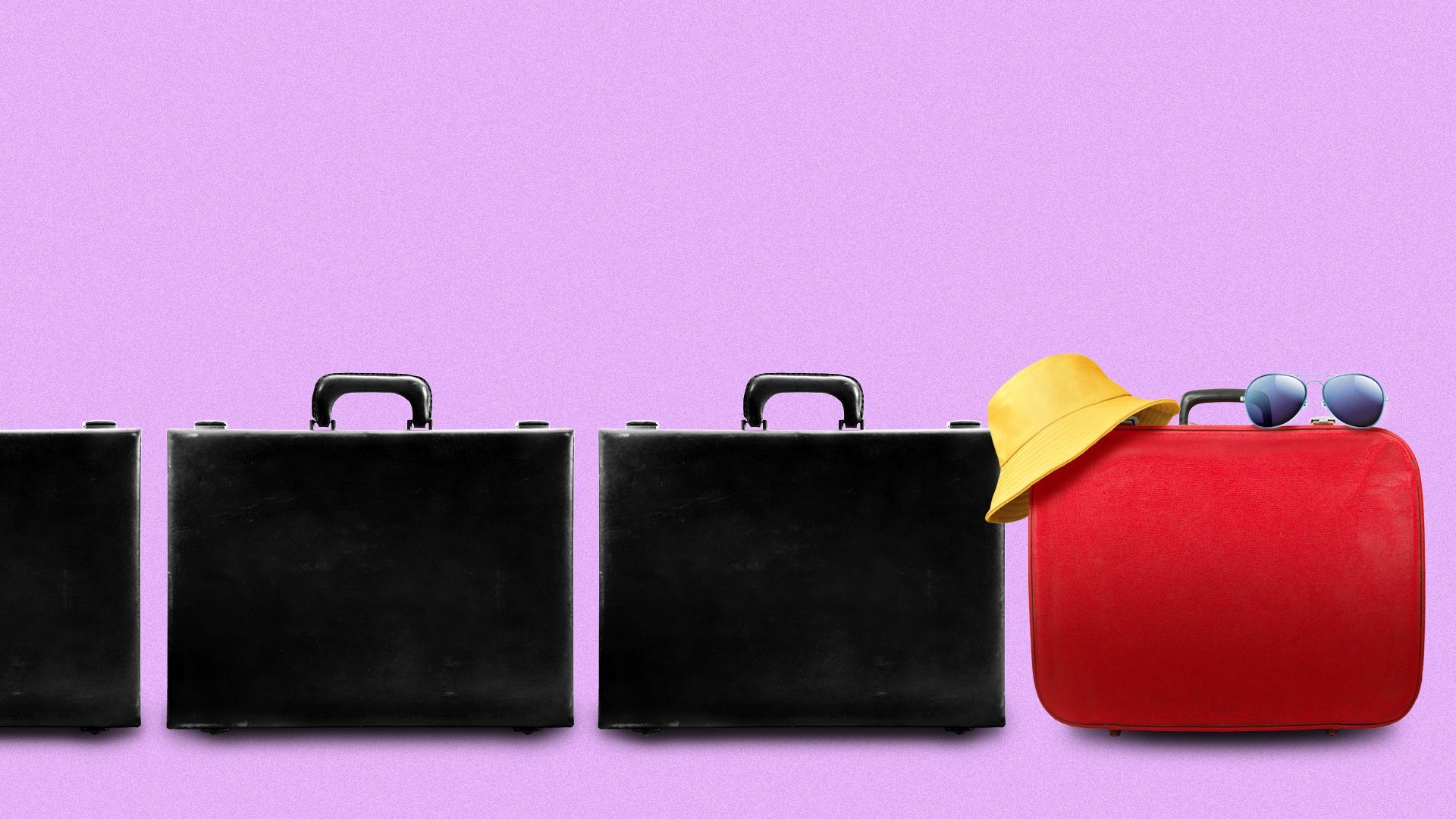 Ladies and gentlemen, the weekend ... has fundamentally changed.
The big picture: Thanks to the rise of remote work, more professionals are stretching their weekends beyond the usual Friday night to Sunday night span, they're taking more trips, and spending more on experiences.
It amounts to a major structural change to the consumer side of the U.S. economy, which continues to drive a surprisingly resilient expansion.
"Fridays and Mondays are no longer huge constraints to what you're going to do on the weekend," said Thomas LaSalvia, head of commercial real estate economics at Moody's Analytics. "So it really broadens your ability to do quite a bit more from afar than you ever have."
Driving the news: The GDP numbers out Thursday showed off an economy that's still growing, driven by consumers who are still spending —  particularly on services (i.e., experiences rather than stuff).
How it works: Those who can work remotely have more time to travel; they can work from hotel rooms, or on planes and in airport lounges.
Because you're not tied to a desk, you don't have to wait till 5pm to race out the door and get in the car to make it to your weekend destination.
And you don't have to scramble to get back Sunday night and show up at the office the next day.
Zoom out: At first, this all seemed like part of last year's "revenge spending" phenomenon, where formerly cooped-up Americans splurged on trips.
But the trend stuck around because of this new workplace flexibility, LaSalvia said. Effectively, the time costs of doing things over a weekend have diminished considerably for those who don't have to commute.
LaSalvia noticed the change when looking at data on hotel room revenue — in cities where Taylor Swift comes to town, hotels make more money. But this goes far beyond Swifties.
For example: Matt Schulman, a 31-year-old communications director at Crunchbase, says working remotely has meant he's been able to get out of his town in Highland Park, N.J., a lot more often.
Last year alone, he went to 10 weddings (including his own), plus he managed week-long stays at family lake houses in the summer — and a honeymoon to Greece. This year, the pace continues (one wedding down, with three more on deck and three out-of-town bachelor parties).
He's managed to pull this all off and not take too many days off, he said. Before remote work, "I just couldn't have done it all."
The bottom line: When your boss tries to get you back into the office, share this story with her and explain you're simply doing your part to keep the economy growing.
Go deeper