UPS deal raises the bar for worker demands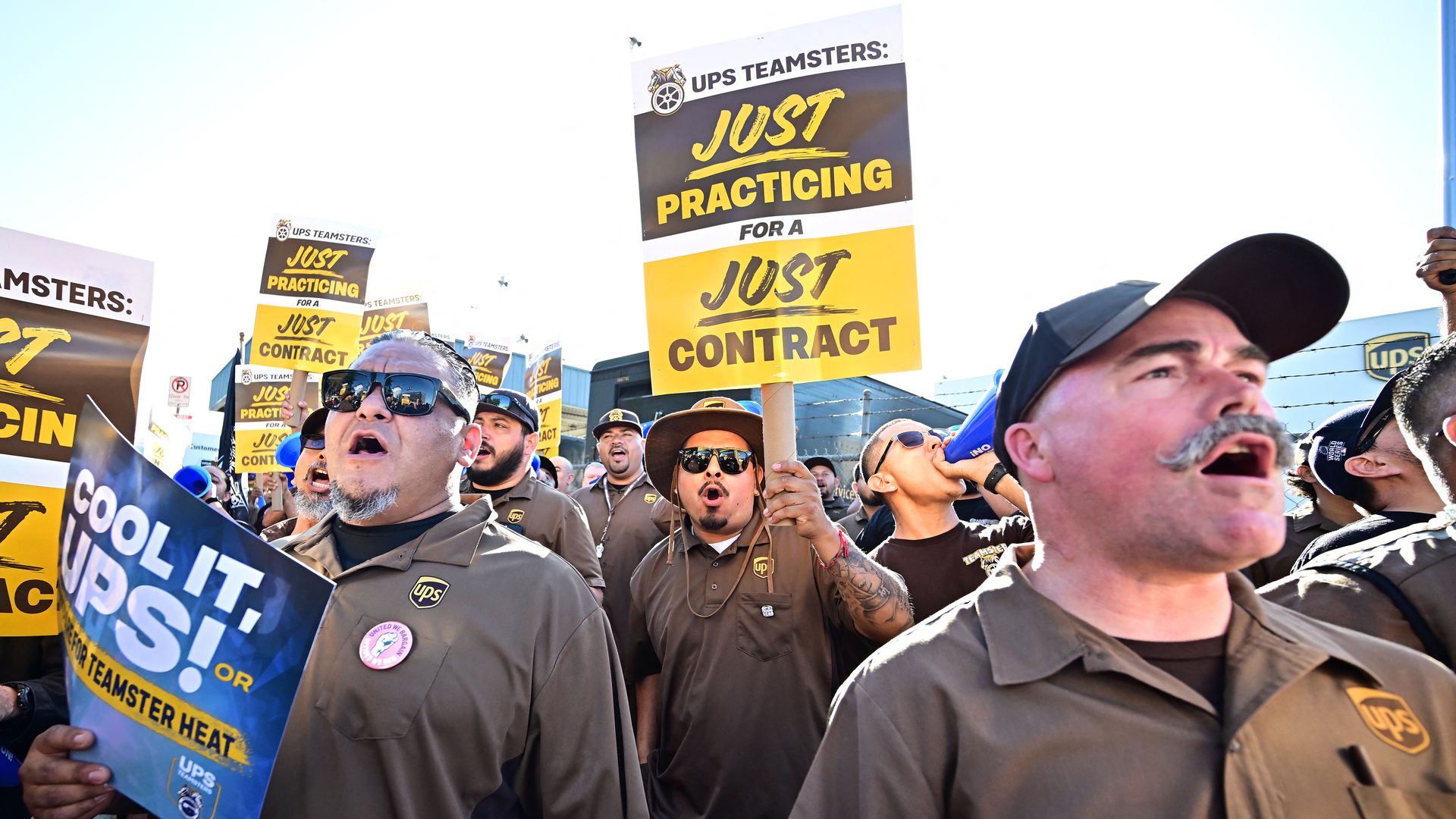 UPS workers are celebrating the deal their union reached with the company on Tuesday as the biggest win in a generation.
Why it matters: The tentative five-year agreement between UPS and the Teamsters union representing more than 340,000 workers averted what would've been the biggest strike in decades. It will likely embolden unionized workers around the country to dig in their heels and demand higher wages and better benefits.
The deal included pay raises across the board, got rid of a two-tier worker classification the union had long railed against, and included other benefits long in demand.
"Workers will hear about this and it's likely to elevate their expectations somewhat," says Harry Katz, a professor at Cornell University's School of Industrial and Labor Relations.
Zoom out: The deal comes amidst a summer of labor turmoil in the U.S., with 170,000 actors and writers already on strike; negotiations on the rocks for 6,000 FedEx pilots; and the auto unions about to head into talks for a new contract that many expect will end in a strike of about 150,000 more workers.
Unions have more leverage to bargain than they've seen in years, as Americans' approval of labor is at a record high — and strong demand for workers is keeping the labor market tight.
The low unemployment rate worked in the Teamsters' favor. "There just aren't a lot of workers sitting on the sidelines right now," says Sharon Block, the executive director of the Center for Labor and a Just Economy at Harvard Law School.
Catch up fast: UPS and the Teamsters just returned to the negotiating table Tuesday, after talks broke down earlier this month over the union's demands on pay.
In the meantime, the Teamsters staged practice pickets around the country, an increasing number of news stories suggested a strike was imminent, and trade groups warned of economic doom.
That put pressure on UPS to make a deal, says Jeffrey Palmerino, a package car driver who was on the national negotiating committee.
They hammered out this deal in four hours Tuesday, signaling just how eager the company was to get this done, Palmerino says. That's a big change from the all-night session that precipitated the talks' breakdown earlier this month.
"In one day, they saw the light," he says. "This is huge for organized labor."
Meanwhile, UPS characterized the deal as a win for the company, its customers and its employees. But it isn't saying much else, ahead of its earnings report on Aug. 8.
Some customers started using other shippers for at least some of their needs in the past few weeks, as the strike loomed, says Tommy Storch, a transportation procurement expert at Insight Source Group, a consulting company.
"UPS will kind of need to earn back some of that business."
The UPS customers Storch works with are now looking to diversify their shippers. They don't want "all their eggs in one basket."
Reality check: Not every workforce is going to have this much leverage or be able to wrest these kinds of concessions. UPS is a large, profitable company that can afford to pay up.
What's next: Rank-and-file union members will vote on the agreement starting Aug. 3.
Go deeper