UFOs are back on Congress' radar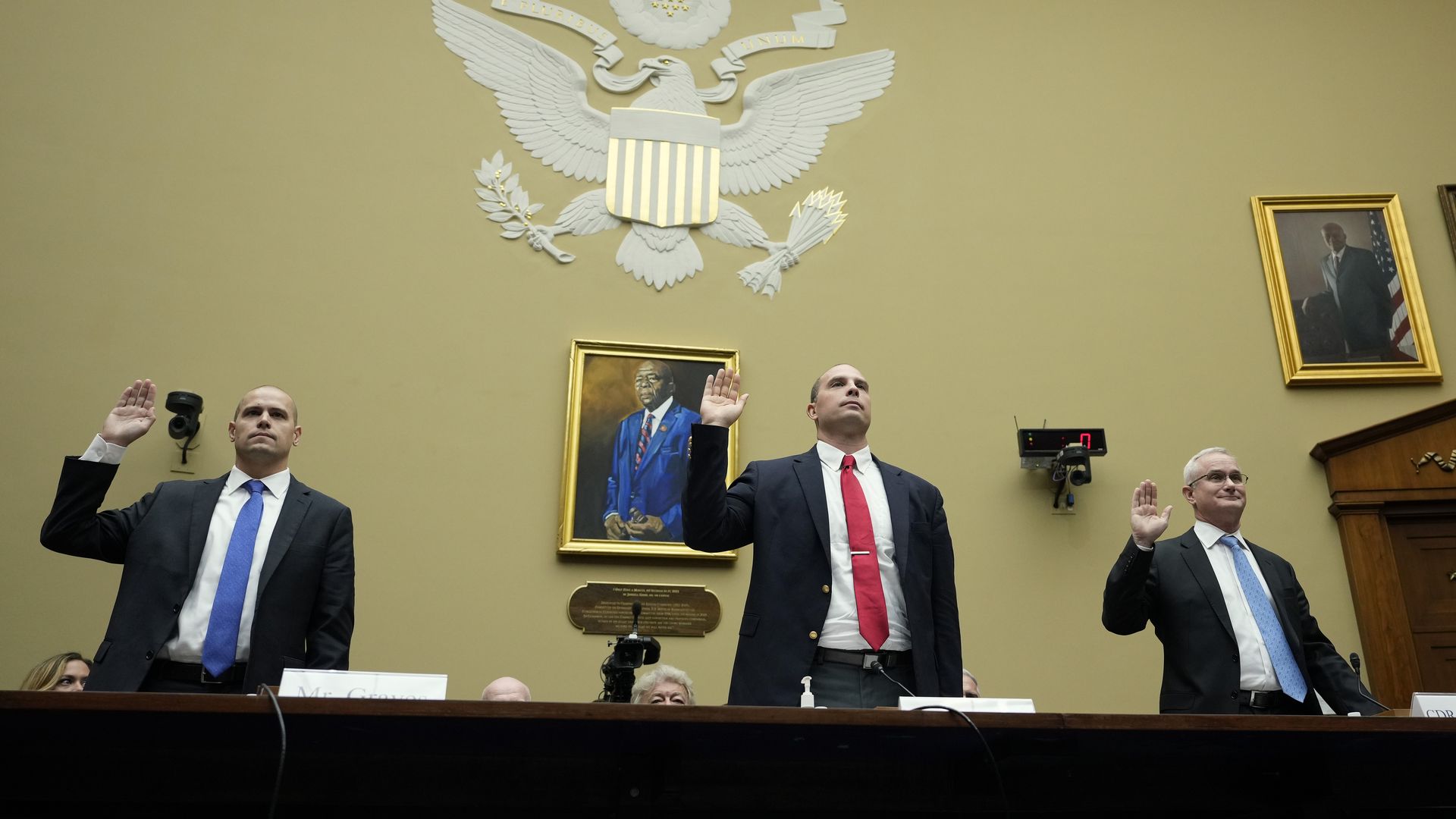 Pilots urged Congress on Wednesday for more government transparency around an ever-elusive issue: unidentified objects in space.
Why it matters: The hearing underscored a recent bipartisan U.S. Senate measure pushing to declassify government documents related to unidentified anomalous phenomena (UAP).
"People want to see data and information for themselves," said Rep. Robert Garcia, a California Democrat, during the House Oversight hearing Wednesday.
What they're saying: The hearing's witnesses, who served in the military, emphasized the stigma for people discussing and flagging UAPs and threats, like harassment or intimidation.
"We need a system where pilots can report without fear of losing their jobs," said Ryan Graves, the executive director of Americans for Safe Aerospace, a a military pilot-led nonprofit.
David Fravor, a retired U.S. Navy commander, shared his encounter with a UAP during a routine training mission in the early 2000s. He compared the object to a Tic-Tac mint, saying it seemingly caused white water in the ocean on a day with clear weather.
"As we pulled nose onto the object within about a half a mile of it, it rapidly accelerated in front of us and disappeared," he said. The white water also ceased.
The incident was the subject of a 2017 New York Times story, credited throughout the House hearing for softening the stigma around talking about UFOs.
National security was at the center of the discussion.
Rep. Glenn Grothman (R-Wisconsin), chair of the national security subcommittee, pointed to the Chinese balloon that was shot down by U.S. fighter craft earlier this year off the coast of South Carolina as an example of government unpreparedness for objects in space.
The Pentagon has since said the balloon didn't collect any intelligence information.
Flashback: Congress held its first public hearing in decades on unidentified flying objects last year, following a report on UAP.
The report concluded that the objects could pose a threat to national security but did not find evidence of aliens from incidents.
UFO sightings reported to the Pentagon rose sharply last year, according to a government report.
Go deeper