Spotify adds record number of new active users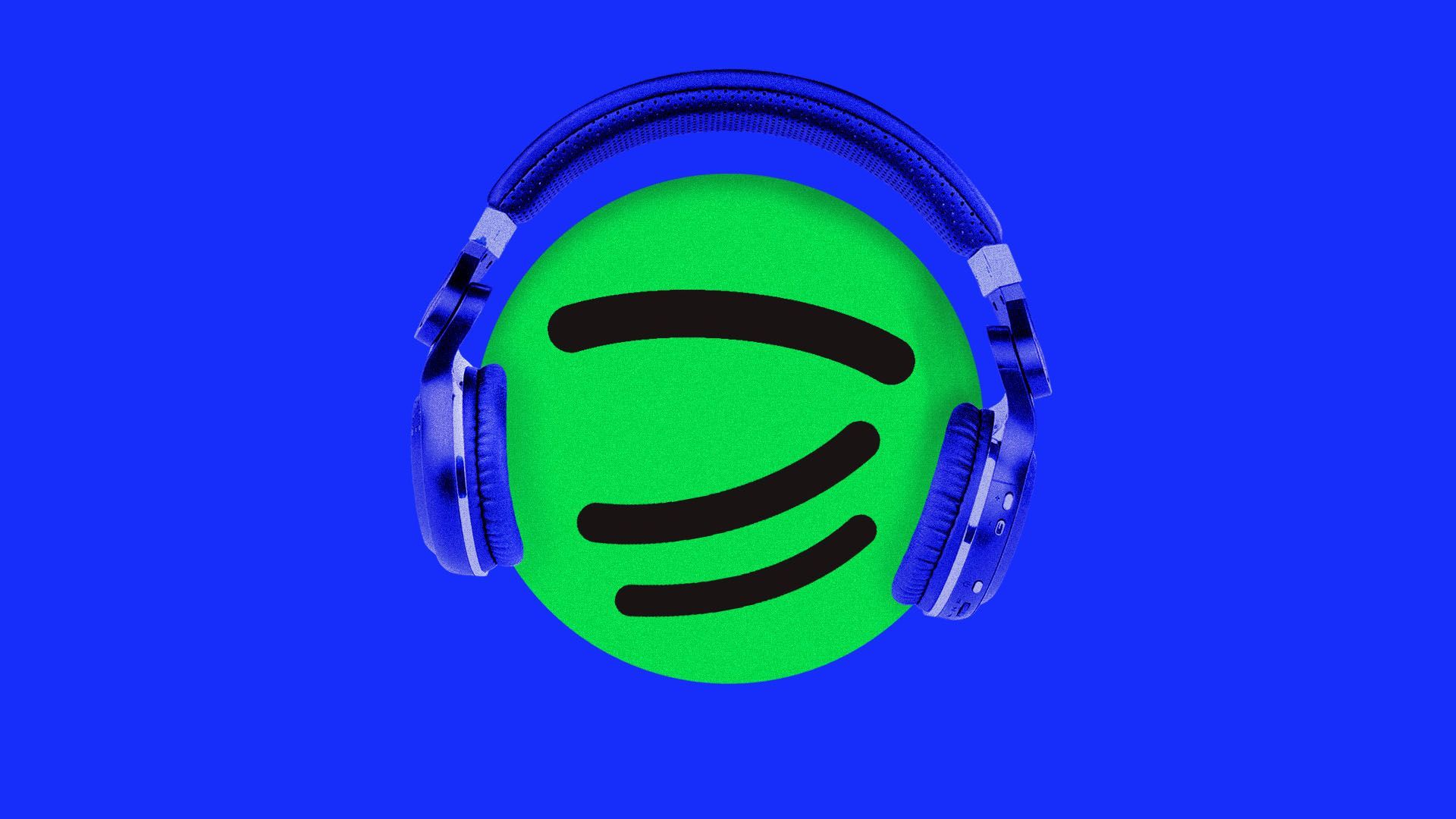 Spotify on Tuesday said it added a net 36 million new monthly active users last quarter, the highest quarterly gain in its history.
Why it matters: While the audio streaming giant continues to grow both its free and paid user bases at a healthy rate, it's still not profitable.
Charges incurred from previously announced cost-cutting efforts put a temporary dent in the company's gross margin last quarter.
Spotify's stock sank in premarket trading in response to the news.
Flashback: Spotify reduced its podcast division last month by about 200 people, or 2% of the company's workforce. It also shed excess real estate to cut costs.
Yes, but: Adjusting for those one-time restructuring charges, Spotify's adjusted gross margin was in line with guidance it provided to investors last quarter, according to the new report.
Excluding charges from restructuring costs, the company's gross margin last quarter was 25.5%, up 22 basis points year over year.
If it weren't for those costs, its operating loss would've declined year over year, and it would've come in above expectations, the company said.
In an interview, Spotify's chief financial officer Paul Vogel said selling off real estate contributed the most to the larger-than-expected operating loss last quarter.
He did not comment on whether the company anticipated more layoffs, but CEO Daniel Ek said it would continue to put cost-cutting measures in place around things like company travel.
In the long term, Spotify executives have said that they hope gross profit margins will eventually land between 30%–35%, and they plan to get there mostly by scaling its ad business.
By the numbers: Overall, Spotify added 21 million more monthly active users than it had initially projected last quarter.
Its premium paid subscriber base also grew by 17% year over year to 220 million, ahead of guidance, and representing the highest second-quarter growth for paid subscribers in the company's history.
Be smart: As the company matures, more of its user base continues to come from places outside of its biggest markets in North America and Europe, although those markets continue to grow significantly as well.
"What's so great about this quarter, and certainly the past two, is that it's been very broad-based," Ek said of user growth.
"But of course, if you think about the world's population of 7 billion, the reality is the vast majority of that 7 billion are in developing markets like China, India, Southeast Asia, etc. And so I'm actually just happy that we're cracking those markets."
Between the lines: Blockbuster user growth helped Spotify grow the number of active users it could serve ads to last quarter by an impressive 34% year over year.
That resulted in ad revenue growth of 12% year over year, which is notable given that the ad market slowdown has continued into 2023.
Asked about the company's plans to grow ad revenue in developing markets, Vogel said Spotify has dedicated more resources over the last 12 months to build out its direct sales capabilities globally, and it's working to improve its self-serve ads platform to sell more automated ads.
Overall, the company's revenue last quarter of €3.2 billion ($3.5 billion) was in line with the guidance it provided to investors last quarter.
The big picture: Wall Street is putting more pressure on streaming companies to grow their profit margins after years of rewarding them for user growth at all costs.
On Monday, Spotify said it would increase the price of its premium subscription plans by $1–$2 — the first price increase it's debuted since launching Spotify Premium more than a decade ago.
The company said it anticipates adding fewer premium subscribers next quarter (4 million), which could be a response to the price hikes.
The intrigue: The change likely also reflects new music license agreements Spotify has struck to bolster its library.
In a new regulatory filing out Tuesday, Spotify said that it recently signed license agreements with "certain licensors," or music labels, which include "minimum guarantee and spend commitments of approximately €3,670 million over the next two years."
What to watch: Spotify continues to make investments in video and artificial intelligence.
AI, Ek said, is helping to make Spotify's personalized user recommendations better. While the company continues to experiment with generative AI, Ek didn't comment on any new AI products outside of the AI-driven DJ feature it rolled out for paid subscribers in February.
The company said it now has more than 100,000 video podcasts available on the platform, up from 70,000 in March 2023. That growth, Ek said, is an indicator that creators are taking to the new tools Spotify is building to help them make and monetize more content.
It also could be an important revenue driver. "In the short term, the ad market is much bigger on the video side," Ek said.
Go deeper: Spotify reports strong user gains as margins improve
Go deeper