AI manipulation of Assassin's Creed character's voice stokes actors' concerns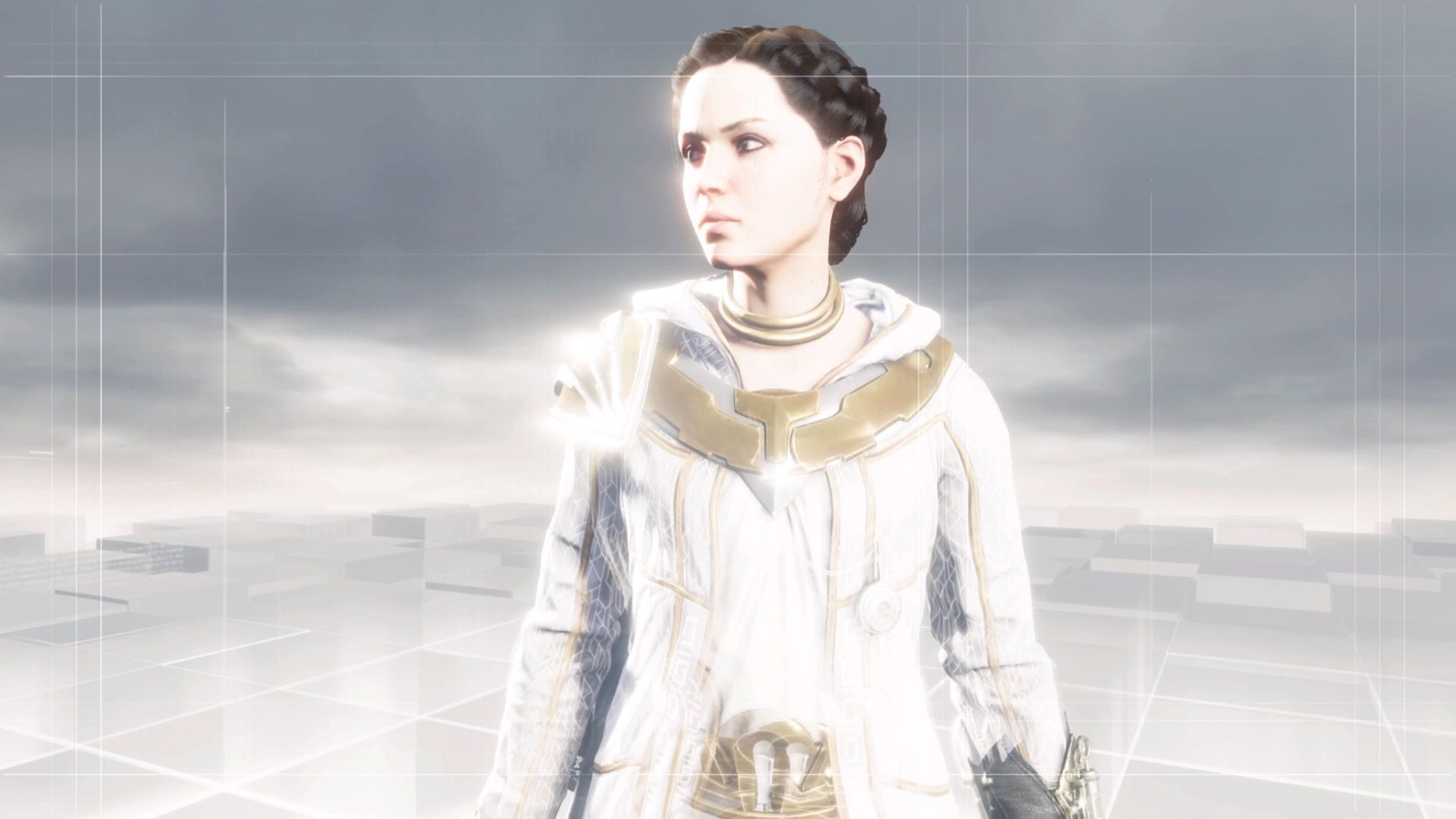 Voice actor Victoria Atkin worked hard to record the voice of fictional 19th century freedom fighter Evie Frye for Ubisoft's 2015 adventure, Assassin's Creed Syndicate. But, without Atkin's involvement, someone using AI has now made Evie speak all the lead character's lines in Bethesda's 2011 epic The Elder Scrolls V: Skyrim.
Why it matters: Video game voice actors are fearing that the ability for generative AI to replicate their voices may cost them work and, more fundamentally, control of their own voice.
Details: Atkin discovered the Evie-Skyrim recordings this month when a friend sent her some files to listen to via a user-made mod, or software add-on, for Skyrim.
The mod, called "Dragonborn Voice Over — Evie Frye AC Syndicate Voice Pack," was created by a person going by the handle Dexterfy.
It was uploaded in April to Nexus Mods, a leading site for mods, and had been downloaded nearly 6,000 times, until it was disabled and placed under moderation today.
On the mod's Nexus listing before it was wiped today, the modder had noted: "Tone and pronunciation won't be 100% accurate, this is a fault with the voice technology for right now. As it matures, I will release updates with newly generated lines."
It's unclear which AI tools the modder used (they did not reply to an Axios request for comment), but a reel on YouTube shows Atkin voicing Skyrim lines that she never spoke.
What they're saying: "I was upset and confused," Atkin tells Axios.
"If my voice is able to be taken and manipulated from these franchises and people can make them say whatever they want to say, that's very frightening … for myself and my livelihood."
Mods are one concern, but Atkin and others worry what the companies that hire them can do with their voices using AI.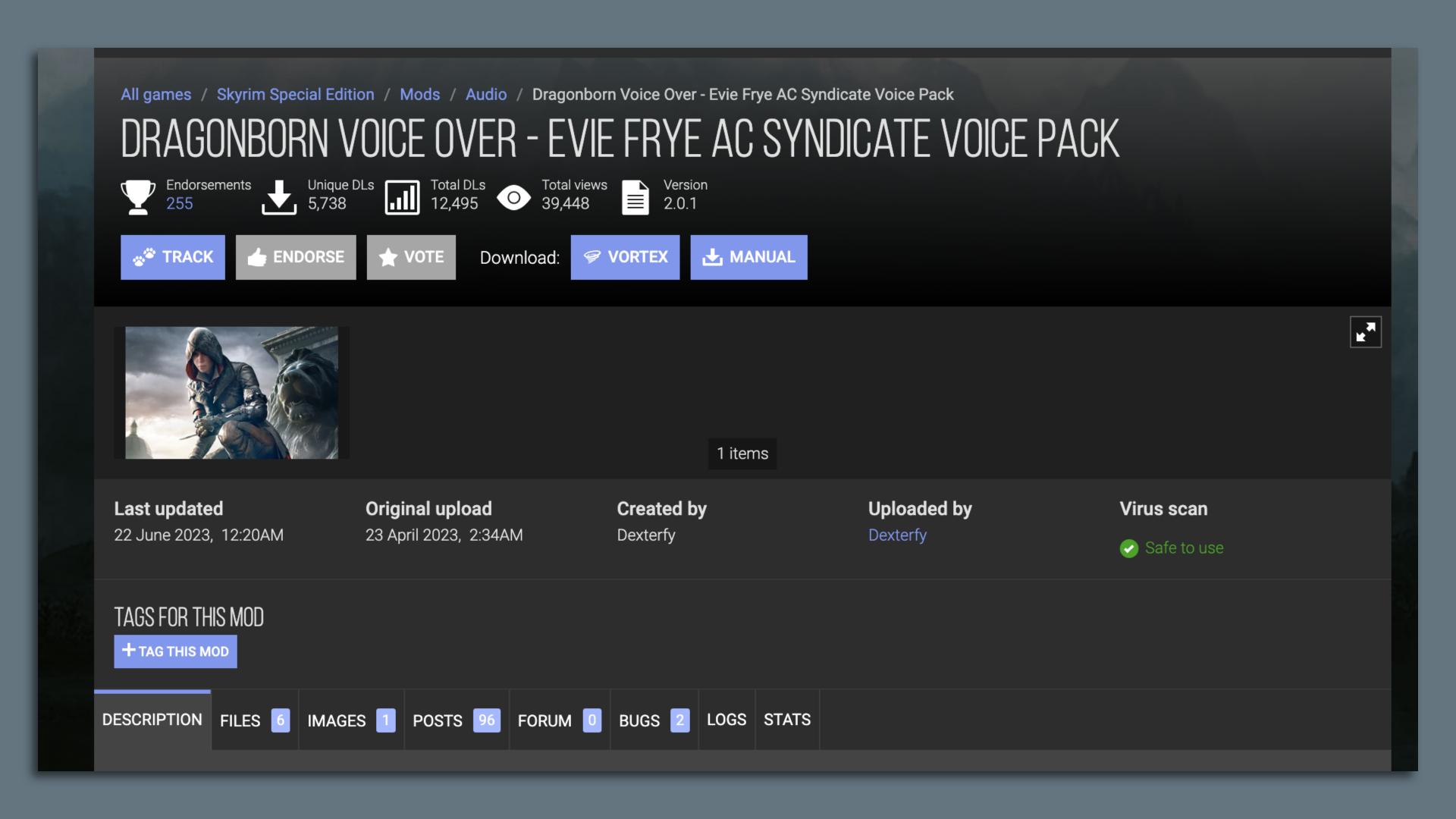 State of play: Voice actors have been raising concerns about generative AI's impact throughout the year, while receiving minimal protections and public reassurances from the game industry.
The National Association of Voice Actors recently published a rider that actors can ask game makers to agree to, limiting the ability for the company to use an AI to get more from their voice. The actors want "consent, compensation, and control," NAVA's president, Tim Friedlander, tells Axios. "And on a larger level for all artists, the hope is to see the inclusion of transparency so that we know if our data (voice, likeness, graphic, visual art, costume sketches, etc) has been used to train any of the systems."
But the prevailing contract for voice actors in the U.S., SAG-AFTRA's Interactive Agreement, expired in November and doesn't address AI. Negotiations for a new contract are ongoing.
A Ubisoft rep tells Axios that the company requested the takedown of the Evie-Skyrim mod and described it as part of an emerging trend that company is monitoring.
One of those negotiators, Zeke Alton, said on Atkin's Performance Capture Podcast last week he hoped unresolved AI concerns that contributed to the SAG-AFTRA TV and movie actors strike would motivate game companies to come to an agreement with actors in their sector.
"They're negotiating for competitive advantage and financial things," he said. "And on our side, we are negotiating for our very existence."
As for the mods problem, in April, community managers at Nexus, the mods site, said they would permit mods that used generative AI but would remove any following a credible complaint by a voice actor or rights holder. Friedlander, NAVA's president, tells Axios he sent Nexus a list of suspect AI-driven mods this month and has seen some removed. His organization has focused on AI modes used for pornographic content, he noted, and encourages actors to issue takedowns for mods of any type that mis-uses their voice.
The bottom line: Patricia Summersett, who provides the English language voice for the eponymous princess in Nintendo's recent Zelda games, recently told Axios that AI is the "biggest discussion" for voice actors right now.
"AI is not going away," she said. "But obviously there needs to be a very human conversation around how AI and people can work together to make it fair and give livable wages."
Sign up for the Axios Gaming newsletter here.
Go deeper