DeSantis fires back at Kamala Harris over Black history standards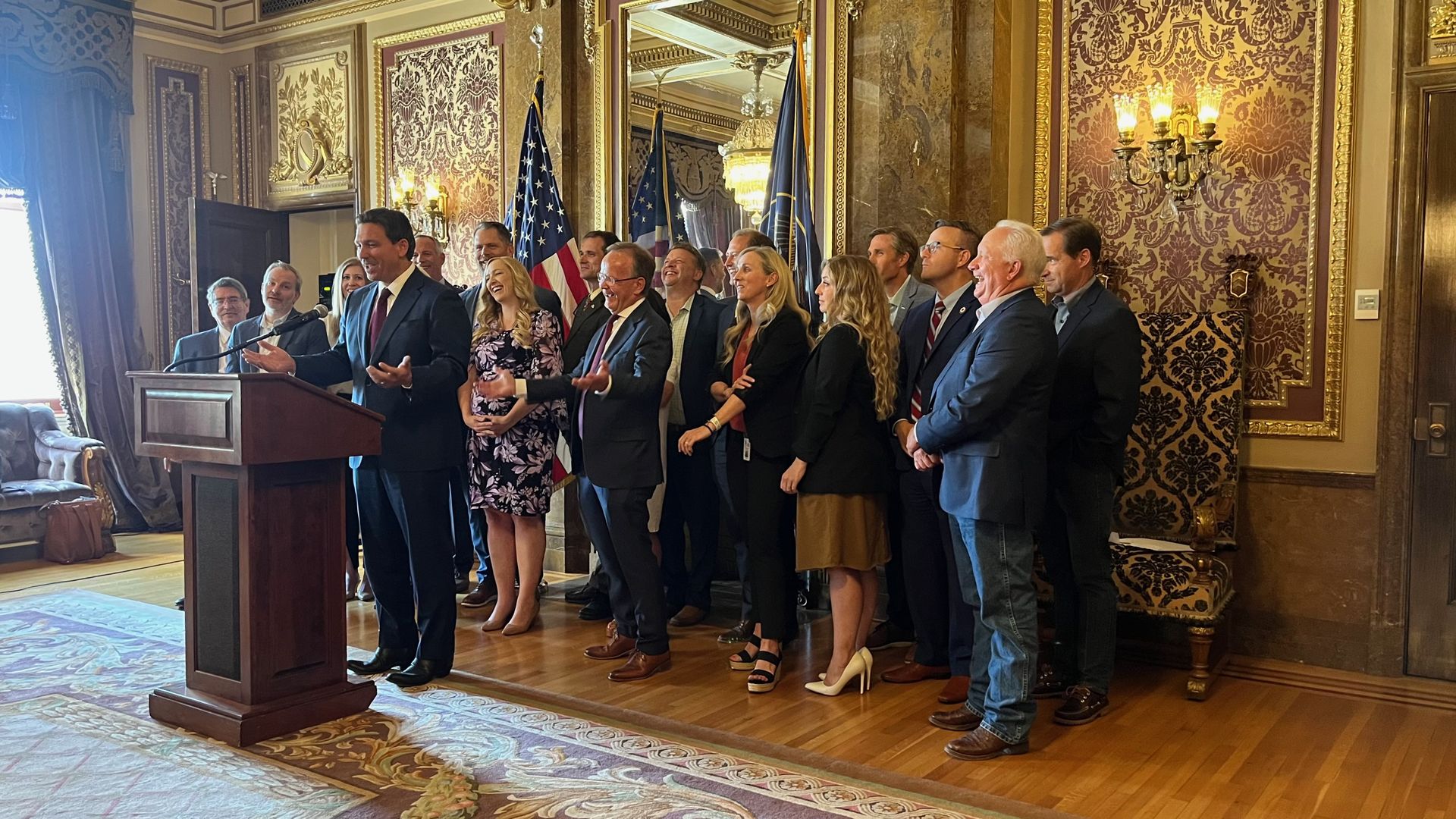 Florida Gov. Ron DeSantis called Vice President Kamala Harris' criticism of controversial Black history standards — recently adopted by the state Board of Education — "absolutely ridiculous" during a Friday campaign stop in Utah.
Driving the news: The standards, approved this week, include instruction for public school students in Florida that enslaved people "developed skills which, in some instances, could be applied for their personal benefit."
"They dare to push propaganda to our children," Harris said Friday, denouncing the updated Black history curriculum, per the AP.
What he's saying: "It's totally outrageous," DeSantis, a GOP presidential candidate, said at the Utah Capitol alongside over a dozen state lawmakers.
"…These are the most robust standards in African American history probably anywhere in the country."
"She's going to come down to the state of Florida and try to chirp and … try to demagogue," he said, referring to Harris' trip to Jacksonville, Florida on Friday.
DeSantis said he wasn't involved in the development of the new curriculum and referred questions to the Florida Department of Education.
"They're probably going to show is some of the folks that eventually parlayed being a blacksmith into doing things later, later in life," he said.
State of play: DeSantis' stop in Utah comes as he hits "reset" on his presidential campaign after national polls showed him trailing by double digits behind former President Trump.
DeSantis said his campaign was focusing on Iowa, New Hampshire and South Carolina.
By the numbers: 29% of the 495 Utah GOP registered voters surveyed between June 26 and July 4 said they would vote for Trump in next year's Republican presidential primary, compared to 24% who said they'd back DeSantis, per a Deseret News/Hinckley Institute of Politics poll released Thursday.
Trump performed worse in Utah than any other red state during his 2016 presidential campaign, garnering about 45.5% of votes.
Details: After his speech, Utah Senate President Stuart Adams (R-Layton) organized a Pioneer Day fundraiser for DeSantis in Utah County on Friday.
Adams, who introduced DeSantis as "the next president of the U.S.," told Axios he was impressed by the governor's leadership through the COVID-19 pandemic.
DeSantis last visited the state in April to speak at the Utah Republican Party Convention.
Flashback: A coalition of 86 Utah elected officials, ranging from city council members to state lawmakers, urged DeSantis last November to launch an exploratory committee to run for president in 2024.
Go deeper