DeSantis hits reset button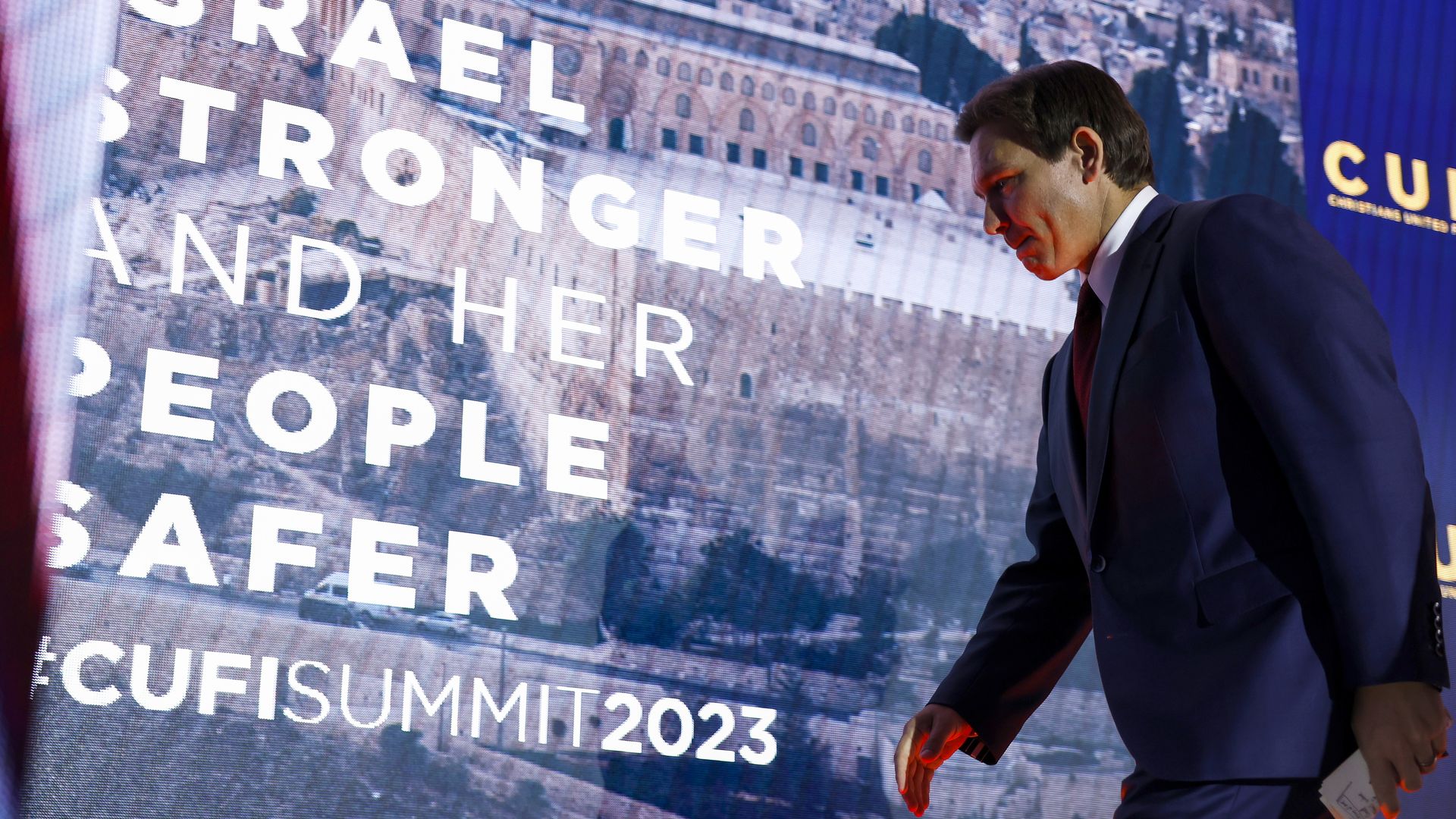 Signs are piling up that Florida Gov. Ron DeSantis is hitting "reset" on his 2024 presidential bid, including by firing campaign staff, scaling back his travel and shaking up his media strategy.
Why it matters: Republican support for DeSantis has dipped below the 20% mark in RCP's average of polls for the first time since mid-May. The popular GOP governor's months-long, downward trajectory has stirred speculation that he's destined for a Scott Walker-like flameout.
Driving the news: DeSantis' team sought to reassure donors about the state of the race yesterday in Tallahassee, Florida, where officials emphasized that presidential campaigns go through growing pains, Bloomberg reports.
The briefing came a day after news broke that DeSantis had begun firing campaign staff because of a cash crunch. Some staffers are expected to move to the deep-pocketed pro-DeSantis super PAC Never Back Down.
Never Back Down launched a new ad in Iowa today using an AI-generated voice to re-enact Donald Trump's feud with the state's governor — marking the first time the PAC has directly attacked the former president.
Between the lines: The Trump campaign has seized on the reports of a cash crunch, circulating a memo addressed to DeSantis donors on Monday calling on them to rethink where they're spending money.
"[I]f you still collectively pour millions of dollars into the failing Ron DeSantis campaign, you can't say you weren't warned," senior Trump advisers Chris LaCivita and Susie Wiles — a former top aide to DeSantis — wrote.
What they're saying: "Defeating Joe Biden and the $72 million behind him will require a nimble and candidate-driven campaign, and we are building a movement to go the distance," DeSantis campaign spokesman Andrew Romeo said in a statement, referring to President Biden's Q2 fundraising haul.
What to watch: In the clearest sign yet of a shift in campaign strategy, DeSantis will sit for an interview Tuesday with CNN's Jake Tapper — his first cable news interview of the campaign outside of Fox News.
In March, DeSantis attacked the "legacy media" as "very untrustworthy" — calling on Republicans to "not give them the satisfaction that they are some kind of neutral gatekeepers."
Disputing that he has not engaged with traditional media, DeSantis told Fox News yesterday: "I think that some of our best moments as a governor and as a candidate are when we're in hostile environments."
The bottom line: Hopes that Trump would self-destruct appear to be slipping away, as his two indictments have only strengthened his iron grip on the GOP base.
A radical reset now — six months before the first votes are cast in Iowa — may be DeSantis' best chance to reverse his momentum.
Go deeper