Pentagon watchdog: U.S. struggled to track military aid to Ukraine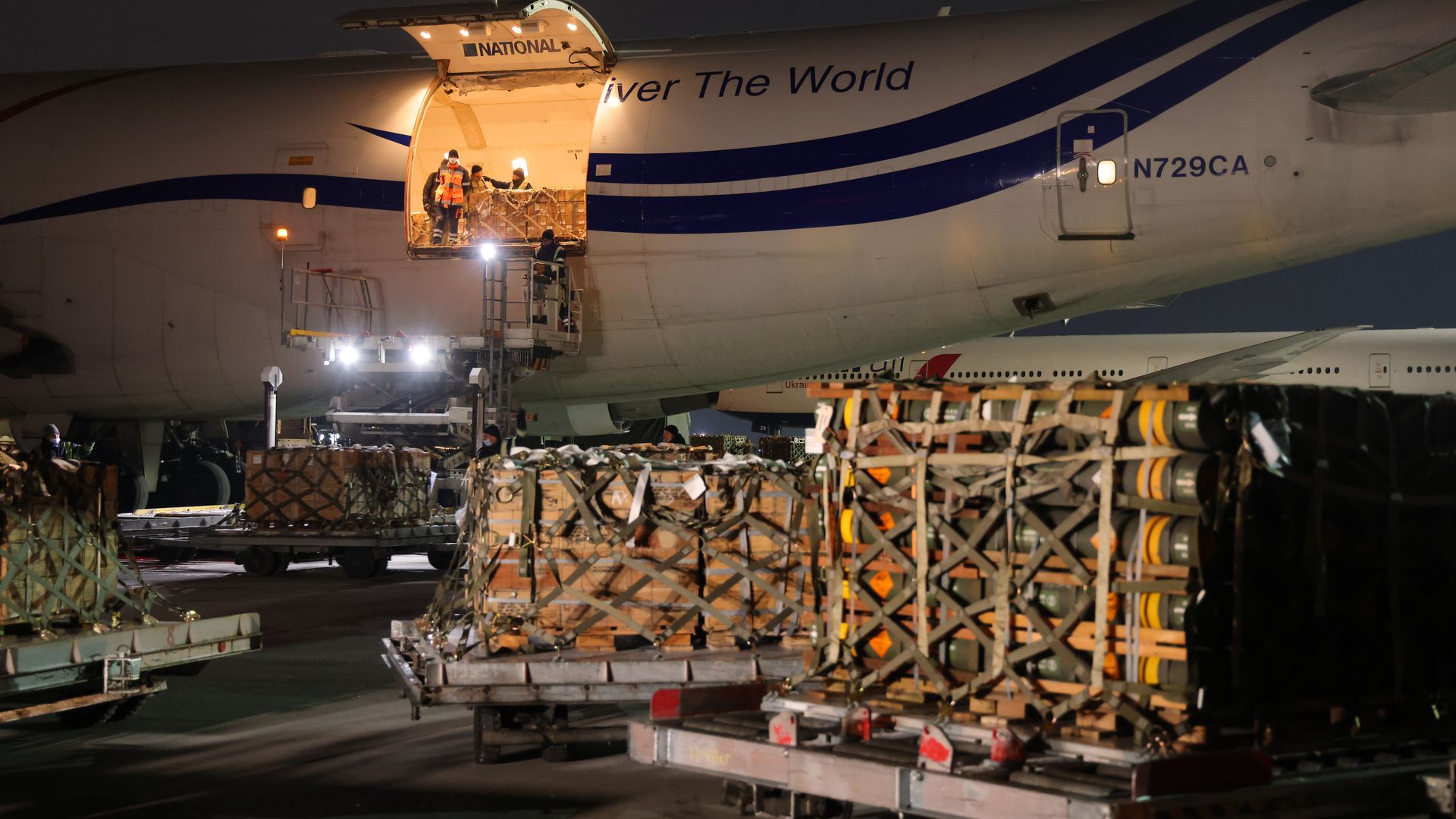 Dozens of rifles, thousands of rounds of ammunition and other military equipment donated to Ukraine in the early months of Russia's invasion were stolen last year, according to a Pentagon report.
Why it matters: The thefts by crime groups and volunteer fighters were ultimately disrupted by Ukraine's security service and the military hardware was recovered, the Defense Department initially struggled to track and monitor all the equipment it donated to Ukraine, as required by law.
The inspector general's report does not specify whether the stolen weapons were donated to Ukraine by the U.S.
However, it did find that the U.S.' ability to ensure that its donated weapons and equipment were ultimately being used for Ukraine's self-defense was hamstrung by a lack of personnel in the country from the start of the invasion up to September 2022.
Tracking that information is required by the Arms Export Control Act.
"The inability of [Defense Department] personnel to visit areas where equipment provided to Ukraine was being used or stored significantly hampered [Kyiv's Office of Defense Cooperation]'s ability to execute [end-use monitoring]," the report reads.
By October, U.S. military personnel had entered Ukraine to begin inspecting and tracking the donated weaponry.
By the numbers: The report said a criminal organization led by an "unspecified Russian official" intent on destabilizing Ukraine was able to obtain weapons, including at least one grenade launcher, a machine gun and over 1,000 rounds of ammunition.
In another instance, members of a volunteer Ukrainian battalion stole over 60 rifles and nearly 1,000 rounds of ammunition and likely intended to sell them on the black market, the report said.
Ukrainian criminals were able to steal $17,000 worth of bulletproof vests by posing as a humanitarian organization, according to CNN, which also obtained the watchdog report.
What they're saying: A Defense Department spokesperson told CNN on Friday that the U.S. "remains keenly aware of the risk of possible illicit diversion and is proactively taking steps to mitigate this risk in close cooperation with the government of Ukraine."
"We are realistic that we are sending weapons to help Ukraine defend itself in an active conflict, and there is a risk these weapons could be captured if territory changes hands – which happens in any war," the spokesperson added.
The big picture: The report will likely lead to renewed criticism from members of Congress who have previously backed plans to oppose future military aid to Ukraine.
The Pentagon said last month that an accounting error had overestimated U.S. military aid to Ukraine by $6.2 billion, allowing it to send additional equipment.
On Wednesday, the Biden administration announced a military aid package to Ukraine worth $1.3 billion that included four surface-to-air missile systems, mine-clearing equipment, artillery rounds, tactical vehicles and trucks.
The U.S. has sent $42.6 billion in security assistance to Ukraine since the start of the invasion.
Go deeper: What Russia's withdrawal from the grain deal means for the world
Go deeper