Julie Su's new record: 127 days in limbo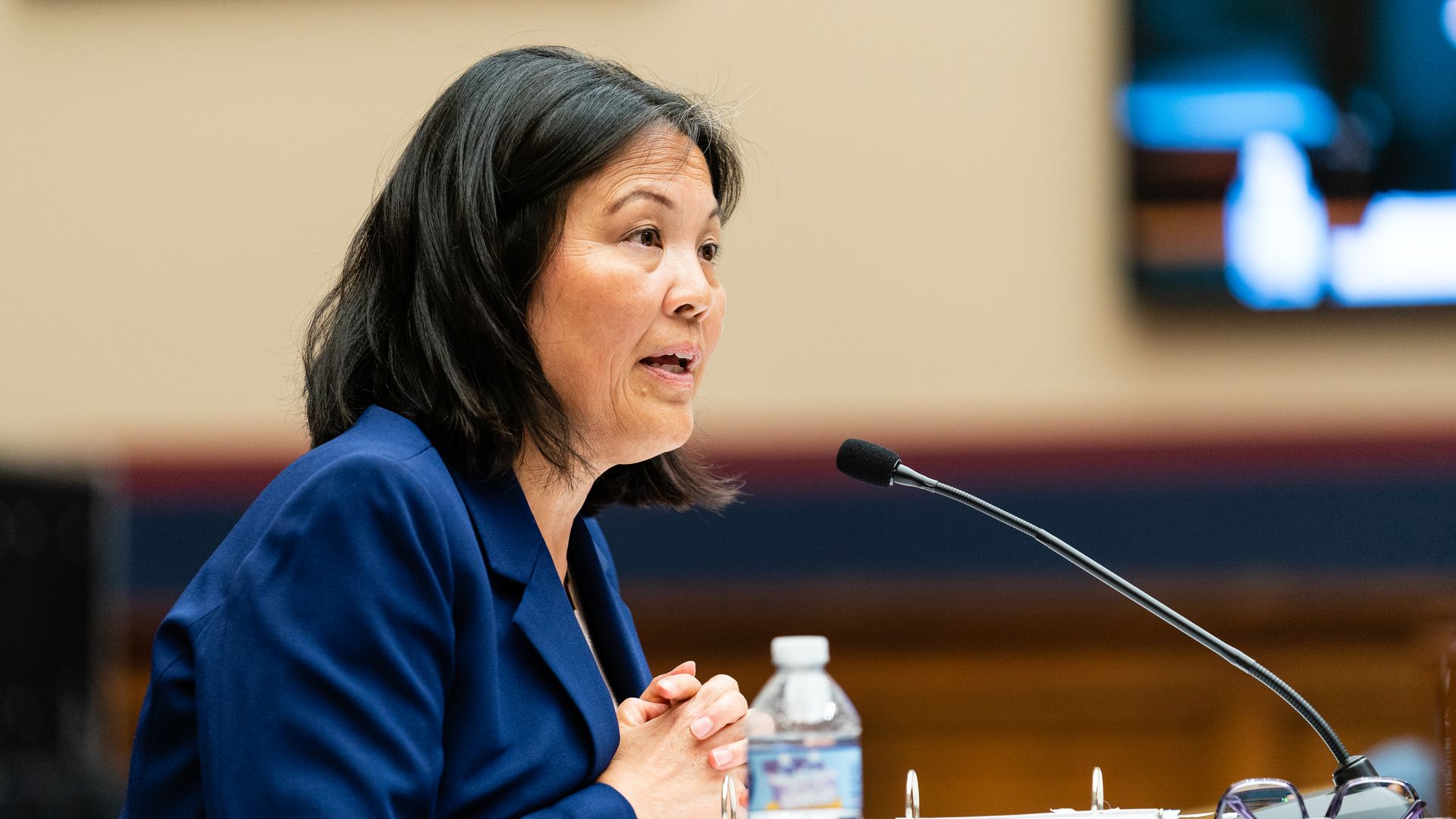 President Biden's pick for Labor secretary, Julie Su, will set a record on Thursday: 127 days in Senate purgatory.
Why it matters: No nominee has lingered longer without a confirmation vote when his or her party controlled the Senate and the White House, according to a historical analysis by the Congressional Research Service prepared for Sen. Bill Cassidy (R-La.).
Driving the news: Last week, the White House essentially acknowledged the predicament and called on Sens. Joe Manchin (D-W.Va.) and Kyrsten Sinema (I-Ariz.) to reconsider their positions.
Manchin was public about his opposition, but Sinema has never revealed how she will vote.
The intrigue: Team Biden has long had a strategy for Su to serve indefinitely as acting secretary, as McClatchy first reported.
When Su, confirmed by the Senate as deputy secretary, assumed the acting role, she didn't do so under the Vacancies Reform Act. Instead, the Biden administration justified her promotion under a different part of the federal code.
What they are saying: "If your administration believes Ms. Su cannot receive the necessary votes for confirmation, then you should rescind her nomination," Cassidy, the ranking member on the Senate Health, Education, Labor, and Pensions (HELP) Committee, wrote in a letter to Biden.
"It is my view that this use of the Succession Act violates the constitutional provision of advice and consent and would potentially open any DOL action under Julie Su's leadership to legal challenges."
The other side: "She is a strong nominee. We're trying to do everything we can to get her passed, plain and simple," Senate Majority Leader Chuck Schumer (D-N.Y.) said Wednesday.
"President Biden and our team will continue fighting for Acting Secretary of Labor Julie Su's confirmation — because she is highly qualified, experienced, and has proved herself time and time again when it comes to delivering for America's workers and our economy," a White House official said.
"The President's support for Acting Secretary Su is unwavering, and we hope Senator Manchin and Senator Sinema reconsider their position," the official reiterated.
Flashback: The previous record holder was Commerce Secretary John Bryson, former President Obama's pick to lead the department. He waited 126 days for his Senate vote, but was ultimately confirmed.
Go deeper