Higher health costs set the stage for ACA premium hikes for 2024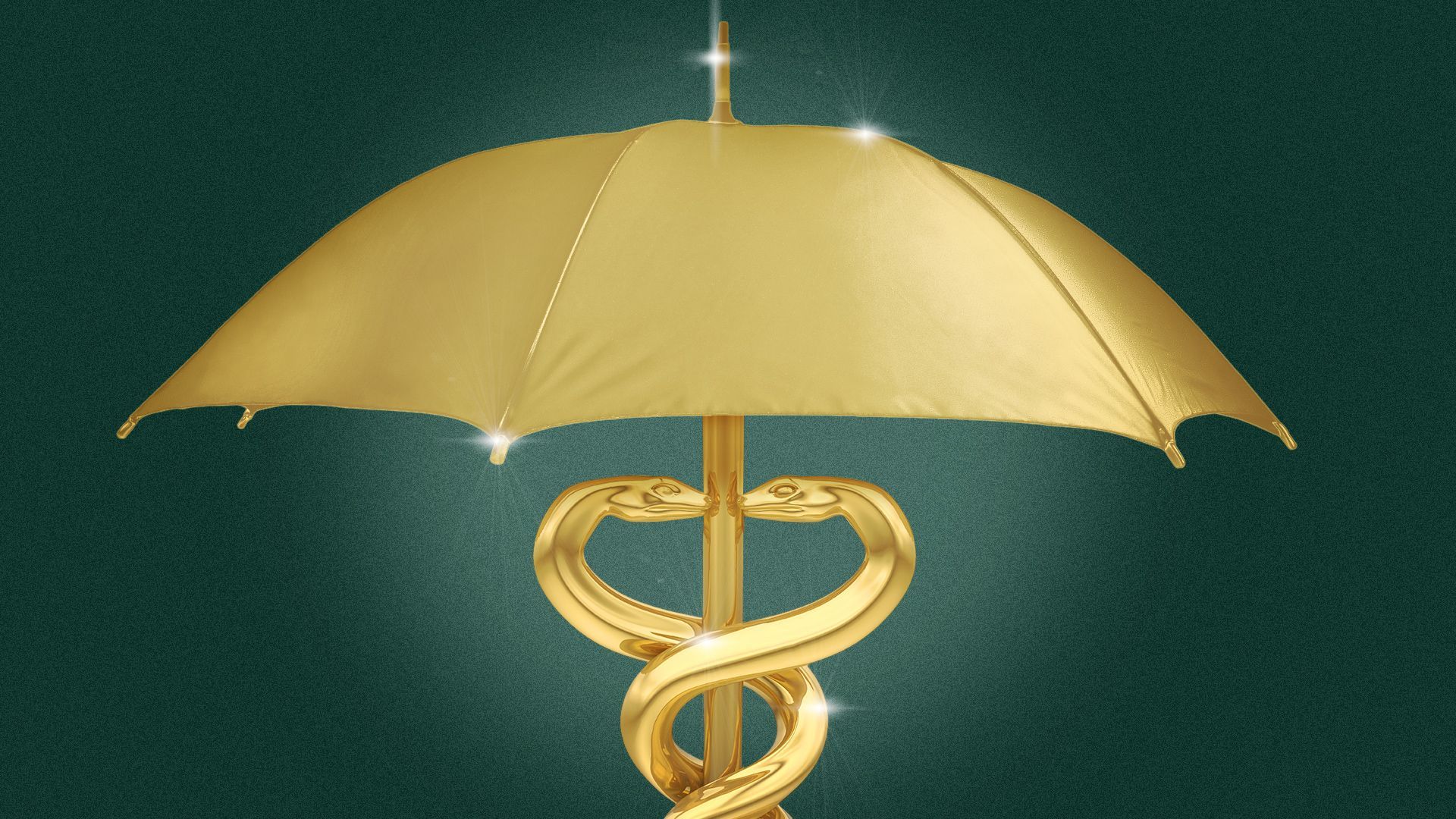 Inflation may be cooling, but high medical costs could still make consumers pay more for Affordable Care Act health insurance in 2024.
Why it matters: President Biden has launched an offensive focused on lowering consumers' medical costs. Higher premiums for ACA marketplace plans could throw a wrench in the administration's messaging as Biden's re-election campaign takes off.
Driving the news: Rising health costs and provider reimbursement rates will put upward pressure on premiums next year — and possibly more than they did this year, Joyce Bohl, chair of the American Academy of Actuaries' Individual and Small Group Markets Committee, said in a news release.
The committee released a paper Wednesday on factors expected to affect 2024 marketplace premiums.
Premiums for ACA benchmark silver plans, which are the second-lowest cost plans, increased 3.4% between 2022 and 2023, partly due to inflation, according to an April report from the Robert Wood Johnson Foundation.
Zoom in: Inflation cooled this month, but actuaries anticipate that the rates insurers negotiate with doctors and other health providers will still rise due to higher operational costs, competition for staff and lagging Medicare rates that don't account for higher expenses.
The rate increases could then be passed onto consumers through larger premiums.
The intrigue: The end of the COVID-19 public health emergency earlier this year will also affect 2024 premiums.
The federal government has estimated that 2.7 million people who are losing Medicaid coverage as states redetermine eligibility will qualify for ACA marketplace subsidies.
How this potential influx affects premiums will depend on how healthy they are relative to current enrollees, actuaries noted on a Wednesday webinar.
Medicaid redeterminations could increase or decrease premiums, depending on the state, said Fritz Busch, an actuary at Milliman and member of the American Academy of Actuaries' Individual and Small Group Markets Committee.
"It goes both directions," he said.
Meanwhile, the phase-out of government-sponsored COVID-19 vaccines could also drive premiums up, although the end of a requirement for insurers to cover at-home COVID-19 tests could have the opposite effect, the actuaries said.
Of note: AHIP, a trade organization representing insurers, told Axios that it's too early to discuss premiums for 2024, but so far its members say the two biggest contributing factors are rising hospital and prescription drug costs.
What we're seeing: Data from states that have early rate filing deadlines for marketplace insurers show a wide range of premium increases.
Insurers in Maryland's individual market have requested an overall rate increase of 5.7%. In Washington state, individual market insurers requested a 9.1% average rate increase.
Final premiums for individual and small group insurance plans are typically announced in October.
Premiums are dependent on geographic region, and even within the same area, rates for individual and small group plans can differ.
What they're saying: Consumer advocates are keeping a close eye on how states review insurers' requests this summer.
"The rate review process will really be essential to keeping premiums in check and keeping the health care accessible," said Cheryl Fish-Parcham, director of private coverage at Families USA.
"What we're going to be watching nationally is, are consumers weighing in, are regulators taking input seriously and having robust public input processes, are they examining affordability as part of their rate review?" she said.
Editor's note: The story has been updated to clarify that premiums for ACA benchmark silver plans, which are the second-lowest cost plans, increased 3.4% between 2022 and 2023, according to the Robert Wood Johnson Foundation.
Go deeper