U.S.-China climate talks are back on track — with obstacles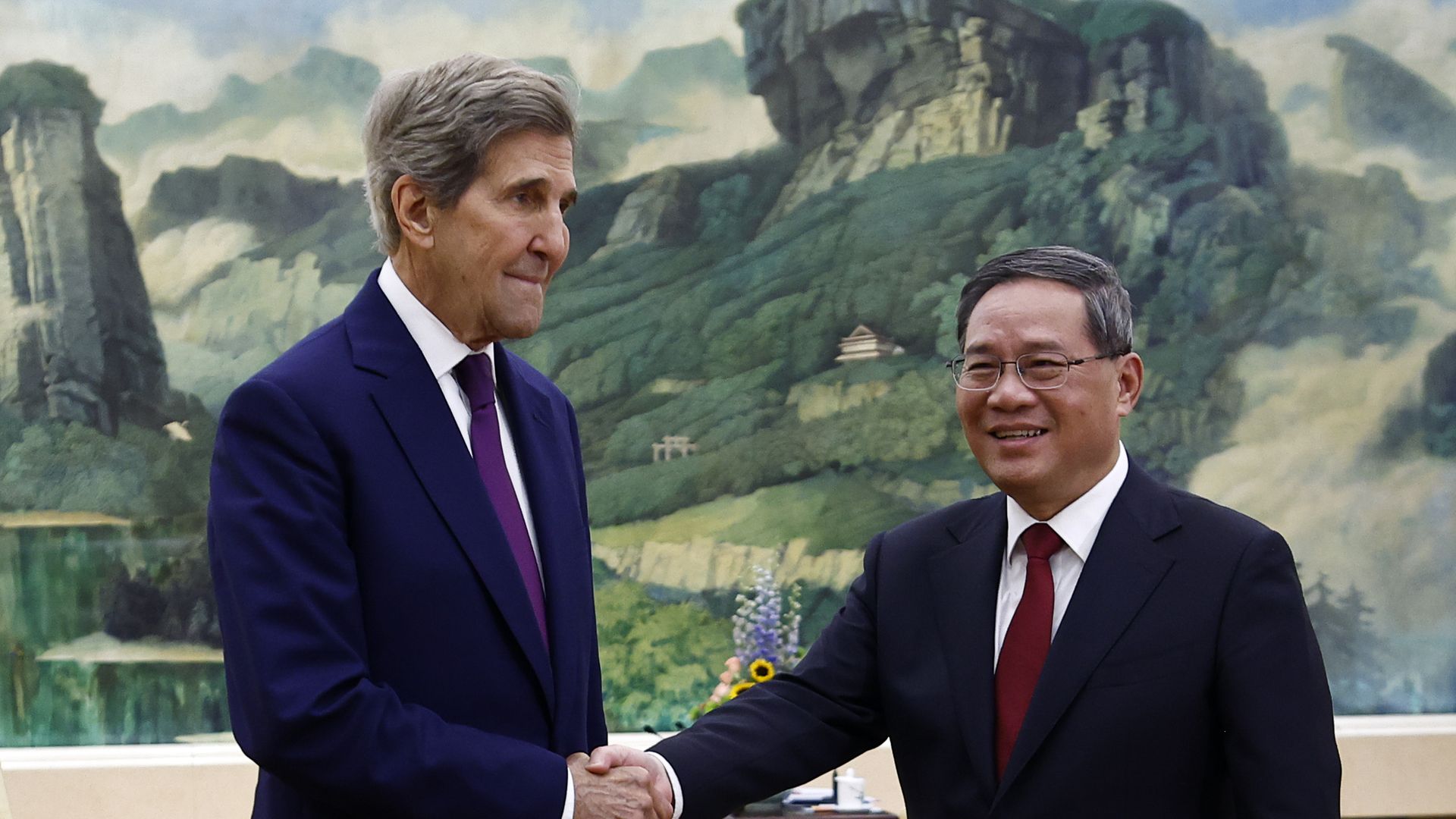 John Kerry, the top U.S. climate diplomat, wrapped up three days of climate talks with senior Chinese officials on Wednesday, calling them "productive" but noting the urgency of the work ahead for the world's two biggest carbon emitters.
Why it matters: Cooperation between the U.S. and China has proven in the past to be helpful in paving the way for successful climate negotiations. An agreement leading up to the Paris Climate Summit has been cited as an example.
But with tense relations between the two countries and a lack of in-person meetings for about a year, the most recent talks did not result in any joint statements or agreements.
Importantly, however, the two countries announced plans for additional rounds of discussions in the runup to the COP28 climate summit in Dubai, which is just four months away.
Flashback: Climate talks were suspended as part of China's retaliation for the visit of then-House Speaker Nancy Pelosi's (D-Calif.) visit to Taiwan last year.
The big picture: The extreme weather events occurring worldwide, including in Beijing, where all-time record heat was recorded this month, set the backdrop for the talks, and were brought up multiple times by Kerry over the past few days.
"We are both deeply alarmed by the best available science and the findings," Kerry said of the U.S. and China in a press briefing in Beijing. Kerry noted that China's provisional highest temperature reading on record, 52.2°C (126°F), occurred in Sanbao Sunday.
"We both agreed that we want to work together to guarantee a positive outcome from COP28, where obviously the cooperation of China and the United States is critical to any outcome," Kerry said. "This is not a one-off meeting. We are already pinpointing the time for our next meeting."
"We have to make up a certain amount of time for the period that this discussion has not been taking place."
Zoom in: Kerry, who met with his Chinese counterpart Xie Zhenhua, as well as China's chief diplomat, Wang Yi, Premier Li Qiang, and Vice President Han Zheng, laid out focus areas for future discussions.
He said among the topics to be discussed include the "scaling and integrating of renewable energy into a power sector," with the goal of reducing coal emissions. Reducing non-CO2 emissions, such as methane, is also on the table.
Yes, but: Chinese President Xi Jinping, who did not meet with Kerry, indicated in remarks made this week and reported in the official People's Daily that China would determine its own pace of emissions cuts.
"The pathway and means for reaching this goal, and the tempo and intensity, should be and must be determined by ourselves, and never under the sway of others," Xi stated, per the New York Times.
Kerry, when asked about Xi's remarks, did not say he interpreted them as contrary to the spirit of the talks, noting that neither the U.S. nor China was "dictating" climate plans to the other.
What they're saying: "People should see the visit as an effort to re-start dialogue. The way to evaluate a starting point is by what it starts, not what it concludes," Li Shuo, senior adviser to Greenpeace East Asia, told Axios via email.
"Kerry's visit is an important step in what will be a complex rescue operation for the US-China climate dialogue. With the positive signals shown by both sides, this trip will hopefully put Kerry's dialogues with his Chinese counterparts on a stronger footing."
Reality check: U.S.-China relations are fragile, with anti-China sentiment on Capitol Hill reaching a fever pitch, and the potential exists for any geopolitical incident to derail the fledgling climate engagement once again.
Go deeper