The two-horse race to make blockbuster obesity drugs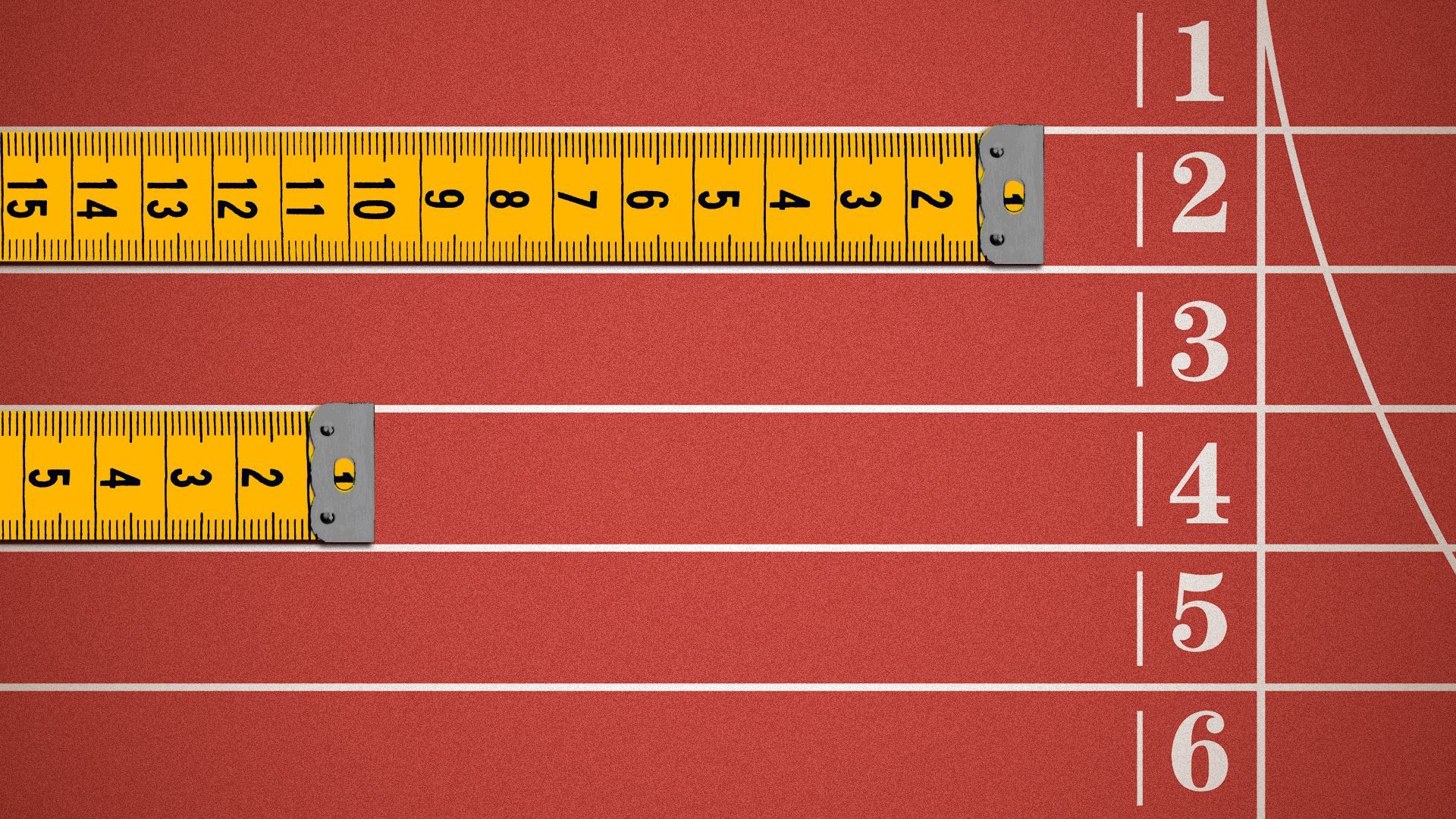 The push to develop blockbuster weight loss drugs has turned into a two-horse race between Novo Nordisk and Eli Lilly, and the stakes are rising.
Driving the news: Lilly's planned $1.9 billion acquisition of privately held Versanis Bio, announced last week, marked the latest move to revamp obesity care, by potentially giving Lilly access to an experimental drug that acts directly on fat cells without leading to appetite loss.
Other pharma giants such as Pfizer, Merck and Amgen are trying to gain a foothold with their own drug candidates, as are smaller biotechs like Viking Therapeutics and Structure Therapeutics.
But "in terms of commercial impact, this year and next year, it's Lilly and Novo," Evan Seigerman, a senior research analyst for BMO Capital Markets told Axios.
State of play: The focus has largely been on a class of drugs called glucagon-like peptide-1, or GLP-1, agonists which are hormones that can increase insulin sensitivity, delay the time it takes to empty the stomach and curb hunger. They were initially created to treat diabetes but are increasingly being used for weight loss.
Novo Nordisk has dominated so far, capturing an estimated 55% of the global GLP-1 market with its diabetes drugs Ozempic and Rybelsus, and Wegovy, which is approved for obesity care. The Danish company raked in $25.6 billion in sales in 2022, up 26% over the prior year and largely driven by the growth in those drugs.
But Indianapolis-based Lilly is fast on its heels, expecting FDA approval later this year for its diabetes drug Mounjaro to be used as a weight loss treatment.
Last month, the company said a slightly different experimental drug it developed called retatrutide helped people lose as much as 24% of their weight over 48 weeks, which was the biggest reduction reported to date in clinical trials of obesity treatments.
A Versanis deal would add to the Lilly pipeline the biotech's top asset, bimagrumab, a monoclonal antibody being tested in a phase 2 clinical trial for obesity that's drawn interest for its ability to not only reduce fat mass by roughly 22% but preserve lean mass.
What they're saying: "We applaud this deal, which brings a novel mechanism to [Lilly's] already industry-leading obesity franchise/pipeline," Colin Bristow, an analyst for UBS wrote about the Lilly news.
Bimagrumab, along with the promising data on retatrutide, should "cement its positioning as the long-term leader in the space," he wrote.
But while Versanis may be a smart merger deal for Lilly, Evercore ISI analyst Umer Raffat wrote in a research note he has lingering concerns about its leading drug candidate.
There were a number of safety concerns, including risks for diarrhea, muscle spasms, as well as reports of increases in pancreatic and liver enzymes, which were largely mild but still commercially important to consider, he wrote.
Rapid fat loss seen with the drug might be good for health reasons, Raffat said. "But if a patient is already worried about [the] 'Ozempic face' look and additional wrinkles, I don't know," he wrote, saying he would like to see more data about the aesthetic impacts of the drug.
Between the lines: European regulators are pumping the brakes on GLP-1s, flagging concerns about an increased risk for suicidal thoughts among its users.
What to watch: Analysts are watching for updates on trials for oral anti-obesity drug candidates later this year, as well as results from combination trials of how the different types of drugs work together.
They anticipate the impact of a potential FDA approval of Lilly's Mounjaro for weight loss could put it neck and neck with Novo.
But as companies have struggled with the supply of GLP-1s, analysts will also be watching closely to see how well-prepared Lilly is to ultimately meet demand, Seigerman said.
Go deeper