Robotaxis face their moment of truth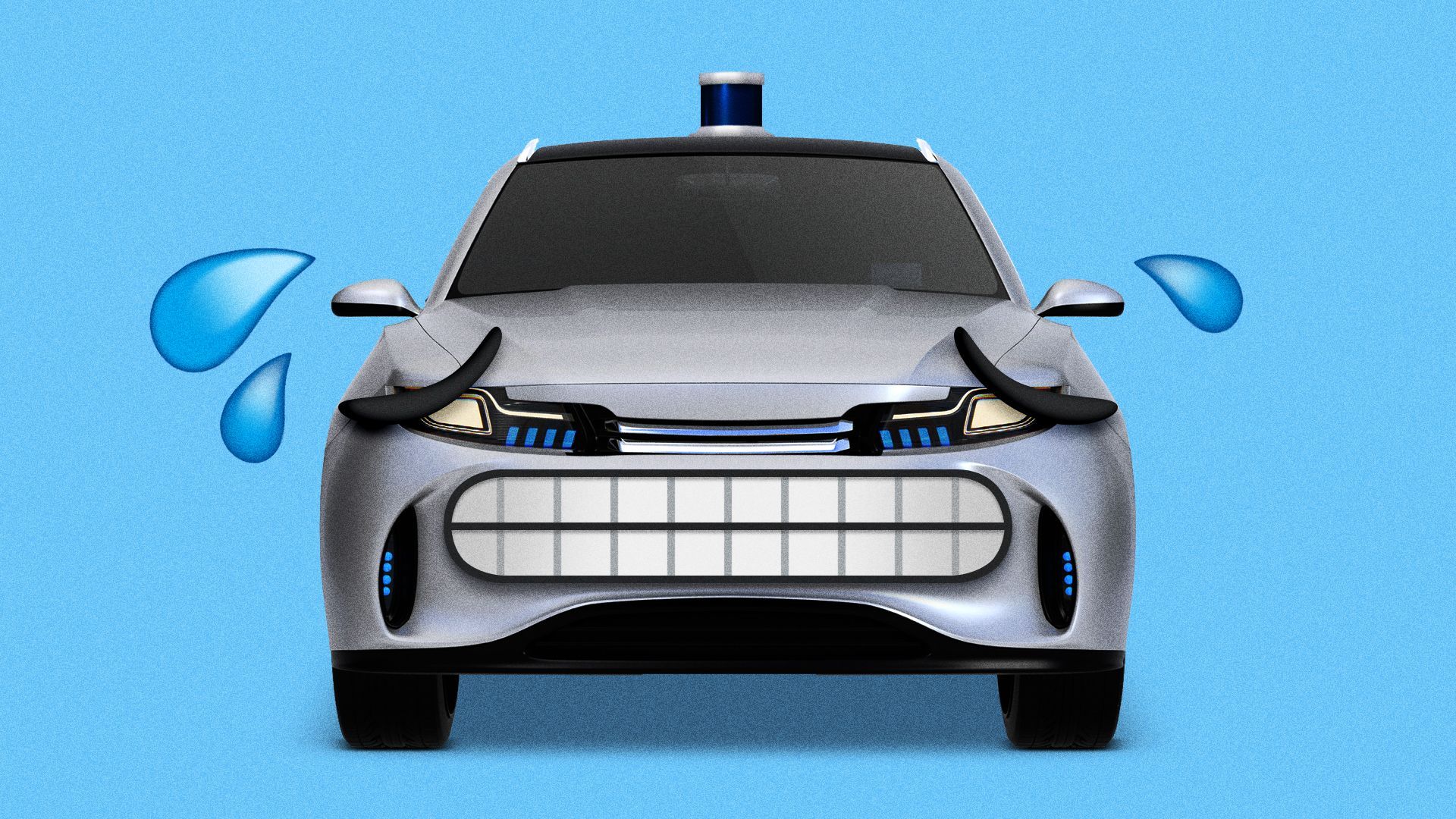 Some people in San Francisco say they're tired of being used as guinea pigs for self-driving cars — even to the point of sabotage — as the technology faces renewed scrutiny ahead of a key regulatory decision.
Why it matters: San Francisco is on the cusp of a driverless revolution that could serve as a blueprint for how autonomous vehicles (AVs) will roll out nationwide.
Yes, but: Based on the city's early experience, some skeptics say robotaxis need more work before they're widely deployed.
What's happening: San Francisco officials, including the city's police and fire chiefs and its top transit leader, have been complaining for months about disruptive incidents involving driverless cars.
They say robotaxis have been snarling traffic, interfering with bus routes and tangling with pedestrians and bicyclists, not to mention intruding on emergency scenes.
"We've had them run over our fire hoses. We've had our hoses get caught in their axles. We've had them block fire engines, and we've had them come into live, active fire scenes," San Francisco Fire Department Chief Jeanine Nicholson told the Washington Post. "We need something to change."
The latest: This week, in a protest that went viral on social media, a group of activists calling themselves "Safe Street Rebel" placed orange traffic cones on the cars' hoods, blocking the sensors they use to navigate the world around them.
That caused them to shut down on the spot and turn on their hazard blinkers.
The group is worried that, like Uber and Lyft, robotaxis will create more, not less, urban traffic. They're also concerned about privacy and safety.
State of play: Amid the rising pressure, California's Public Utilities Commission (CPUC) this week delayed a pair of highly anticipated decisions that would have allowed the two leading robotaxi companies, Waymo and Cruise, to collect fares for rides 24/7 across San Francisco.
Currently, each company has certain restrictions on when and where they can operate, or whether they can charge fares.
Before the delay, mobility investor Reilly Brennan wrote in his Future of Transportation (FoT) newsletter that the decision would be "the most significant regulatory moment for autonomous vehicles in the U.S. over the last/next 3 years."
That decision has now been pushed to Aug. 10, at the earliest.
The other side: "Every single day of delay in deploying this lifesaving autonomous driving technology has critical impacts on road safety," Waymo said in a statement. "We are disappointed by the CPUC's continued delay on Waymo's deployment permit and look forward to its swift resolution."
Cruise, meanwhile, took out full page ads Thursday in several California newspapers and the New York Times pointing out that "humans are terrible drivers" — and that 42,795 people died in car crashes last year, to make the case that its self-driving cars are safer.
"Local leaders and regulators need to safely explore every option possible to reverse the horrific status quo on our roads, instead of blocking a critical technology with a strong safety record," said Cruise spokesman Drew Pusateri.
Meanwhile: Lawmakers in Washington, D.C., are trying to revive AV legislation amid fears that China is gaining an advantage in self-driving technology.
Yet AV skeptics caution against legislation that would unleash driverless cars on U.S. roads before they're ready.
What they're saying: "There is a clear disconnect between the real-time AV experience in San Francisco and the rush for their mass deployment without needed safeguards on Capitol Hill," says Cathy Chase, president of Advocates for Highway and Auto Safety.
"Congress should be paying close attention to this malfunctioning AV microcosm, which could spread throughout the country without needed course correction."
The bottom line: Autonomous vehicles hold great promise to improve safety and boost access to transportation for millions of people — if they're deployed wisely.
Go deeper