These 2 Latinas hope to help the U.S. make World Cup history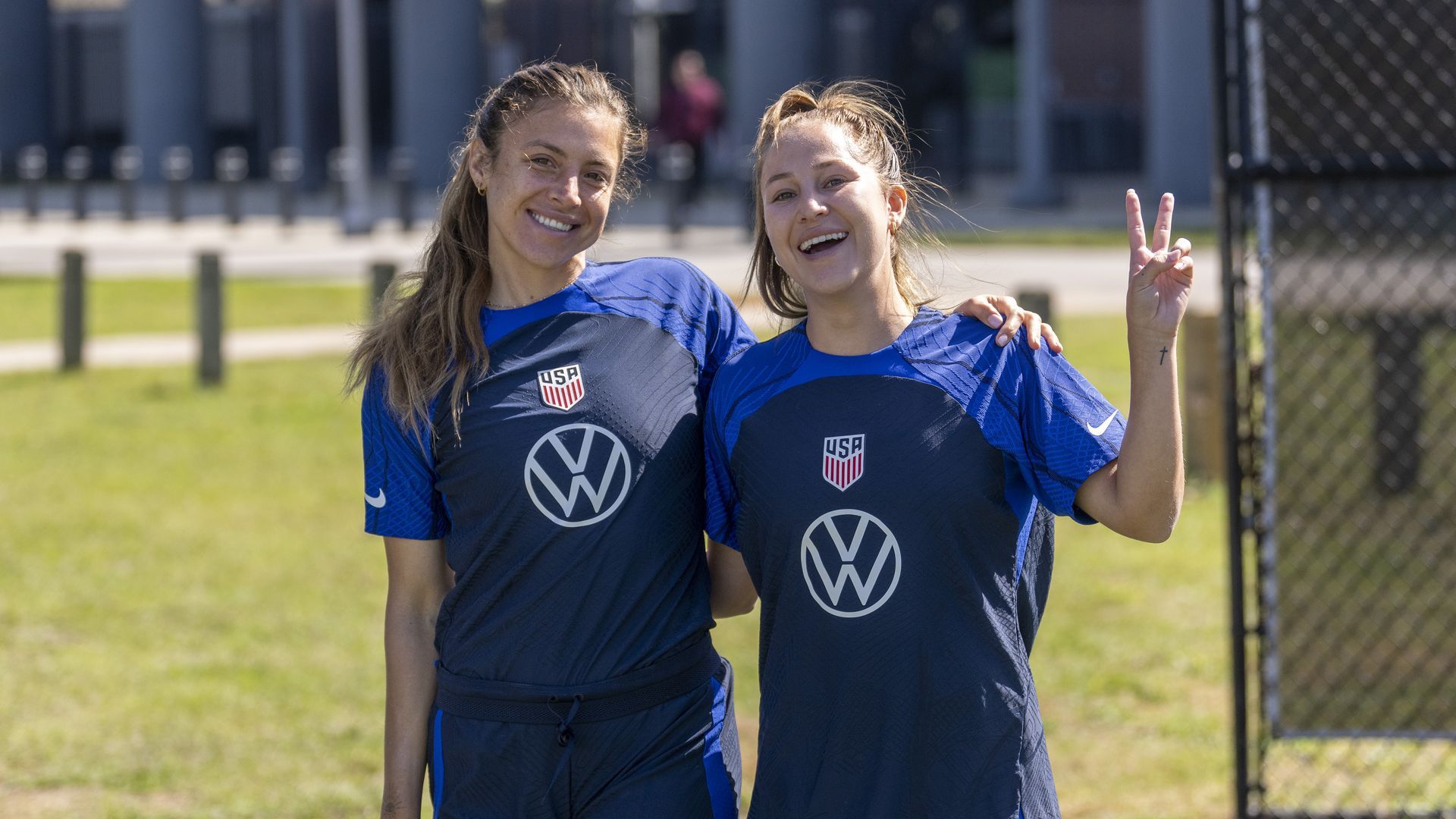 Two Latinas are among the players looking to extend the U.S. National Women's Team's World Cup winning streak in Australia and New Zealand this summer.
Driving the news: Defender Sofia Huerta and midfielder Ashley Sanchez, who are both Mexican American, help make up the most diverse roster in the USWNT's history — a reflection of the changing U.S. demographics.
It's the pair's first time on a pro World Cup roster after having successful runs at the youth soccer level. The tournament kicks off on July 20.
Only two other Latinas — Stephanie Cox and Amy Rodriguez — have played on a U.S. national World Cup team.
What they're saying: Sanchez and Huerta tell Telemundo Deportes they were always proud of their Mexican heritage growing up in California and Idaho, respectively, but at times felt neither "Mexican enough" nor able to express their Hispanic side.
Sanchez says soccer allowed her to connect with her roots and feel accepted as a Mexican American. This was especially true at UCLA, where Sanchez says she was embraced by several other Latina players.
"Surrounded on a team with girls who were also either half Mexican or fully Mexican made me feel more comfortable," she says.
Between the lines: Huerta is among a growing crop of athletes with dual nationality who sometimes face hard decisions about which country to represent in international competitions.
As a youth player, Huerta was part of the Mexico national team. Her two goals for Mexico at the 2012 Under-20 World Cup then caught the attention of the U.S. Soccer Federation.
With a long-held dream to play for the U.S. at a World Cup, she asked to switch football associations — a move that is allowed if a player hasn't represented one country more than three times after turning 21.
"Being on the U.S. team while having Huerta so visible in the back of my jersey is something so important to me because I feel in some ways like I get to represent both places that I'm passionate about," she says.
State of play: A powerhouse in women's national soccer with four cups under its belt, aiming this summer to pull off a hat-trick — winning three consecutive World Cups — a feat no national men's or women's team has ever achieved.
But it won't be easy as the level of play has increased in women's soccer over the past decade especially.
Canada shocked the USWNT to win the gold medal in the Tokyo 2020 Olympics, and the U.S. last year suffered three straight defeats for the first time since the early 1990s.
Costa Rica, Panama, Colombia, Argentina, Brazil, Canada, Haiti and Jamaica are the other teams hailing from the Americas in this year's tournament.
The big picture: Women's soccer has become increasingly popular in the U.S. and worldwide.
A record 1 million tickets have been sold so far for this Women's World Cup. This will also be the first time the cup — established in 1991 — has 32 teams competing, the same number as in the men's tournament.
The U.S. national women players have been praised for not only their talent but also their fight for equal pay with the men's team.
After a long legal fight, they signed collective bargaining agreements last year that ensures equal pay through identical economic terms to those of the men's team through 2028.
The total prize money for the 2023 Women's World Cup is three times higher than that in the previous tournament. But the $150 million in prizes is still far below the $440 million men received for last year's tournament in Qatar. FIFA says it is aiming for total parity at the 2026 and 2027 men's and women's World Cups.
Subscribe to Axios Latino to get vital news about Latinos and Latin America, delivered to your inbox on Tuesdays and Thursdays.
Go deeper