RFK Jr.'s campaign gear not union- or U.S.-made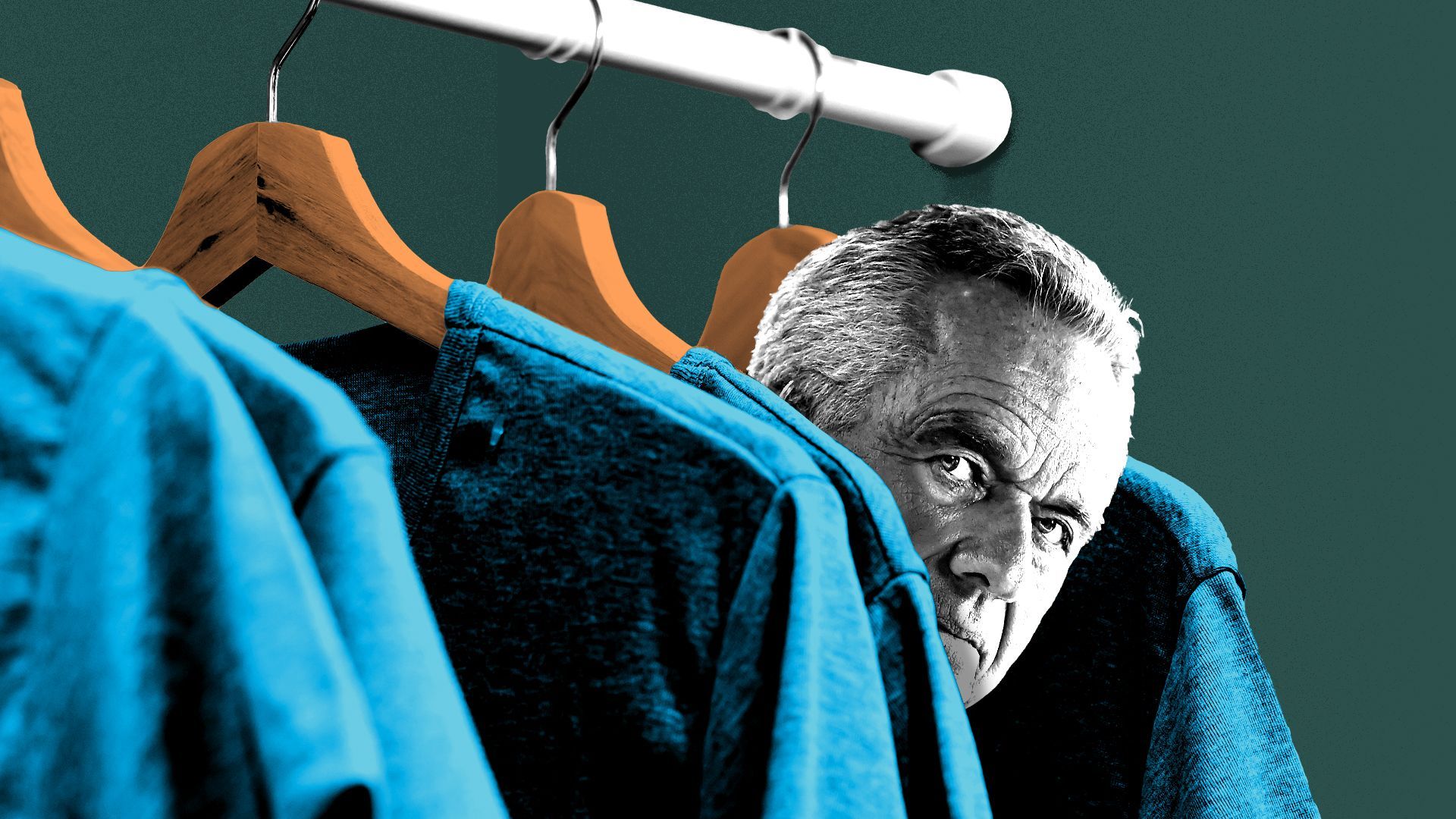 Robert F. Kennedy Jr.'s team is bucking Democratic Party tradition by selling campaign merchandise not made in America or by union labor, Axios has found.
Why it matters: The move is out of step with Kennedy's stated commitment to labor unions and — along with his anti-vaccination views — could complicate his long-shot primary challenge of President Biden.
For generations, a rule for Democratic campaigns has been that as many materials as possible — shirts, stickers, placards, lawn signs, even campaign buses — be made by union shops in America as a sign of the party's commitment to labor unions and the working class.
Zoom in: "Kennedy 2024" T-shirts sold by Kennedy's campaign are "Assembled in Honduras," according to the tag on a shirt obtained by Axios.
The shirts come from Bella + Canvas, a U.S.-based clothing manufacturer that is not unionized.
A campaign sticker sold by Kennedy's campaign also did not include a union label. Other materials on the campaign's website do not include union labels.
At least one Kennedy campaign item — the placards at his presidential announcement rally in April — were union made, according to photos reviewed by Axios.
Kennedy's campaign did not respond to several requests for comment.
Zoom out: After he announced his candidacy in May, Kennedy — who is in one of America's most prominent political families but had never sought public office — called for more unionization in the U.S.
"As President, I will protect American labor AND American industry," he tweeted in May. "Capitalism only functions equitably if workers have the collective bargaining power of unions, so they can claim a fair share of the economic pie."
Democratic officials say having union-made merchandise is important to show support for labor and to ensure products are made in places with workplace protections.
"It's politics 101," Ray Buckley, chair of the Democratic Party in New Hampshire, told Axios. "I would hope that [Kennedy] would put human rights above his political aspirations. That's the nicest way I can say that."
Biden's campaign merchandise is labeled as union-made with a union logo clearly visible on its T-shirts and other products.
Some union workers have drifted to the GOP in recent years, but Republican presidential candidates typically do not have their merchandise produced by union shops. Still, GOP candidates usually are careful to make sure their products are made in America.
But last week the New York Times noticed that a "Farmers for Trump" hat supporting the current GOP front-runner was made in Bangladesh.
Flashback: Non-union campaign merchandise tripped up former New York Mayor Michael Bloomberg's late entry into the 2020 Democratic presidential race.
The campaign ordered T-shirts that were not union- or U.S.-made, according to two people familiar with the campaign.
More seasoned campaign operatives realized the mistake when they saw the shirts and ordered that they never be sold or given out publicly. It's unclear what happened to the shirts.
Go deeper