GOP leans in on candidate diversity to keep the House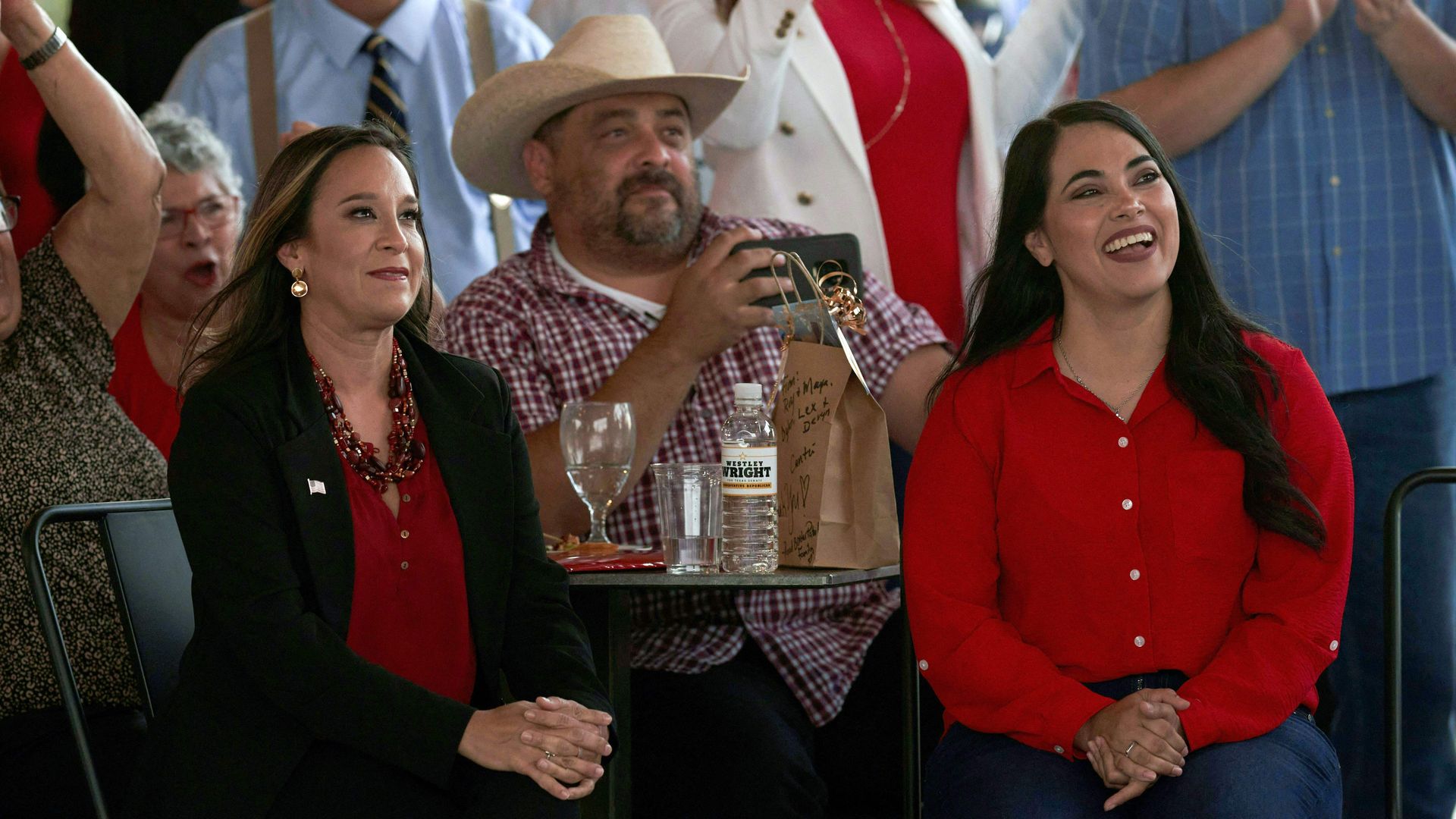 Republicans are hoping to save Speaker Kevin McCarthy's (R-Calif.) majority in 2024 by recruiting more women, minorities and veterans to run in flippable blue districts.
Why it matters: While blasting an anti-woke agenda and praising the end of affirmative action, Republicans see a winning strategy in pulling together a slate of diverse candidates for the most competitive seats next year.
"When candidates' backgrounds and experiences reflect the same challenges and life stories of their voters, Republicans can win in any district," NRCC Chair Richard Hudson told Axios in a statement.
Driving the news: Prasanth Reddy, an Indian-American immigrant and military officer, is launching his campaign Wednesday morning for Rep. Sharice Davids's (D) seat in Kansas.
It comes one day after Mayra Flores, who is Latina, announced her comeback bid on Tuesday for the 34th district in Texas.
Veteran and former state senator Tom Barrett will run again for Michigan's 7th district with an announcement on Monday — the same day as Orlando Sonza, an Asian-American veteran, announced he is running for OH-01. Both are considered tossup districts by Cook Political Report.
Former Representative Yvette Herrell, a citizen of the Cherokee Nation, is running again for New Mexico's second district. And Maria Montero, a Latina, has filed paperwork to run in the highly competitive PA-07.
Between the lines: Over the past several years, Republicans tried to target more minority voters amid sweeping demographic changes in the U.S.
Republicans view recruiting candidates with similar backgrounds to the districts they aim to represent "allows these candidates to outrun the top of that ticket," one GOP strategist said, whether that's governors, senators or the presidential nominee.
The strategist pointed to Rep. Young Kim (R-Calif.) who won in 2022 in a Biden district, saying Democrats tried ads tying Kim to Trump, but "voters didn't buy it."
By the numbers: Democratic voters and lawmakers have long been far more racially and ethnically diverse than Republicans. 80% of minorities in the current Congress are Democrats, as well as 71% of women in the House and Senate.
74% of veterans in Congress are Republicans..
In recent years, the GOP has made concerted efforts to win over more minority voters and to recruit more diverse candidates.
They have had some success at both. An historic half of the 12 major GOP candidates for president are people of color, as Axios reported.
Go deeper