GOP's field for president is historically diverse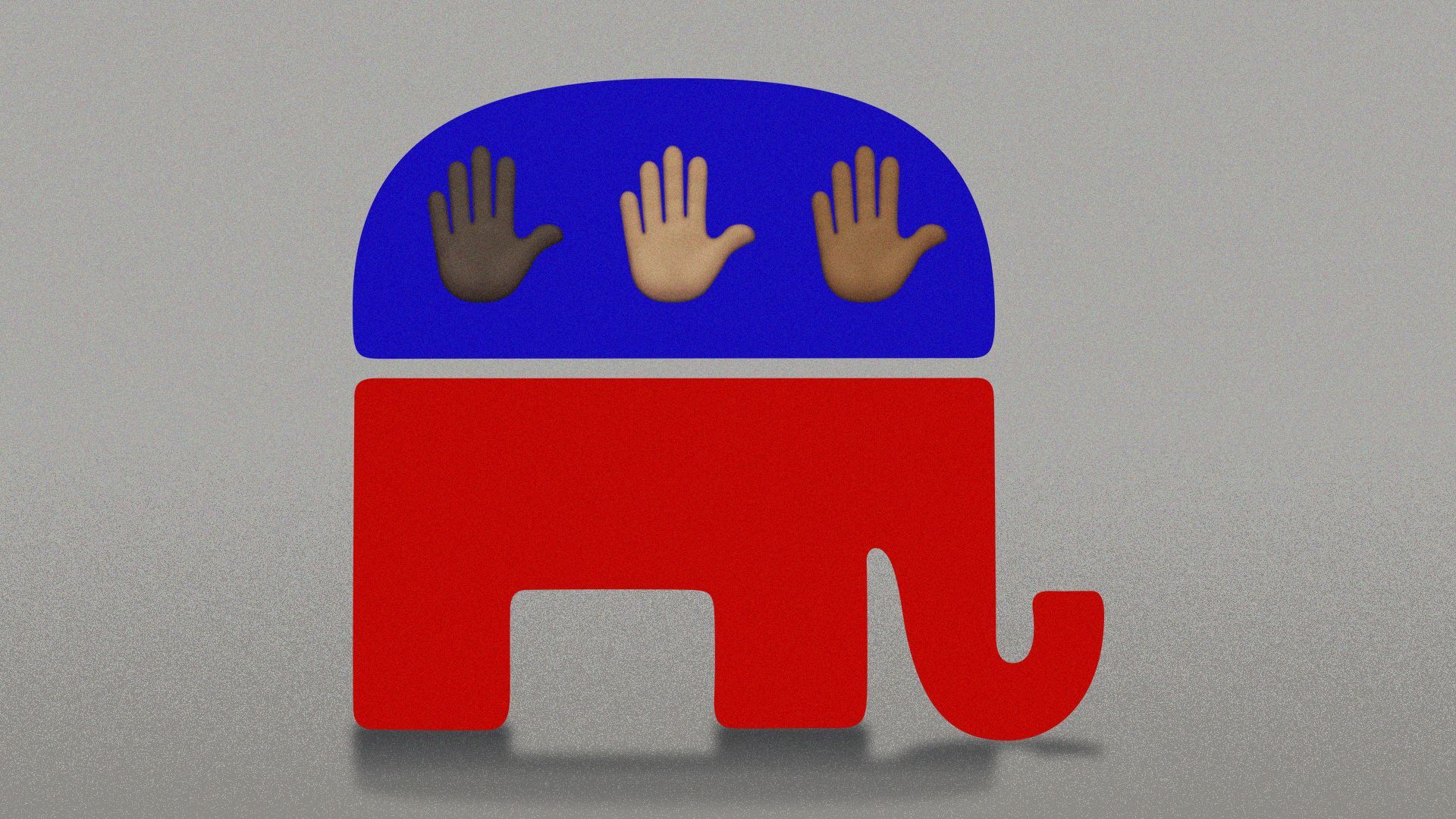 Former Texas Rep. Will Hurd may be a long shot to be the Republican nominee for president, but his entry into the race Thursday was a benchmark: Of the 12 major GOP candidates, half are people of color.
Why it matters: It's a historic turn for Republicans, who in recent years have made a point of trying to recruit more minorities for public office — and have made slight gains among minority voters in recent elections.
What we're watching: Hurd joins two other Black Americans in the GOP race — Sen. Tim Scott (R-S.C.) and conservative radio host Larry Elder.
Former South Carolina Gov. Nikki Haley and entrepreneur Vivek Ramaswamy are Indian Americans, and Miami Mayor Francis Suarez is Cuban American.
Zoom in: Hurd, a former CIA officer, served in the House for three terms, representing a mostly Hispanic district in West Texas before leaving government to start a cyber security firm.
In his last term, which began in 2019, he was the only Black Republican in the House. Now there are four — along with 49 Black Democrats.
The increase in Black Republicans has occurred as the party has pushed issues such as school choice, Hurd tells Axios.
Hurd said he wasn't "afraid to show up to places where I didn't look like people or take a message that didn't necessarily resonate."
Zoom out: Republicans' increasing diversity in national politics is especially visible in the House, where the share of minority GOP members rose from 4% in 2019 to more than 7% this year.
When Hurd first ran for the House (unsuccessfully) in 2010, he says he didn't have the support of the GOP apparatus, which preferred candidates who could self-fund their campaigns.
The party also did not initially get behind Scott when he ran for a House seat in South Carolina in 2010 — though Kevin McCarthy (R-Calif.), now the House speaker and a close friend, was the first member of Congress to give Scott's campaign a contribution then.
More recently, Republicans have sought to give promising minority candidates more of a boost — particularly after the 2020 elections, when every House seat Republicans took from Democrats was won by a woman, a minority or a veteran.
McCarthy has been telling GOP donors that to win and hold a Republican majority in Congress, Republicans must elect candidates who "better reflect our nation as a whole."
On the ground, the Republican National Committee has invested heavily in community outreach, ads in minority newspapers and in minority volunteers campaigning door-to-door in neighborhoods they know.
What they're saying: "House Republicans are giving the party a facelift and bringing new talent to our bench by focusing on recruiting diverse candidates with compelling life stories that can win in any district," Richard Hudson, chair of the National Republican Congressional Committee, tells Axios.
Yes, but: House Republicans have been at war with themselves, divided over their most conservative members' efforts to block action in that chamber — a symbol of dysfunction in Washington.
Many Republicans also are wary of the legal troubles surrounding former President Trump, the party's leading contender for president.
It's unclear how either situation will affect the party in 2024 — or its efforts to continue diversifying.
Go deeper