The death of the beer festival is jolting the craft brewing industry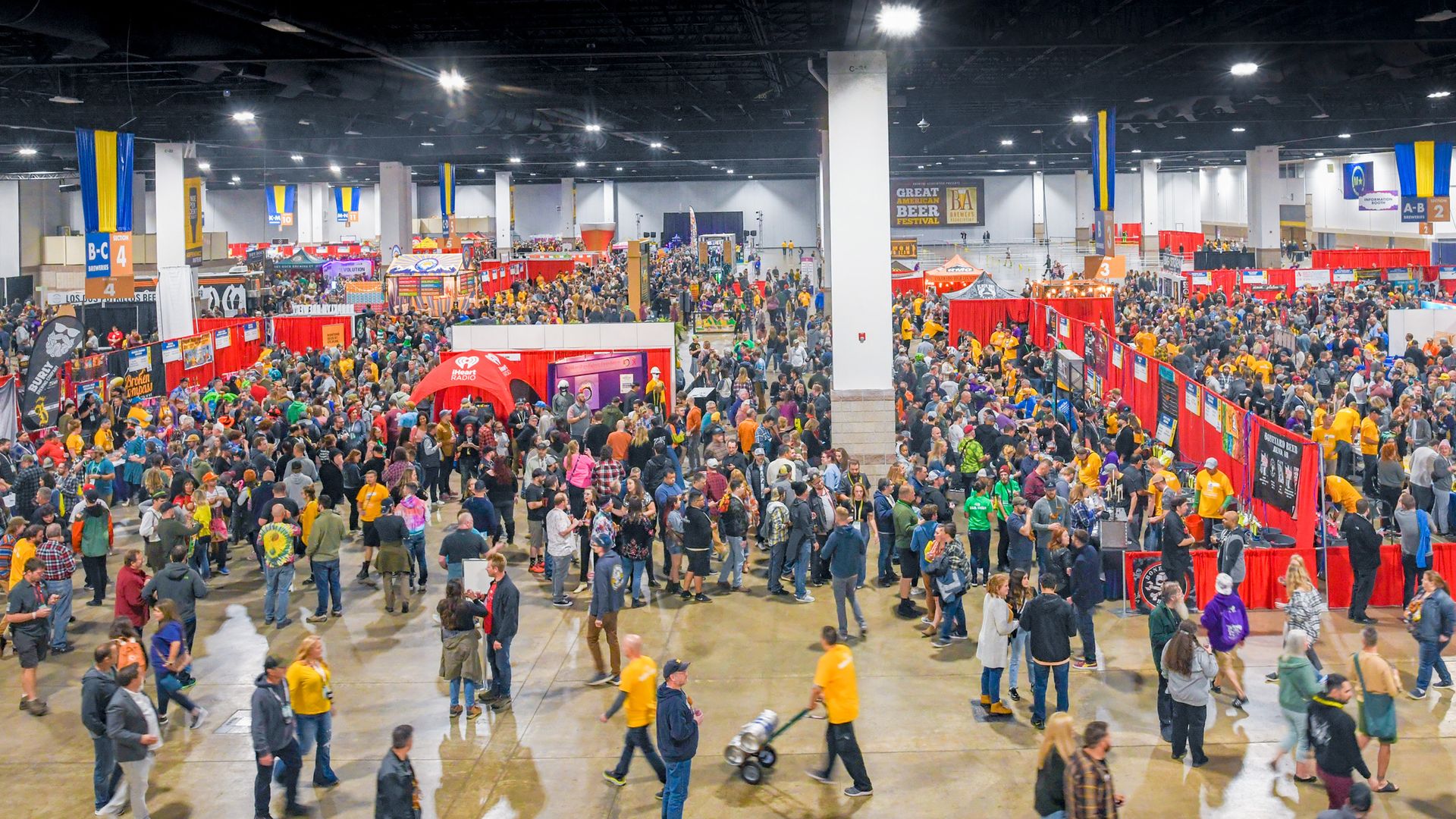 The craft brewing industry is souring on beer festivals — and it's leading to an existential crisis.
State of play: Once ubiquitous and popular, major festivals in Colorado and nationwide are vanishing from the calendar this year amid tightening economic conditions and fatigue among fans, more than a half dozen breweries and industry pros tell Axios Denver.
Others that remain are not selling out in minutes and drawing dozens of breweries and thousands of fans, as they did in the industry's pre-pandemic heydays.
Why it matters: Festivals are showcases of craft beer's boom and key marketing opportunities for breweries, but their decline is the latest sign of trouble after 2022 represented the industry's first static production year in memory other than COVID-plagued 2020.
What's happening: Two premier festivals that draw the nation's best brewers, Breckenridge Big Beers and the WeldWerks Invitational, decided not to host the big price-tag events this year after seeing waning interest and rising costs for similar events nationwide.
Earlier this year, the Oregon Brewers Festival — which started in 1988 and became one of the nation's largest — canceled its 2023 event and hit an indefinite pause amid falling attendance and tightening finances for breweries.
What they're saying: "It's not the same. You've kind of been seeing a shift," says Kristin Popcheff, the director of experience at WeldWerks Brewing in Greeley, Colo. "Pre-COVID was definitely at a peak for sure, but that interruption reset peoples' thinking about beer festivals."
What to watch: Public tickets go on sale Wednesday for the three-day Great American Beer Festival — the largest in the nation — that runs from Sept. 21-23 at the Colorado Convention Center in Denver.
In 2022, the festival shrunk in size, cutting tickets by 20,000 and hosting 300 fewer breweries. This year, organizers expect the same size crowd and $95 ticket prices as last year. Other changes will help draw a wider array of attendees.
"Our outlook is optimistic," says Ann Obenchain at the Boulder-based Brewers Association, the industry trade group that hosts GABF. "While we've seen the pace of ticket sales slow over the years, we haven't seen the sales drop."
Between the lines: Long in need of a reinvention from a sloshy reputation, many beer festivals took note and recalibrated to provide a more intimate experience for beer fans and make it more economically viable for brewers who often lose money because they donate beer and have staffing costs.
"We always ask ourselves, is it going to give us the return of attending this event," says Jeff Smith, the owner and head brewer at LUKI in Arvada.
Of note: One exception is GABF. "It's the personal pride of saying, 'Hey, we're at the GABF,'" Smith says. "It's one of the few times you can really hang out with your fellow brewers and just chew the fat. That's almost more important at GABF than pouring at the event."
What's new: This year, GABF is allowing breweries on the floor to pour one beverage that is not beer, such as seltzer, kombucha, cider or mead. The change lifts a long-standing moratorium. "We realize that there are changing palates, and breweries are adapting in their brewhouse so we want to have that experience at the festival," Obenchain tells us.
Gluten-free and non-alcoholic beverage sections also are being added to appeal to a more health-conscious crowd.
The organization of the breweries is also moving back to geographical layout, instead of alphabetical like last year.
Go deeper