Vivek Ramaswamy unveils aggressive new fundraising strategy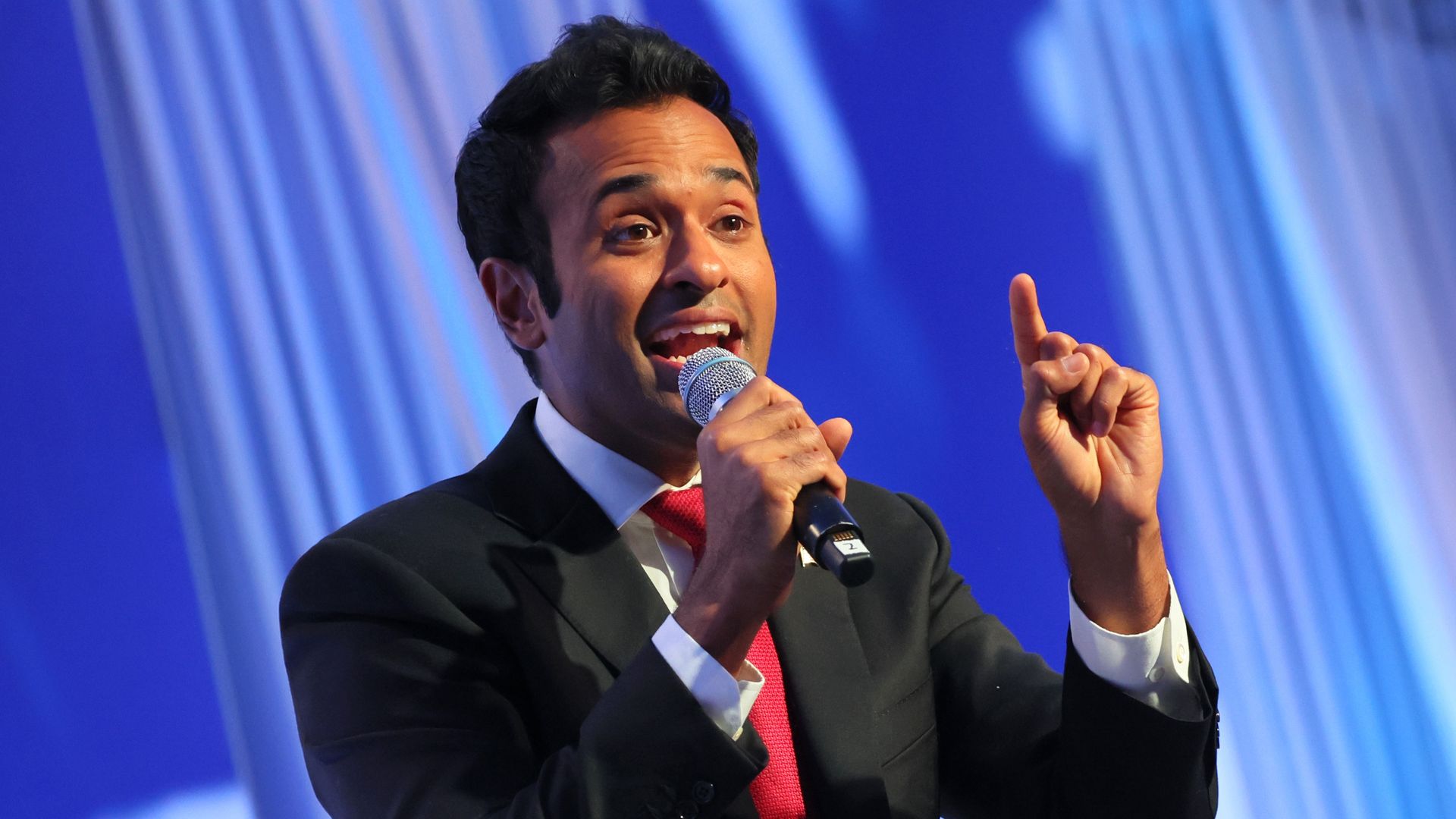 Entrepreneur Vivek Ramaswamy announced a fundraising scheme on Monday that will give supporters a 10% cut of the total money they raise for his campaign.
Why it matters: It's the latest sign of Ramaswamy's aggressive fundraising strategy to stand out and connect with grassroots donors in the crowded Republican primary.
His campaign said Monday that he is closing in on reaching 65,000 individual donors. The average donation size to the campaign is $30.80.
Driving the news: "The message I want to send first is, if I could snap my fingers and wave a magic wand and get the effect of the professional money machine out of politics, I would do it in a heartbeat," Ramaswamy, a businessman and author, told Axios.
In addition to the payment guarantee, the program, called "Vivek's Kitchen Cabinet," will give incentives to fundraisers, such as invitations to campaign events or a phone call with Ramaswamy.
"If this is going to be a cloistered, hush-hush game of raising money and people get to keep a percentage of what they raise, ... then I said, 'it might as well just be everybody,'" he said.
Political bundlers collect campaign contributions from other donors, such as friends and acquaintances, often in exchange for access to the campaign.
"There's an entire oligopoly of people who ... all look the same as each other, like they're clones and are in the political fundraising world," Ramaswamy said.
The big picture: Ramaswamy previously told Axios that his campaign had reached the critical fundraising threshold to qualify for GOP presidential primary debates at least through October.
The qualification for the first debate in August is 40,000 donors, including at least 200 unique donors in each of 20 stages, a threshold that is proving to be a barrier for some underfunded Republican candidates.
Ramaswamy defended the individual donor requirement, saying: "The reality is, if you can't hit 40,000 donors by middle of August, you have zero chance of beating Joe Biden in an election."
Go deeper: Trump's basement campaign
Go deeper