"Anti-woke" Vivek Ramaswamy's former company has DEI initiatives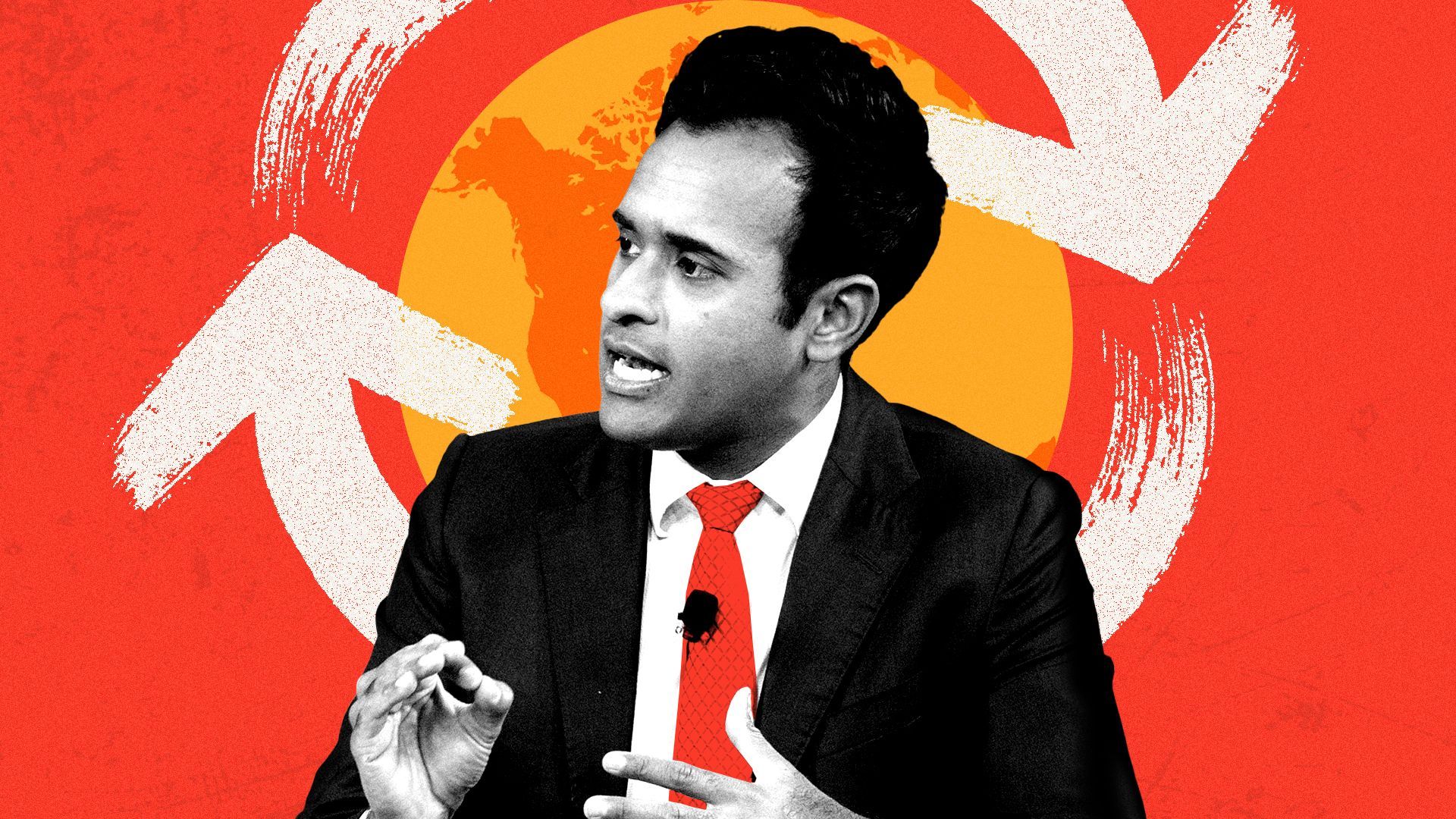 The drug company founded by and formerly led by anti-ESG and DEI crusader Vivek Ramaswamy has a nonprofit arm whose official mission now includes increasing the racial and gender diversity of pharma industry leadership.
Why it matters: Ramaswamy, a longshot 2024 GOP presidential candidate, is best known for arguing that ESG and DEI run counter to fiduciary duty and can have undue influence on cultural change.
Ramaswamy maintains a 7.2% equity stake in Roivant Sciences, valued at over half a billion dollars, although his personal investments are now handled by a wealth manager.
He stepped down as Roivant's CEO in early 2021, but remained company chairman until announcing his candidacy four months ago.
The big picture: ESG is an acronym standing for "environmental, social and governance." DEI is an acronym standing for "diversity, equity and inclusion."
What to know: Roivant Social Ventures, which has a key tenant of ESG in its very name, was launched in 2020 when Ramaswamy was still the parent company's CEO. A prior incarnation was called the Roivant Foundation.
According to its website, RSV partners with and sometimes invests in outside companies and groups to help create "systemic improvements to health equity."
RSV also takes a keen interest in "building DEI opportunities for future leaders in biopharma and biotech."
The group's CEO, Lindsay Androski, wrote a September 2022 op-ed for the LA Times titled: "Why the lack of diversity in drug industry leadership is hurting women and people of color."
What he's saying: Ramaswamy acknowledges signing off on the creation of RSV, but says it was a "narrow scope with minimal resources" that didn't include the DEI initiatives with which he disagrees.
"Our business model was identifying abandoned drugs or areas that were languishing despite having tons of money poured into them, and we evaluated hundreds of these," Ramaswamy explains.
"Some of those could help patients buy weren't being developed, even by us, because the economics didn't make sense ... The idea was that we could contribute the findings of our due diligence as a fixed cost, and others would contribute through their own philanthropy, so that patients could get the medicines and maybe Roivant would even benefit from the learnings of the process."
Behind the scenes: Roivant's interest in DEI isn't limited to its nonprofit work.
Per the company's career page, going back to at least mid-2022: "We hire motivated people with diverse backgrounds, identities, experiences and skillsets. We are committed to fostering an inclusive culture."
Roivant also has employee resources groups, which are key components of corporate DEI initiatives. Those were established by current CEO Matt Gline, who previously had been Roivant's chief financial officer, although there briefly was a women's ERG while Ramaswamy was still in charge.
Upon the CEO switch, both Ramaswamy and Gline made it clear via a shareholder letter that they had different social positions.
"I didn't spend any of my time on it [as chairman]," says Ramaswamy. "There are certain issues that rise to level of board and certain ones that stay at the CEO level."
The bottom line: Ramaswamy made his fortune through a company that no longer shares some core values on which he's basing his campaign.
Alexi McCammond contributed to the reporting of this story.
Go deeper