No one is immune from the nightmare of airport security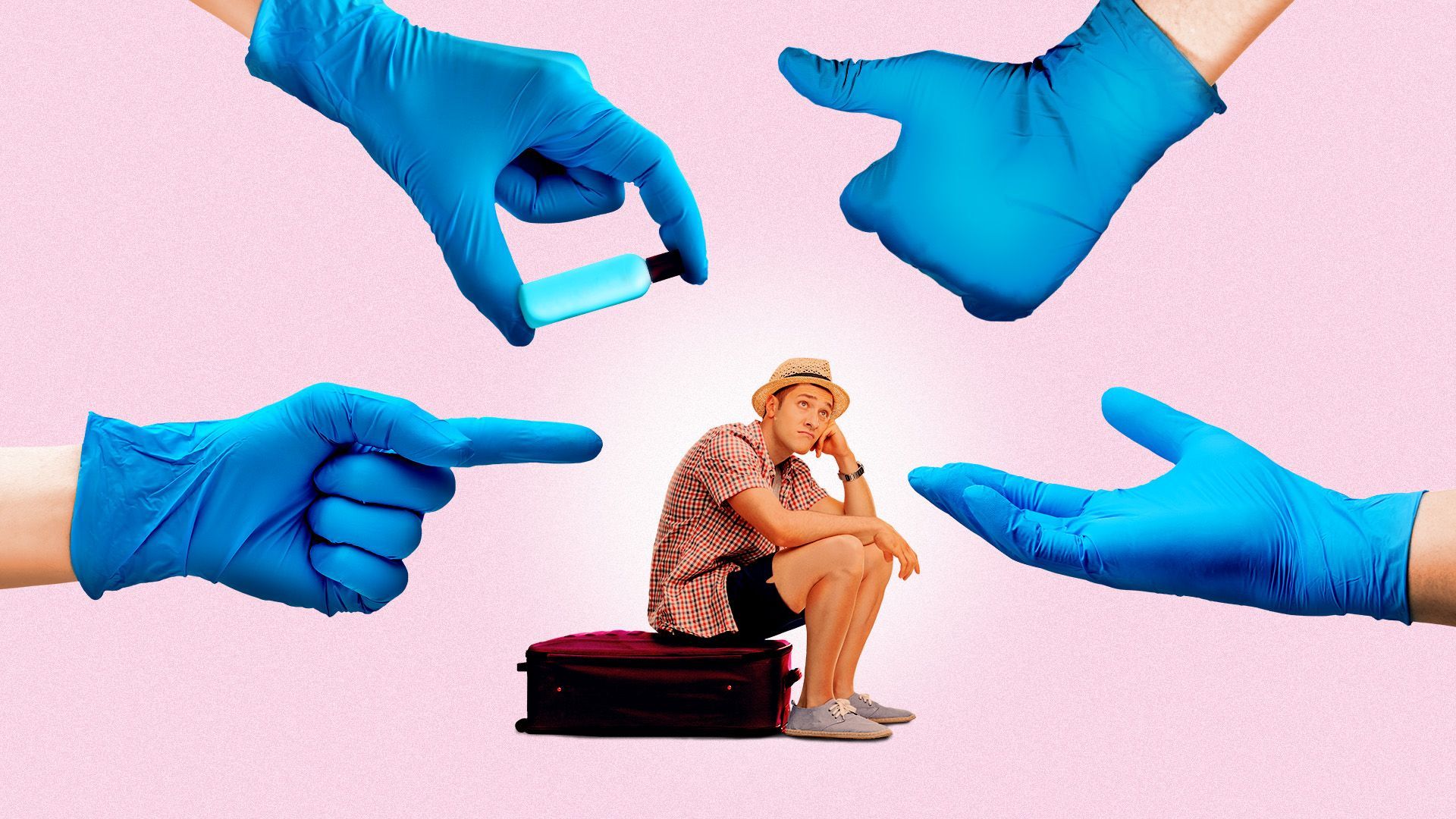 Even seasoned travelers can be riddled with anxiety about getting through airport security — especially during peak travel times, like this holiday weekend.
The big picture: Rules about liquids, laptops and shoes can seem outdated and arbitrarily enforced. People who pay for an exemption from those rules don't always feel they're getting their money's worth. And new technology designed to streamline the process may be slowing it down, at least for now.
Reality check: It's naive to think the U.S. will significantly relax the security process around air travel any time soon.
The high-alert post-9/11 days of shoe and underwear bombs can seem well behind us. But it's tough to say whether that's evidence the screening process is working or that we can chill out a bit.
Driving the news: The TSA is rolling out new screening technology designed to detect new emerging threats and allow more travelers to keep their liquids and laptops in their bags, even if they don't have TSA PreCheck.
But it's not yet the norm in most airports, and some say the new scanners are actually slowing down the screening process as travelers get the hang of putting everything into a bin rather than pulling out certain items.
"As with any new technology, it will take some time for passengers to get used to this new screening technology," a TSA spokesperson said.
"Some airports have construction underway to install these new CT scanners, and TSA asks passengers to be patient during the screening process."
Some travelers who've forked over cash for CLEAR — a private service that lets frequent fliers skip the usual screening lines in exchange for their money and valuable biometric data — are complaining that the TSA's normal or PreCheck lines are sometimes faster.
What they're saying: "CLEAR consistently delivers faster, more predictable, more seamless travel experiences," says a CLEAR spokesperson. CLEAR says it continues to launch new lanes and products "to address growing travel demand and make the travel journey better for passengers."
The other side: Hijackings were once shockingly commonplace. Now — inarguably at least in part because of post-9/11 screening changes — they seem nearly impossible.
And while some of these rules may seem arbitrary, here's a big data point in favor of the screening apparatus: The TSA says it stopped a record 6,301 firearms from being brought aboard airliners in 2022, the vast majority of which (88%) were loaded.
Yes, but: Did those belong to people with true ill intent, or are there simply a lot of careless gun owners out there?
Meanwhile: 99.2% of passengers have waited fewer than 30 minutes at security checkpoints so far this year, the TSA says, while 98.8% of PreCheck passengers have waited fewer than 10.
💬 My thought bubble: As much as I loathe paying for better TSA service, PreCheck has been undeniably worth it. I haven't waited more than 10 minutes in a security line before any of my recent flights, even without CLEAR.
What's next: The TSA is expanding the use of facial recognition meant to expedite passenger screenings.
While voluntary, such technology comes with privacy concerns — though the agency says it doesn't store photos taken during the screening process.
Planes are also getting a lot more secure. Under a new Federal Aviation Administration rule, airliners built after mid-2025 must have a secondary cockpit security door meant to further stymie potential hijackings.
But at least so far, that isn't translating into big changes at the front of the airport.
Go deeper