Canada's wildfire crisis: By the numbers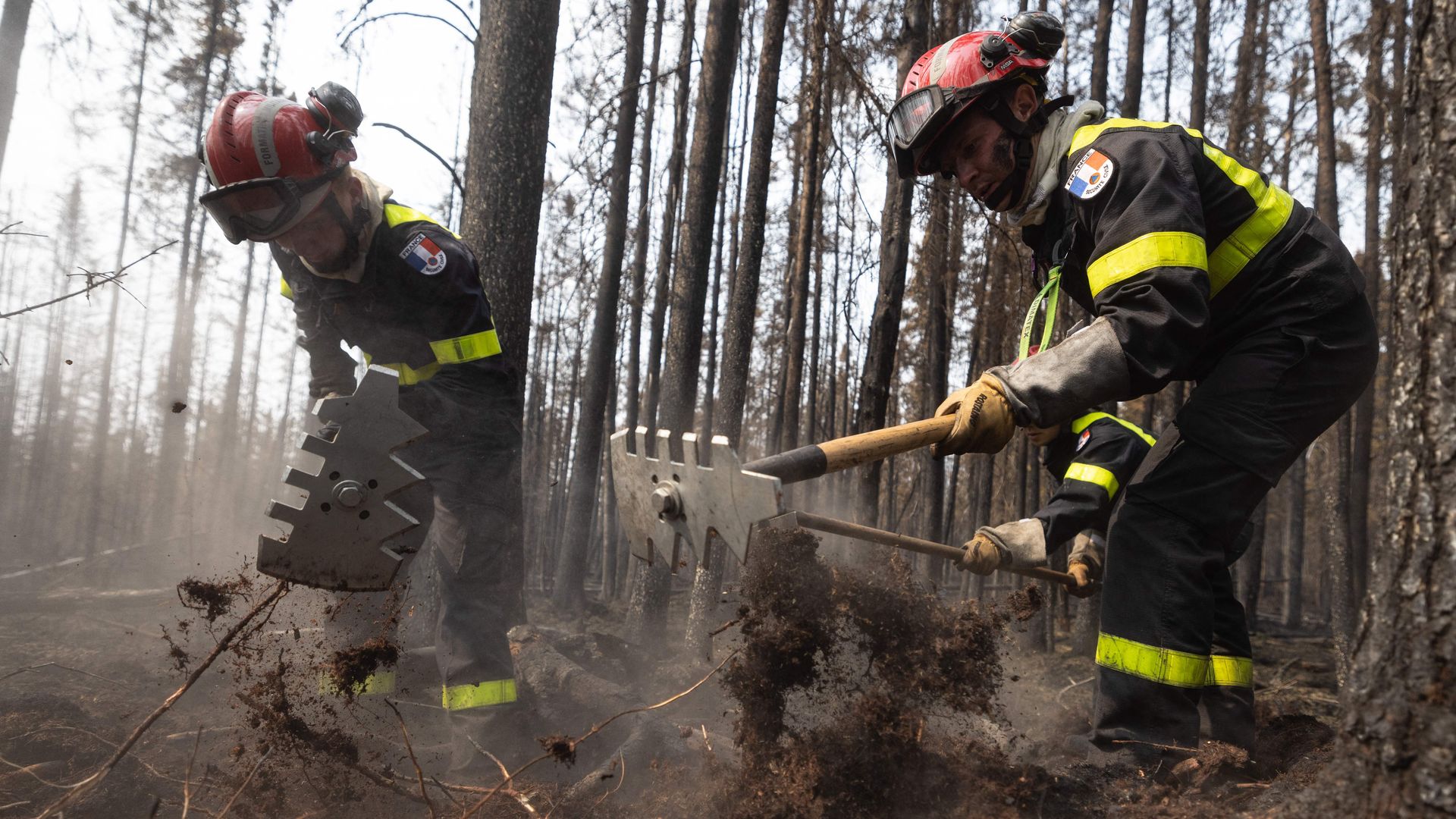 Unprecedented fires have already torched millions of acres throughout Canada during its worst-on-record wildfire season — which is long from over.
Why it matters: Smoke from the fires has so far triggered air quality alerts in hundreds of cities across North America. But with the typical peak of wildfire season still ahead, dangerous, haze-filled skylines may be a common sight this summer.
The wildfires have been driven by human-caused climate change and global warming, which have contributed to heat events and have exacerbated drought conditions across the country.
Winds have also managed to carry the smoke across the Atlantic Ocean, where it's affected several Europe cities.
The number of active wildfires in Canada
More than 490 fires were burning across the country on Friday afternoon, according to the Canadian Interagency Forest Fire Centre.
As of 3pm ET, fire personnel were responding to 382 of those fires, 79 of which were considered "out of control" and 88 were "being held" — not expanding, but not under control.
Fire personnel were monitoring 115 of those wildfires, meaning they were allowing the fires to burn to achieve ecological or resource management objectives, or because they were located in remote areas and not active threats.
Fires were burning in almost all of of Canada's 10 provinces and three territories. Only two provinces — New Brunswick and Prince Edward Island — and one territory, Nunavut, did not have any active fires.
There were 106 active fires in Quebec, 103 in Alberta, 96 in British Columbia and 64 in Ontario.
How many acres have burned
To date, 3,063 fires have burned burned approximately 20 million acres (8.2 million hectares) this wildfire season.
The 10-year average for Canadian wildfire seasons around this time is 2,452 fires burning 1.3 million acres (around 540,740 hectares), per the CIFFC.
Seasons typically begin around May, ramp up over the summer months and diminish around fall, with July usually being the most active month.
Canada's worst wildfire season ever
Mike Flannigan, a veteran wildfire researcher at Thompson Rivers University, told Axios' Andrew Freedman that this year is Canada's worst fire season since reliable record-keeping began in 1959.
In a typical year, fires burn an area about the size of Massachusetts. But this year, that area is already close to the size of South Carolina, Flannigan said.
"If you live in downtown New York or Toronto or Washington, your place isn't going to be burned down from wildland fire," Flannigan said. "But smoke from fires thousands of miles away can make your life miserable."
How long the fires will burn
The big picture: Because of their size, locations and behavior, many of the fires are not expected to be extinguished anytime soon — whether by firefighters or a major shift in weather conditions — until after summer ends.
Many of the fires are burning in the boreal forests ringing the Arctic and in peatlands, which function as natural sinks for carbon dioxide (CO2).
As those environments burn, CO2 locked in soil and plants is released into the atmosphere along with other greenhouse gases that contribute to elevated temperatures.
A silver-lining of Canada's wildfire crisis is that, so far, the U.S. has experienced a below-average wildfire season, freeing up personnel and resources that have been sent north.
Go deeper