Roku's next play: Smart homes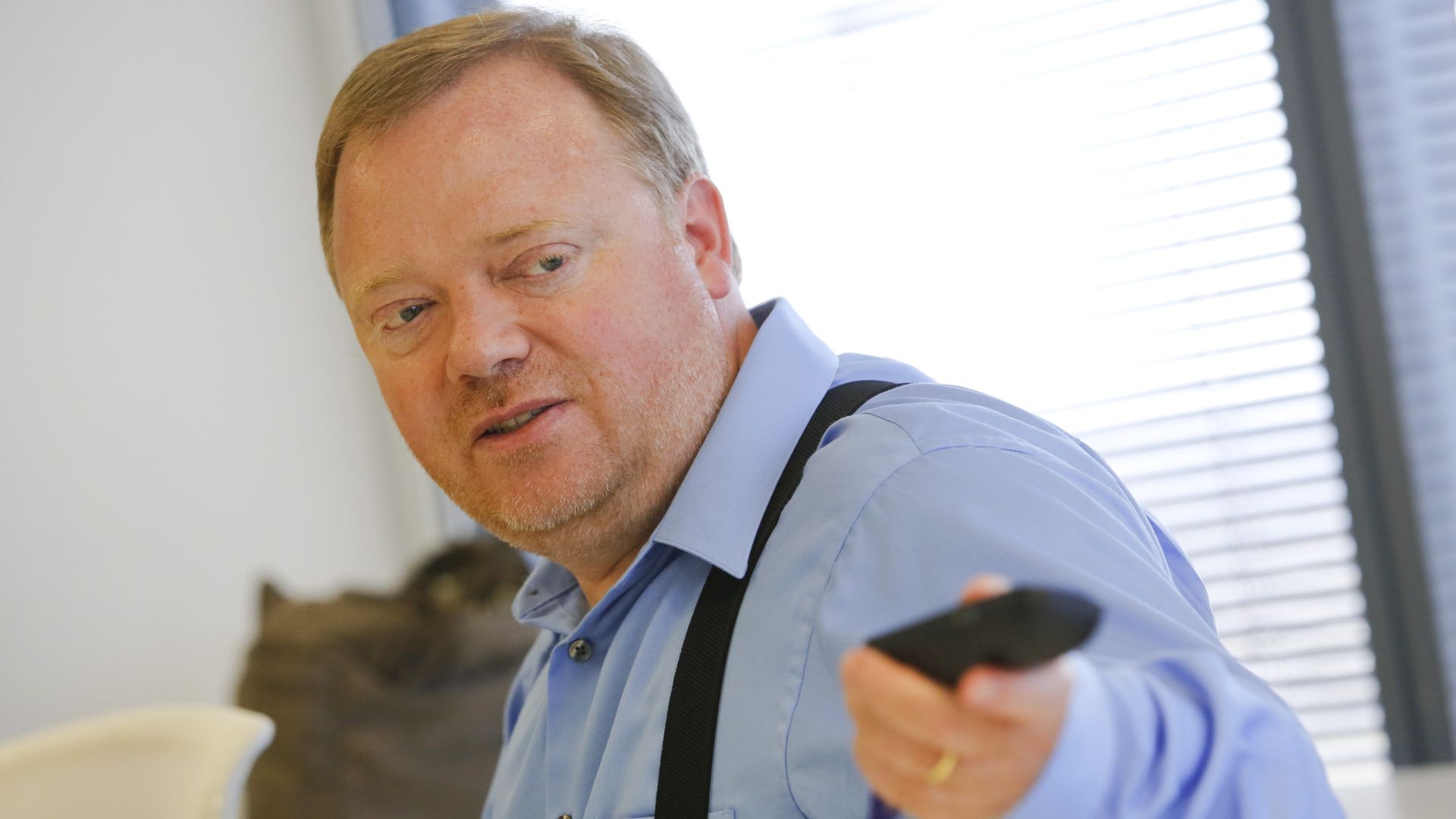 Roku is planning to expand its business into smart homes, CEO Anthony Wood told Axios in an interview, marking a natural progression from licensing operating systems for smart TVs to licensing operating systems that power connected houses.
Why it matters: Wood saw the need to build a smart TV operating system early on, allowing Roku to build market share quickly as streaming ascended. Now, he sees a similar opening for smart homes.
"Basically, it's the same strategy we use for smart TVs — which is sort of our entry into the smart home because it's the leading smart device in a home — to build a custom OS for the entire smart home," Wood told Axios in a joint interview with Roku Media president Charlie Collier at the Cannes Lions International Festival of Creativity in France last week.
"I think 10 years from now, every single home will have an operating system."
State of play: Roku has begun rolling out a slew of smart home hardware products, including security systems, cameras, video doorbells, plugs and lights that can all be accessed through the Roku Smart Home app.
Users can pay a subscription for things like livestreaming, motion alerts, cloud recording, smoke and alarm detection, pet detection, and more.
Be smart: Wood has a track record of spotting opportunities early and moving quickly to gain market share, but the company has yet to turn a profit.
When I first interviewed Wood in 2017, Roku was pushing to transform its business from selling connected-TV hardware to licensing smart-TV operating systems to smart-TV manufacturers.
By 2021, Roku had become the top-selling smart-TV operating system in North America, surpassing rivals like Google's Android TV and Amazon's Fire TV.
Today, Roku has 71 million active accounts, reaching nearly half of all broadband households in the U.S. Despite revenue growth, the company's operating costs continue to balloon.
Roku has pledged to be profitable by 2024 by managing expenses. It's undergone two rounds of layoffs in the past year.
Wood said the company has room to grow its average revenue per user, which has been impacted by a slowed ad market.
The big picture: Roku doesn't make profits from its connected hardware products, but selling hardware allows it to reduce the cost of its software offerings, which will help it grow its user base.
The company makes its money engaging consumers with its software, similarly to how Android makes money from its apps, and by getting a cut of the subscriptions sold to other streamers through its platform.
Collier, who came to Roku in 2022 after leading Fox Entertainment as CEO, said that instead of trying to compete with big subscription platforms, Roku is instead focused on building content "zones" dedicated to user interests, like food, through its own original content and licensed shows. Collier calls it a more "strategic" and "disciplined" strategy.
What to watch: Roku is still a relatively nascent advertising player, but its ad business is growing quickly, thanks to the success of its free ad-supported network, the Roku Channel.
The Roku Channel is growing so fast that for the first time last month, it appeared on Nielsen's monthly streaming measurement survey for surpassing 1% of total TV watch time.
What's next: Asked whether Roku would consider a merger with another big firm or any other major acquisitions, Wood said Roku's goal isn't to consolidate or merge with another major streaming company.
He added that mergers and acquisitions "is not a big strategy for us" and is mostly just used on a "tactical basis."
Go deeper