Exclusive poll: Latinos give Elon Musk low favorability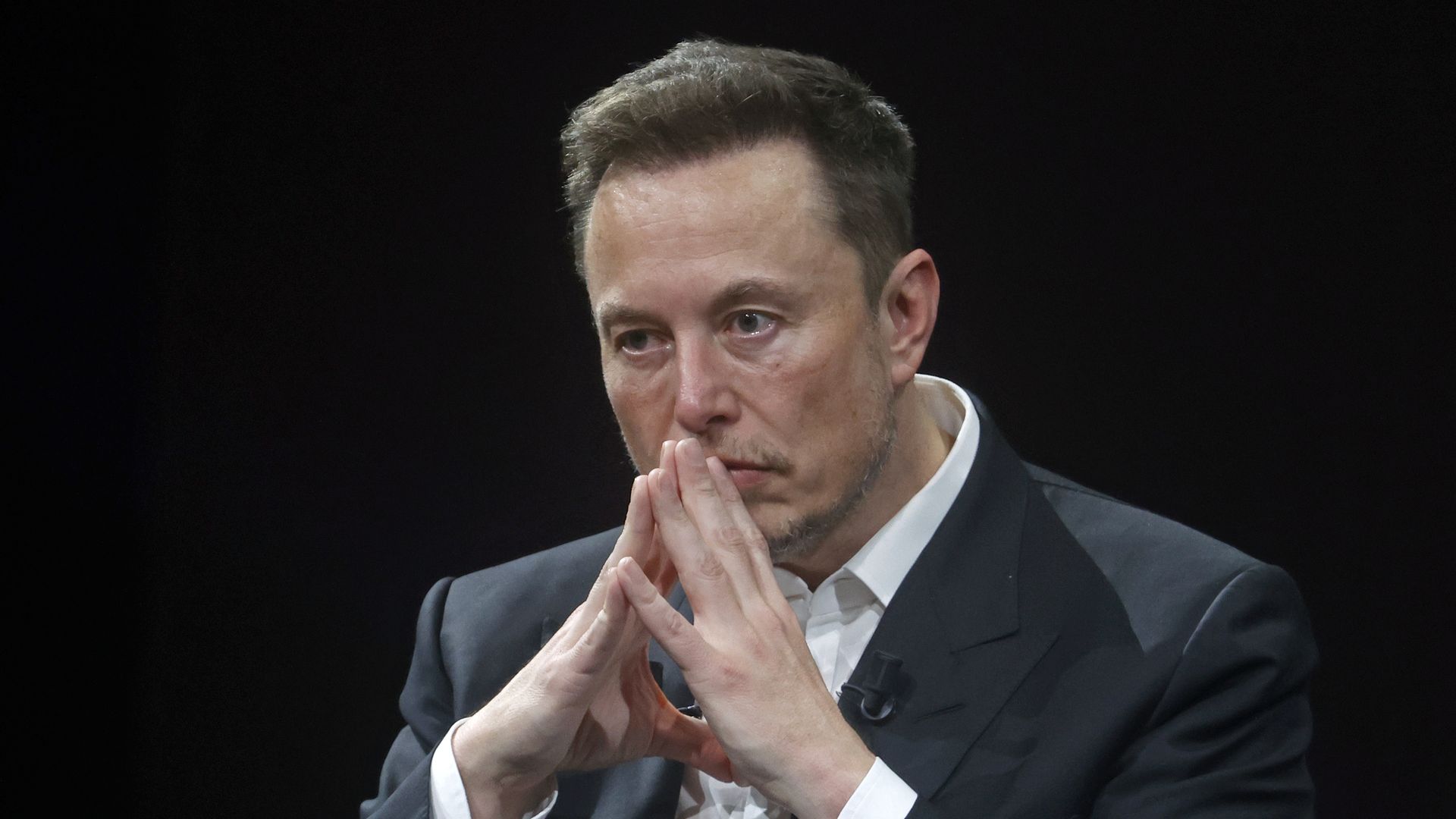 Latinos don't think much of Tesla CEO and Twitter owner Elon Musk, according to an exclusive Axios-Ipsos Latino poll in partnership with Noticias Telemundo.
Why it matters: Hispanics are among the fastest-growing consumers in the U.S. and are avid social media users, which could spell trouble for Musk if they continue to shun his electric vehicles or flee Twitter.
Details: Only 33% of Latinos surveyed said they had a favorable opinion of the billionaire, while 41% had an unfavorable view, the poll found.
That's a lower favorable rating than President Biden (47%) and Vice President Kamala Harris (42%) have among Latinos.
It's also only slightly higher than former President Trump, who has a 29% favorability percentage with Hispanics.
Zoom in: Around 25% of Latinos said they didn't know Musk, suggesting the billionaire is far less known among Latinos than other national figures, Ipsos pollster and senior vice president Chris Jackson tells Axios.
"He's also not necessarily the beloved figure that he may be with some other communities," Jackson said.
Yet Musk's high negatives, along with his unknowns, show Latinos just don't care for him, Republican consultant Mike Madrid, based in Sacramento, Calif., tells Axios. "That's a significant finding."
Background: Twitter saw a rise in hate speech after its acquisition by Musk, who has used to platform to spread conspiracy theories and attack Black Lives Matter and trans activists.
Of note: Tesla's 2021 Impact Report found that Latinos comprised 24% of Tesla's workforce, but one grassroots group raised concerns that same year that the company's new Austin gigafactory offered few opportunities for residents who only speak Spanish, Axios Austin's Nicole Cobler reports.
Last year, a lawsuit alleged that Black Tesla workers were subjected to verbal racial abuse. Tesla said it strongly opposes all forms of discrimination and harassment.
The intrigue: A majority of Latinos say it's important to shift to electric vehicles to minimize climate change damage, but they still expressed more interest in buying gas-powered cars over EVs, according to the Axios Latino-Ipsos poll.
Only 41% said they would buy a plug-in hybrid or electric-only vehicle, and 22% said they'd look at a plug-in hybrid or electric-only pickup truck.
Between the lines: "If you juxtapose that against the interests in hybrid and electric, it seems like they're more supportive of electric vehicles than they are of Elon Musk," Jackson said.
Methodology: This Axios/Ipsos Latino Poll, in partnership with Noticias Telemundo, was conducted June 2-9 by Ipsos' KnowledgePanel®. This poll is based on a nationally representative probability sample of 1,116 Hispanic/Latino adults age 18 or older.
The margin of sampling error is ±3.5 percentage points at the 95% confidence level, for results based on the entire sample.
Subscribe to Axios Latino to get vital news about Latinos and Latin America, delivered to your inbox on Tuesdays and Thursdays.
Go deeper