DraftKings and Fanatics locked in sports betting merger battle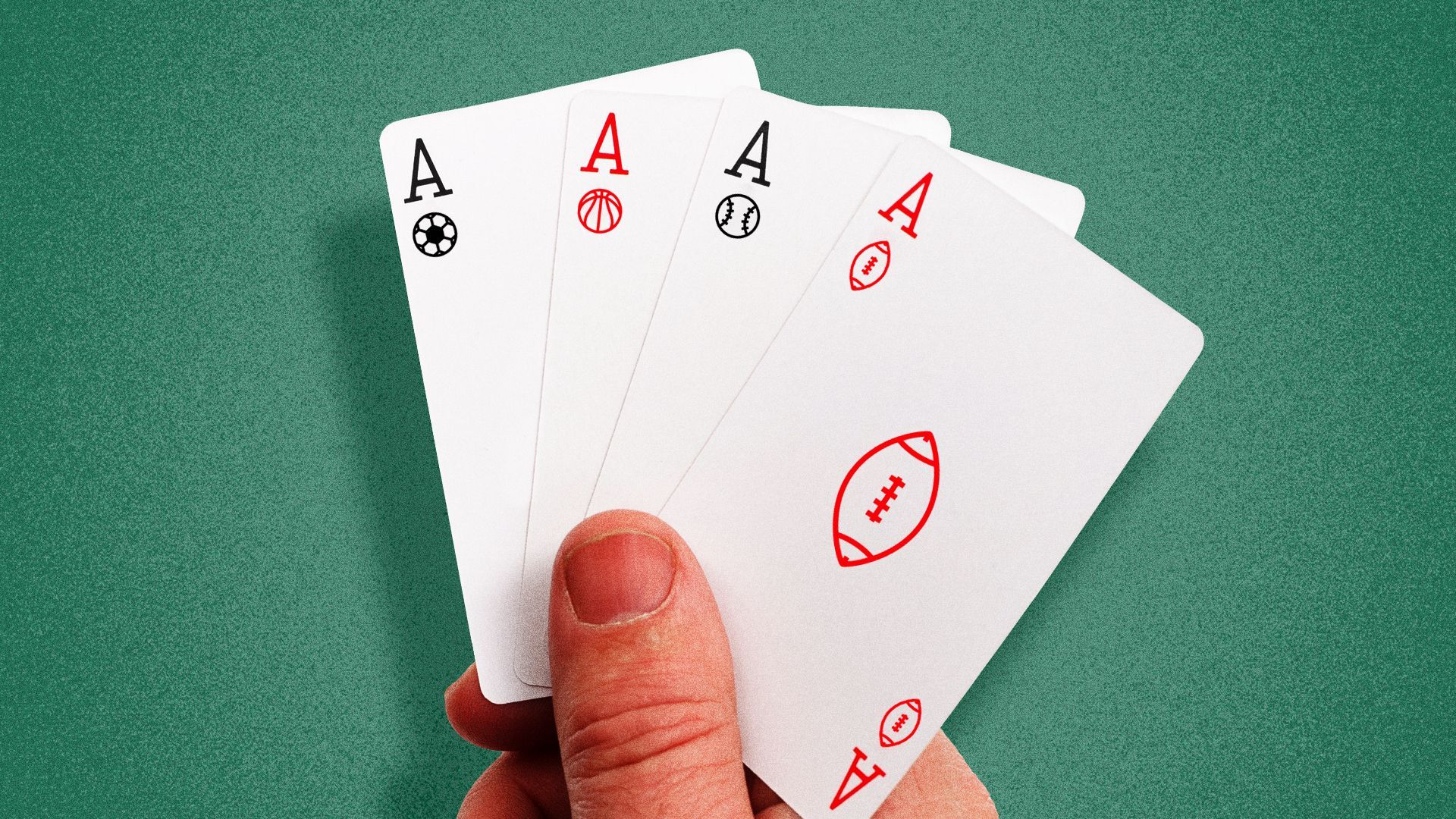 Sports betting is booming in the U.S., with more than $220 billion wagered since the Supreme Court's landmark legalization decision, and now is the subject of an escalating merger battle between the industry's number two player and a well-heeled newbie.
Driving the news: DraftKings made a $195 million nonbinding offer to buy the U.S. assets of Australian bookmaker PointsBet Holdings, topping an existing $150 million agreement with Fanatics.
PointsBet says that it will engage with DraftKings on what may lead to a superior proposal, although its board continues to recommend that shareholders approve the Fanatics offer (at least for now).
The intrigue: DraftKings and Fanatics held secret merger talks back in 2021, as first reported by the NY Post and confirmed by Axios.
At the time, DraftKings was just coming out of the COVID sports shutdown and was interested in revenue diversification. Fanatics, a sports merchandise retailer, believed sports betting was a logical extension of its brand and industry relationships.
Discussions were fairly advanced, although there were still plenty of details that needed hammering out (such as top management roles). It was discussed during at least two DraftKings board meetings, and with select members of the Fanatics board, per multiple sources.
Fanatics walked away, leaving a taste that's grown even more bitter for DraftKings as its stock price has slumped and Fanatics has seen its private valuation rise to around $31 billion.
The big picture: There's certainly a case to be made that DraftKings is bidding on PointsBet as a petty revenge play against its almost-betrothed, but it also has much more conventional business reasons.
DraftKings has around a 25% market share of U.S. sports betting, well behind leader FanDuel (46%) but significantly ahead of its dozens of other rivals. It wants to maintain that quasi-duopoly, which would be much easier to do if Fanatics was unable to secure gaming licenses that PointsBet already has (including in states with capped supply).
DraftKings also argued in its offer letter that the acquisition would be EBITDA accretive, in part due to eventual integration of the unique "pointsbetting" tech.
Fanatics, meanwhile, wants the U.S. assets of PointsBet as foundational cornerstones of its new sportsbook business — an effort important enough the company that founder and CEO Michael Rubin last October sold his 10% personal ownership stake in the parent company of the Philadelphia 76ers and New Jersey Devils.
The bottom line: It's all fun until someone loses the game.
Go deeper