Democrats have confirmed 4 judges during Tim Scott's campaign absences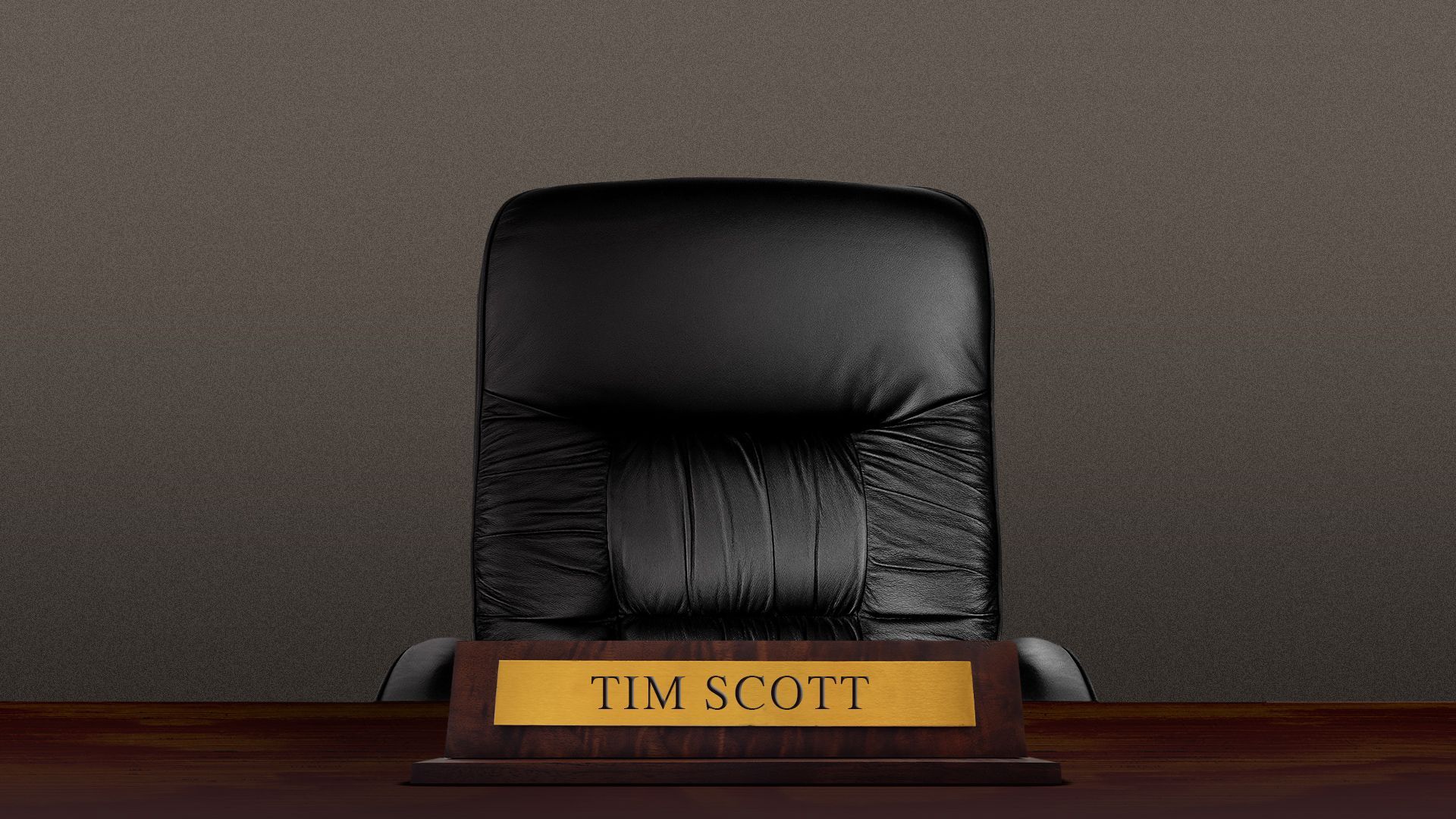 Sen. Tim Scott's (R-S.C.) longshot presidential campaign is making it easier for Democrats to confirm judges, voting records reveal.
Why it matters: Scott has missed four judicial votes so far, including one that would have forced Vice President Kamala Harris to break a 50-50 tie.
This will be an ongoing issue for the senator. Unlike in 2016, when four GOP senators ran for president, Scott is currently the only Republican from the upper chamber running in 2024.
The Senate margin of control is also much closer, raising the stakes for every missed vote.
After publication, a Scott campaign spokesperson provided a statement stressing that Scott "was not the deciding vote for any of Biden's recent nominees."
What's happening: Scott was the only senator to miss civil rights lawyer Dale Ho's confirmation to be a federal judge in New York's Southern District, spending the day campaigning in Iowa instead.
Ho was opposed by Republicans largely because of his opposition to voter ID measures.
At a town hall in Iowa the night before the vote on Ho, Scott decried Democrats' attempts to undermine election integrity through expanding mail-in ballots, according to a person familiar with his remarks.
Scott was also the only senator absent for Casey Pitts' confirmation to become the first openly gay man to serve as a federal judge in San Francisco, though Sens. Susan Collins (R-Maine) and Lindsey Graham (R-S.C.) joined all Democrats in voting "yes."
Between the lines: Although Scott has centered his campaign on the idea that America is not a racist country, he missed his chance to vote against yet another civil rights lawyer opposed by the right, Nusrat Choudhury. (Republican Sens. Tom Cotton of Arkansas and Eric Schmitt of Missouri also missed the vote.)
Choudhury, now a federal judge in New York, has expressed views that Scott's 2024 campaign is explicitly seeking to counter. "Policing and race are intertwined," she said in 2021 during a virtual lunch for the American Civil Liberties Union (ACLU).
Most recently, Scott didn't vote in the confirmation for Julie Rikelman, a longtime reproductive rights lawyer who will now be a federal judge in Boston.
The backdrop: Last week, Harris secured civil rights lawyer Natasha Merle's confirmation to be a federal judge in the Eastern District of New York after breaking a deadlocked vote.
The big picture: As president, Trump was laser-focused on stacking the courts with conservative judges and justices. He filled three vacancies on the Supreme Court, and 11 of his 30 appointees replaced Democratic appointees in his first two years, according to Brookings.
Go deeper: As Axios first reported, the White House in May unveiled a new strategy "to guide its judicial nominees through a tricky Senate process that has gotten harder with the prolonged absence of Sen. Dianne Feinstein (D-Calif.)."
Editor's note: This story has been updated with comment from the Scott campaign.
Go deeper