I-95 reopens nearly two weeks after deadly collapse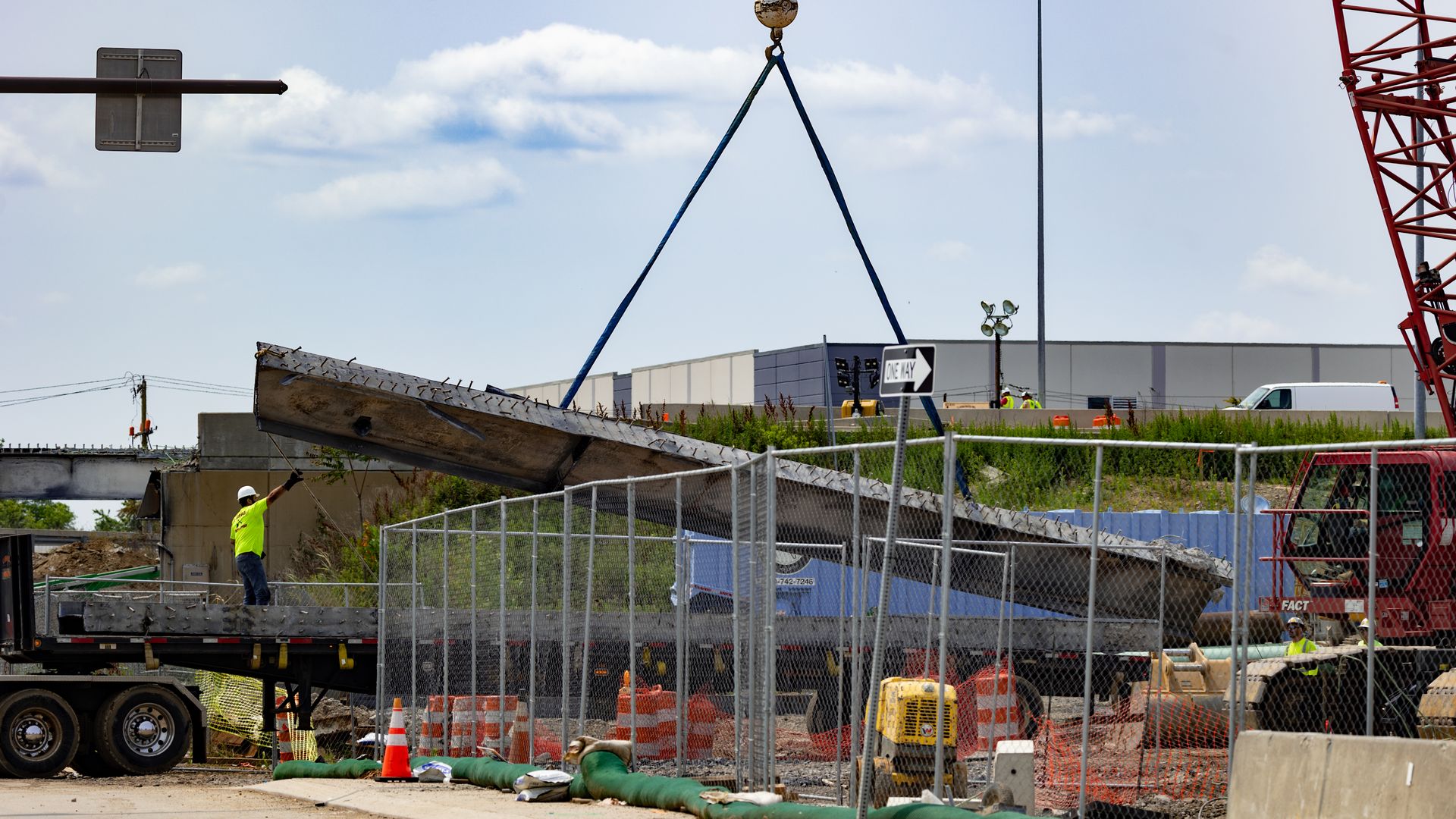 Traffic is back flowing in both directions of Philadelphia's I-95, 12 days after a deadly tanker fire and collapse forced the closure of one of the East Coast's most well-traveled highways.
Why it matters: The "eyes of the nation" have been on Pennsylvania since the collapse, Gov. Josh Shapiro said at a news conference Friday, calling the moment one of "civic pride" for everyone involved after initial estimates projected the busy corridor would be closed for months.
Driving the news: Shapiro, flanked by government and union officials, celebrated the reopening Friday on the newly reconstructed six-lane bridge.
What they're saying: "They said it couldn't be done," Shapiro said. "We can get s--t done here in Pennsylvania."
Details: A procession of emergency and work vehicles led by Engine 38 of the Philadelphia Fire Department, which was the first on the scene of the fire, crossed the reopened northbound lanes Friday morning.
Waving atop one of the fire engines were some of Philly's favorite mascots, including Gritty and the Phanatic.
Officials still aren't sure when the full rebuild — which includes constructing the outer lanes then completing the inner lanes — will be finished but expect it could take months.
The project could cost at least $25-30 million, all fully paid for by the federal government.
Catch up quick: A tanker truck carrying approximately 8,500 gallons of fuel caught fire June 11 underneath the overpass near the Cottman Avenue exit, causing the northbound lanes to collapse.
Officials said the soutbound lanes were compromised and had to be demolished. The demolition was completed in four days, well ahead of schedule, officials said.
The body of Nathan Moody, who worked for a trucking company based in Pennsauken, New Jersey, was recovered from the wreckage.
Zoom in: More than 15,000 cubic yards of Pennsylvania-made glass filler aggregate was hauled in to backfill the demolished lanes. The fill has been used in other construction projects across the U.S., and can withstand heavy loads, officials have said.
Pennsylvania Department of Transportation secretary Mike Carroll stressed that the new overpass is safe and "every bit of material" used in the reconstruction project was "rigorously tested" and meets industry standards.
But he urged drivers to be cautious and drive slower since the lanes are a bit smaller and tighter than normal ones as construction continues.
The bottom line: Mitch Landrieu, Biden's infrastructure czar, recalled a conversation he had with the president following the collapse. Biden called the I-95 rebuild the "most important project in the country."
"He said, 'Move heaven and earth to get it done," Landrieu said at the press conference Friday. "I'd like to say, Mr. President, I don't know about heaven, but we moved a hell of a lot of earth to make it happen."
Go deeper