Texas steam bath continues with record-breaking heat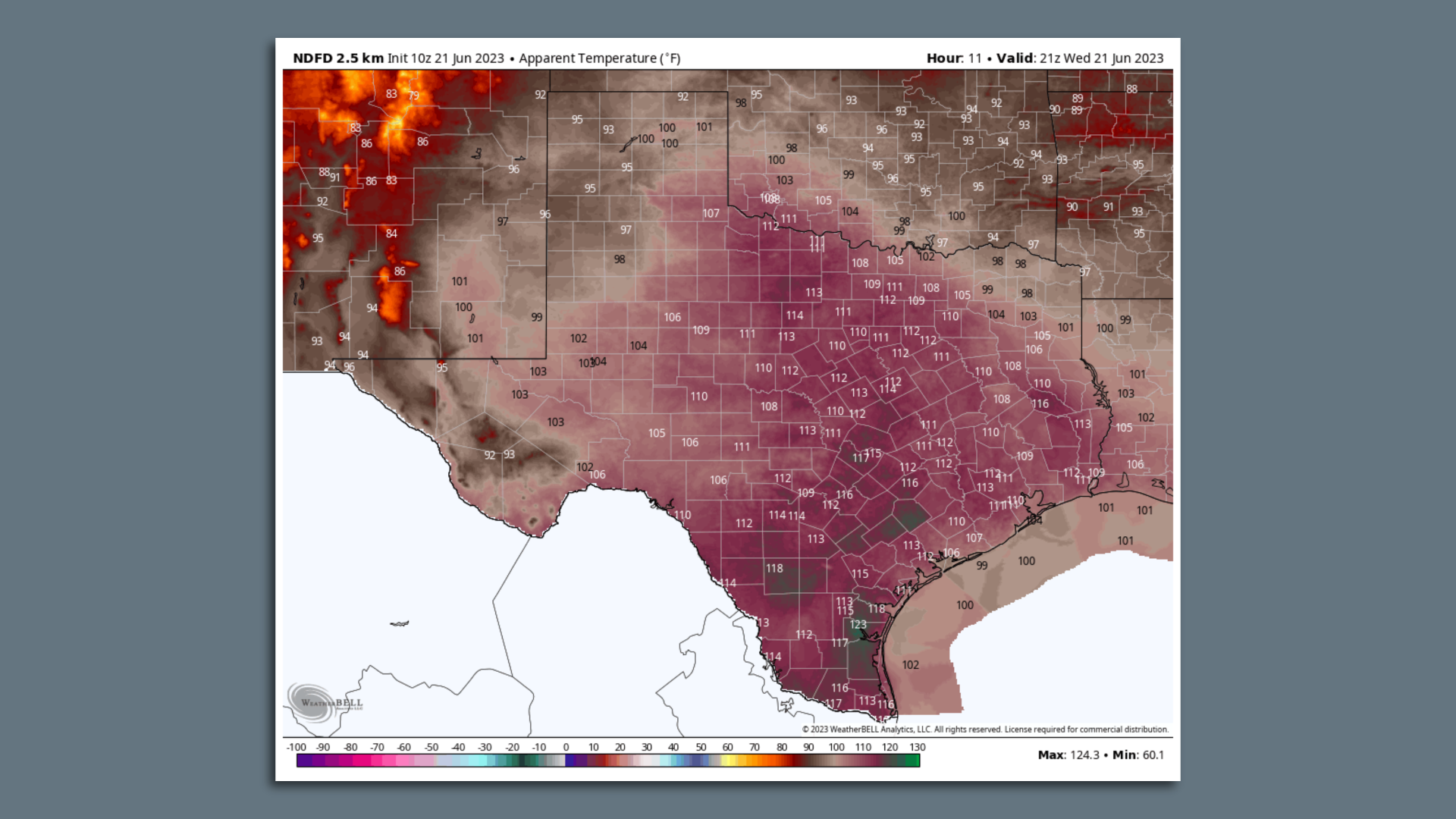 Texans are used to hot weather, but the combination of tropical-level humidity with triple-digit high temperatures is making for a dangerous, precedent-busting extreme heat event.
Why it matters: On average, extreme heat is the biggest annual weather-related killer in the U.S., per the National Weather Service (NWS).
In Texas, the long duration of the heat — lasting longer than a week with no end in sight — is worsening the risk.
With heat indices reaching upwards of 120°F across parts of the Lone Star state, the high temperatures are endangering lives.
The big picture: Steam bath-like heat has enveloped the vast majority of the Lone Star State, along with parts of Oklahoma and Louisiana, for the past week.
It is forecast to continue into the weekend and may even intensify next week.
The heat wave in Texas and surrounding states has prompted the NWS to issue heat warnings and advisories for more than 40 million people at a time.
The high dew points characterizing this event have themselves set records, making the air feel as thick as it does in a tropical rainforest.
Such a humid air mass has made nighttime relief nearly impossible to experience without air conditioning, by keeping air temperatures higher than they otherwise would be.
Zoom in: The heat wave is tied to a strong upper level high pressure area, or heat dome, centered over north-central Mexico, with its influence bulging northward into the U.S.
Along the periphery of the heat dome, rounds of deadly severe thunderstorms have erupted, bringing tornadoes, large hail, damaging winds and flash flooding in multiple states.
The heat dome's intensity is itself rare, ranking among the top echelon of such weather systems for its location. It has contributed to the numerous longstanding heat records that have been set in Mexico during the past week as well, including Mexico City's hottest June day on record, with a high of 92.5°F.
This may seem relatively cool, but the city sits about 7,200 feet above sea level, making such heat extremely rare.
Of note: The affected areas in the south-central states and Mexico are in line with global developments.
Context: Climate change is increasing the severity, frequency and likelihood of extreme heat events in the U.S. and worldwide, numerous studies show.
Climate Central's Climate Shift Index recently showed the high temperatures forecast during the ongoing heat wave are at least 5 times more likely to occur now, due to increased amounts of greenhouse gases in the atmosphere, compared to the preindustrial era.
By the numbers: San Angelo, Texas, broke its all-time record high of 111°F, reaching 114°F on Tuesday afternoon. Temperature data in San Angelo goes back to 1907, according to NWS meteorologist Victor Murphy.
Temperatures at locations near the Mexican border have been running higher because of drier air there.
Del Rio hit an all-time record high of 113°F on Tuesday, Murphy said, and Zapata has seen its hottest 2-day stretch on record.
On Tuesday, the heat index, which combines the effects of temperature and humidity on the human body, soared to 127°F in Kingsville, Texas, located near the Gulf Coast about 30 miles southwest of Corpus Christi.
Dallas and San Antonio broke their records for the hottest heat index since data began there, Murphy said. In addition, the high temperature in Houston reached 100°F on Monday, a month earlier than usual.
What they're saying: "With the increase in water vapor in the atmosphere these days due to global warming, we're seeing ridiculously high dew point values which exacerbate the risk of increasingly high "Feels Like" temperatures," Murphy said in an email to Axios.
Between the lines: So far, other than disruptions from severe thunderstorms, the famously problematic Texas grid has held up, with a "weather watch" continuing through Wednesday.
The Electric Reliability Council of Texas, which operates the grid, requested voluntary conservation measures be taken between peak energy use hours of 4pm to 8pm local time on Tuesday.
The intrigue: While studies show clear links between heat events such as this one and climate change, the contributing factors behind the broader, unusual weather pattern across North America are less clear.
During much of June, the jet stream, which flows from west-to-east across North America, has been split into two branches, with one screaming across the South, contributing to severe thunderstorm outbreaks. The other branch has retreated far to the north, across Canada.
The position of the northern jet is contributing to Canada's devastating wildfire season.
What's next: Parts of Texas may see some very slight temperature relief on Thursday and Friday, but more extreme heat is on tap after that.
Go deeper