Juneteenth grows as a state holiday and paid day off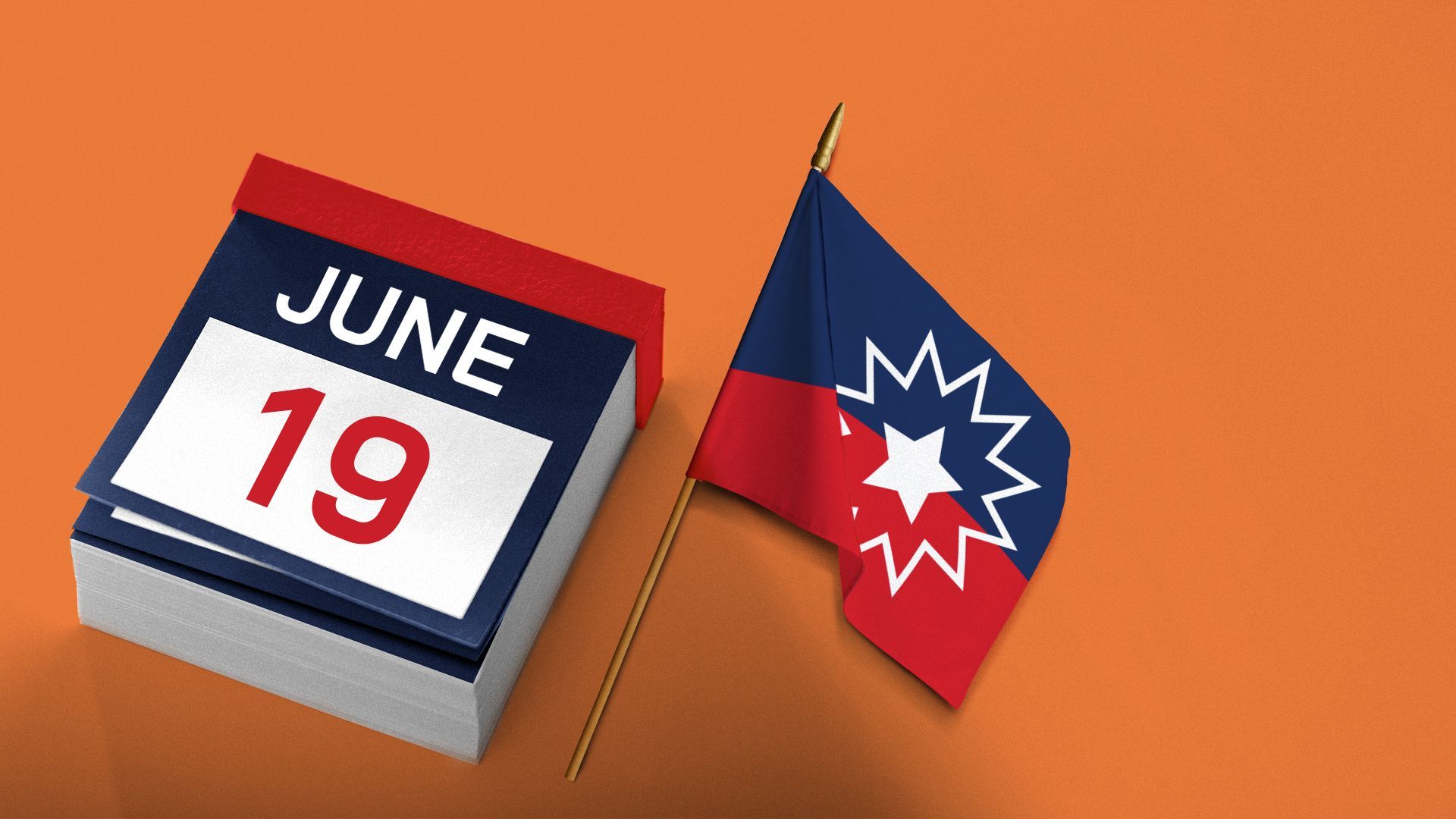 Two years after Juneteenth became the 11th federal holiday, more companies are giving their employees the day off and a growing number of states are recognizing it as a public holiday.
Driving the news: At least 28 states and Washington, D.C., are legally recognizing Juneteenth — a day celebrating Black emancipation from enslavement — as a public holiday this year with government offices closed, according to a Pew Research Center analysis.
Other states commemorate Juneteenth as a day of observance and cities across the country have also declared it an official paid holiday.
Context: Juneteenth recognizes the day in 1865 when enslaved Black people in Galveston, Texas, learned they were free, which came more than two months after the Civil War ended.
Attempts to make Juneteenth into a holiday like Memorial Day and Martin Luther King Jr. Day gained traction in 2020 amid discussions of racial injustice following the death of George Floyd in Minneapolis.
What's happening: Juneteenth is a new public holiday this year for Connecticut, Minnesota, Nevada and Tennessee.
California also added Juneteenth as a state holiday this year and state employees can take it off "in lieu of receiving a personal holiday," according to the state's human resources department.
Alabama and West Virginia governor proclamations have authorized Juneteenth as a state holiday, though not a permanent one.
North Carolina allows some state workers to take off one paid day of "cultural or religious importance," which includes Juneteenth.
Most businesses open but banks, USPS closed
State of play: New data from the Mercer consulting firm found that 39% of private employers have made Juneteenth a paid company holiday up from 33% in 2022 — a major jump from 9% in 2021.
In some industries, providing the day off for Juneteenth is quickly becoming the norm, Shauna Bryngelson, Mercer's national growth, innovation and absence leader, told Axios.
In financial services, 63% of employers are now providing paid time off for the day, Mercer's survey of 721 organizations found this year.
U.S. stock markets, banks and the U.S. Postal Service are closed Monday in observance.
What's next: An additional 7% of employers said in Mercer's survey that they are considering making Juneteenth a holiday next year.
"As more employers take this step, we expect the momentum will build," Bryngelson said.
Julie Stich, vice president of content at the International Foundation of Employee Benefit Plans, also said there could be an uptick next year.
Stich also said some companies are looking at adding another floating holiday or modifying their PTO structure for employees who might want to take off for Juneteenth.
More from Axios:
Go deeper