Scoop: Gallant to speak to Ukrainian defense minister for first time after U.S. pressure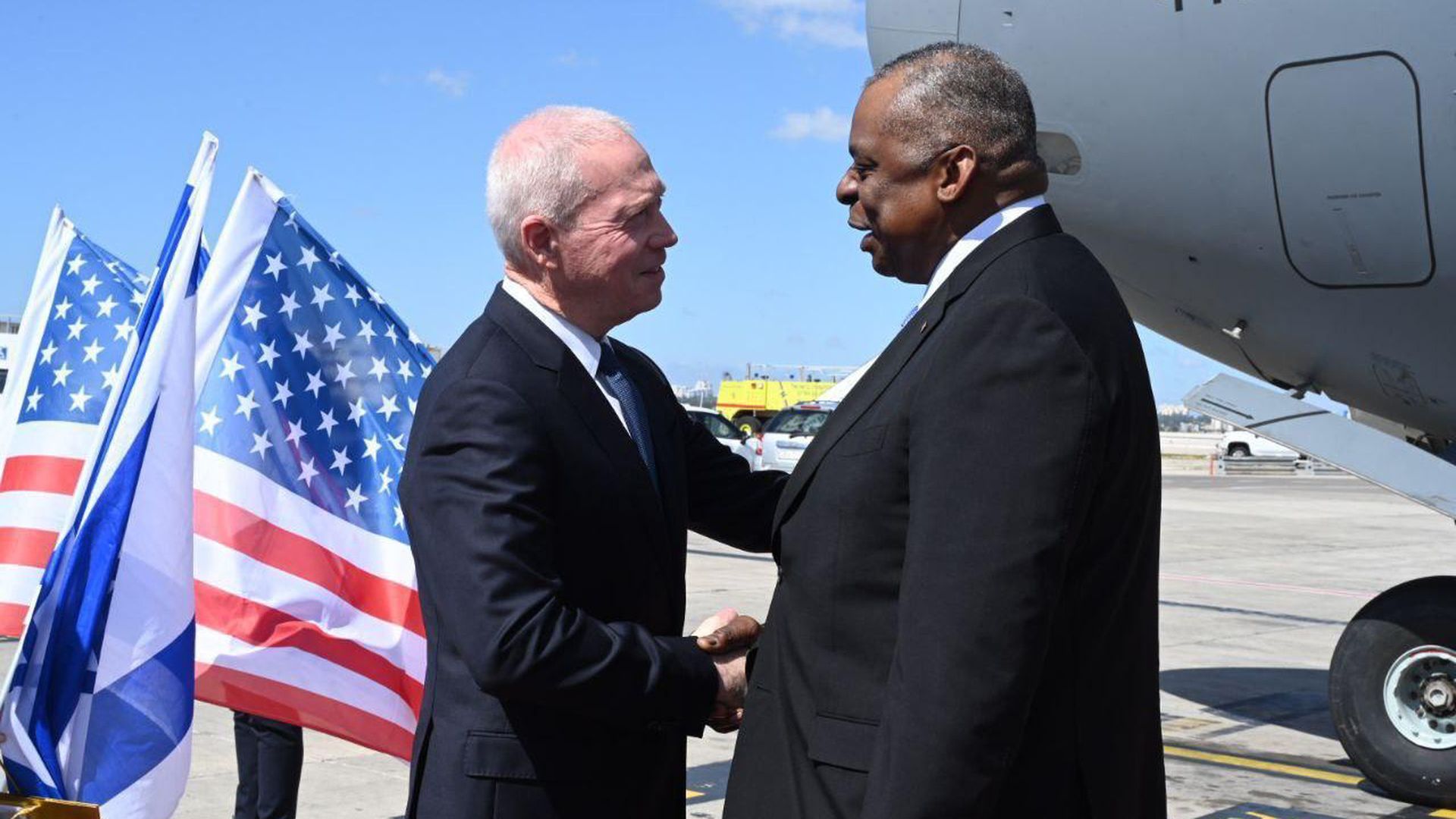 At the request of his U.S. counterpart, Israeli Defense Minister Yoav Gallant is expected in the coming days to speak to Ukrainian Defense Minister Oleksii Reznikov for the first since taking office more than five months ago, two senior Israeli defense officials told Axios.
Why it matters: The Israeli government has taken a careful approach to the war in Ukraine, hoping not to create tension with Russia and harm Israeli security interests in Syria. But the Pentagon has for months pressed Israel to do more to help Kyiv.
Details: Gallant and Oleksii are expected to speak by phone early next week to discuss non-lethal assistance to Ukraine, the Israeli officials said.
Plans for the call came after Secretary of Defense Lloyd Austin on Thursday asked Gallant if he would speak to his Ukrainian counterpart and do more to help Ukraine, according to the officials.
The Pentagon didn't respond to questions about the issue.
A Ukrainian official confirmed Gallant and Reznikov are expected to speak in the coming days. He said a senior official in Israel's Ministry of Defense met Reznikov in Germany a few days ago on the sidelines of the Ukraine Defense Contact Group meeting at Ramstein Air Base.
During Gallant's meeting with Austin, which took place on the sidelines of the NATO defense ministers' gathering, Gallant presented the Israeli government's policy about military assistance to Ukraine and stressed that Israel will not provide to Ukraine any lethal weapons, the Israeli officials said.
"We made clear to Austin how far we can go," a senior Israeli defense official told Axios.
"We are ready to give humanitarian aid and assistance with defensive capabilities but everything kinetic is where we draw the line. The Biden administration understands this," the official added.
The Ukrainian official said Ukraine expects Israel to do much more than it is doing right now and Reznikov expects to hear that from Gallant.
"If the Israelis don't want to give us more assistance, there is no point of them coming to any international meeting about it in the future," the Ukrainian official said.
State of play: Israel has provided Ukraine with non-lethal assistance, including working with the Ukrainian military to install a civilian early warning system in Kyiv. The system will connect to the Ukrainian military radar and air defense network and can send faster and more specific alerts to Ukrainian civilians in the areas that are targeted.
Israel is also working on a plan to help Ukraine in its efforts to remove landmines placed by Russian troops, Israeli officials said.
The big picture: During their meeting, Austin also told Gallant "increased Iranian-Russian military cooperation is resulting in profoundly negative consequences for Ukraine, as well as the Middle East region," the Pentagon said.
Israel has told the Russian government it is highly concerned about its growing military cooperation with Iran in the war in Ukraine and the possibility it will provide Tehran with advanced weapon systems, as Axios previously reported.
Editor's note: This story has been updated with comments from a Ukrainian official.
Go deeper