Olympian Tori Bowie's death reflects Black maternal mortality crisis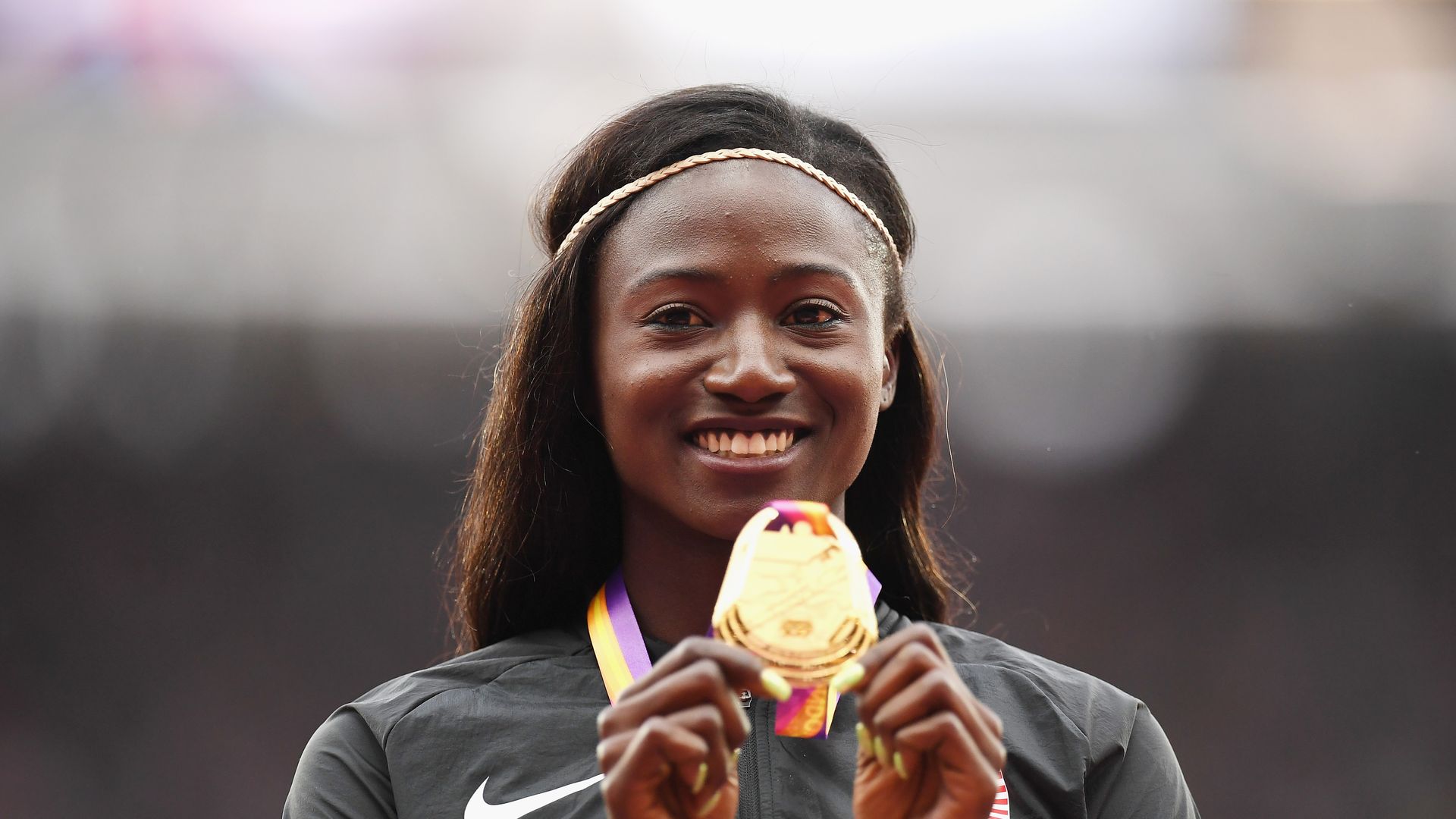 Three-time Olympic medalist Tori Bowie's death last month from complications of childbirth has spotlighted the maternal mortality crisis that disproportionately affects the Black community.
The big picture: Black women are at higher risk of maternal mortality than white women, according to the Centers for Disease Control and Prevention.
In 2021, the maternal mortality rate for Black women was 69.9 deaths per 100,000 live births — almost three times the rate for white women, per the CDC.
Black women who have more access to maternal health care are still at higher risk of dying during or after childbirth than white women who live in underserved areas, Axios' Oriana Gonzalez writes.
Context: Maternal mortality rates in the U.S. climbed during the pandemic, likely due to COVID-19 itself and the pandemic's impact on delaying care for other conditions, according to an analysis by JAMA.
"[The pandemic] created a new disparity and exacerbated existing ones," Marie Thoma, who co-authored the study, told Axios.
Details: Bowie, 32, was found dead in bed while eight months pregnant. She was in labor at the time, the Orange County Medical Examiner's Office in Florida confirmed to Axios.
Possible complications included respiratory distress and eclampsia, which is related to high blood pressure during pregnancy.
The manner of death was deemed "natural," according to the medical examiner's office.
After news of Bowie's death, her former teammate shared a photo on social media, saying three of the four women on the 4x100 relay team nearly died or did die in childbirth.
Tianna Tashelle noted that when she went to the hospital in labor at 26 weeks, she went with her medical advance directive and her will.
"I was NOT AT ALL confident that I'd be coming home," Tashelle wrote.
What they're saying: Allyson Felix, Bowie and Tashelle's teammate who also developed preeclampsia during her pregnancy, told Time that it was "absurd" for Black women to be dying while giving birth.
"We're dealing with a Black Maternal Health crisis. Here you have three Olympic champions, and we're still at risk," she said.
Felix, the most decorated American and woman in Olympic track and field history, called on the medical community to "do its part."
"There are so many stories of women dying who haven't been heard. Doctors really need to hear the pain of Black women."
— Allyson Felix
Zoom out: Maternal mortality rates, particularly for women of color in the U.S., are among the highest in the developed world, Axios' Tina Reed reports.
In 2020, the maternal mortality rates in the U.K. and Canada were 10 and 11 deaths per 100,000 live births respectively, according to the World Health Organization.
Maternal mortality rates in the U.S. rose nearly 80% between 2000 and 2020. It dropped in most other countries, the Wall Street Journal reports.
But, but, but: Around the world, declines in maternal mortality rates have stalled in recent years, per a February report from the WHO.
"Currently, health care as an industry is not effectively addressing social determinants of health among pregnant women of color, and even less among Black pregnant women specifically," Dr. Nicole Mitchell, an obstetrician and gynecologist with Keck Medicine of USC, told Axios.
"Similarly, change on individual and systemic level is not happening fast enough to address bias issues," she said, adding that healthcare providers lack education on how to avoid medical bias.
She said all women should feel empowered to advocate for themselves and be informed.
What's next: In May, Sen. Cory Booker (D-N.J.), Rep Lauren Underwood (D-Ill.) and Rep. Alma Adams (D-N.C.) re-introduced the Black Maternal Health Momnibus Act.
The act, which includes 13 bills, makes "critical investments to address social determinants of health, provide funding for community-based organizations and grow and diversify the perinatal health workforce."
Editor's note: This story has been updated with details throughout.
Go deeper