Biden backs plan to ease Ukraine's path to NATO after war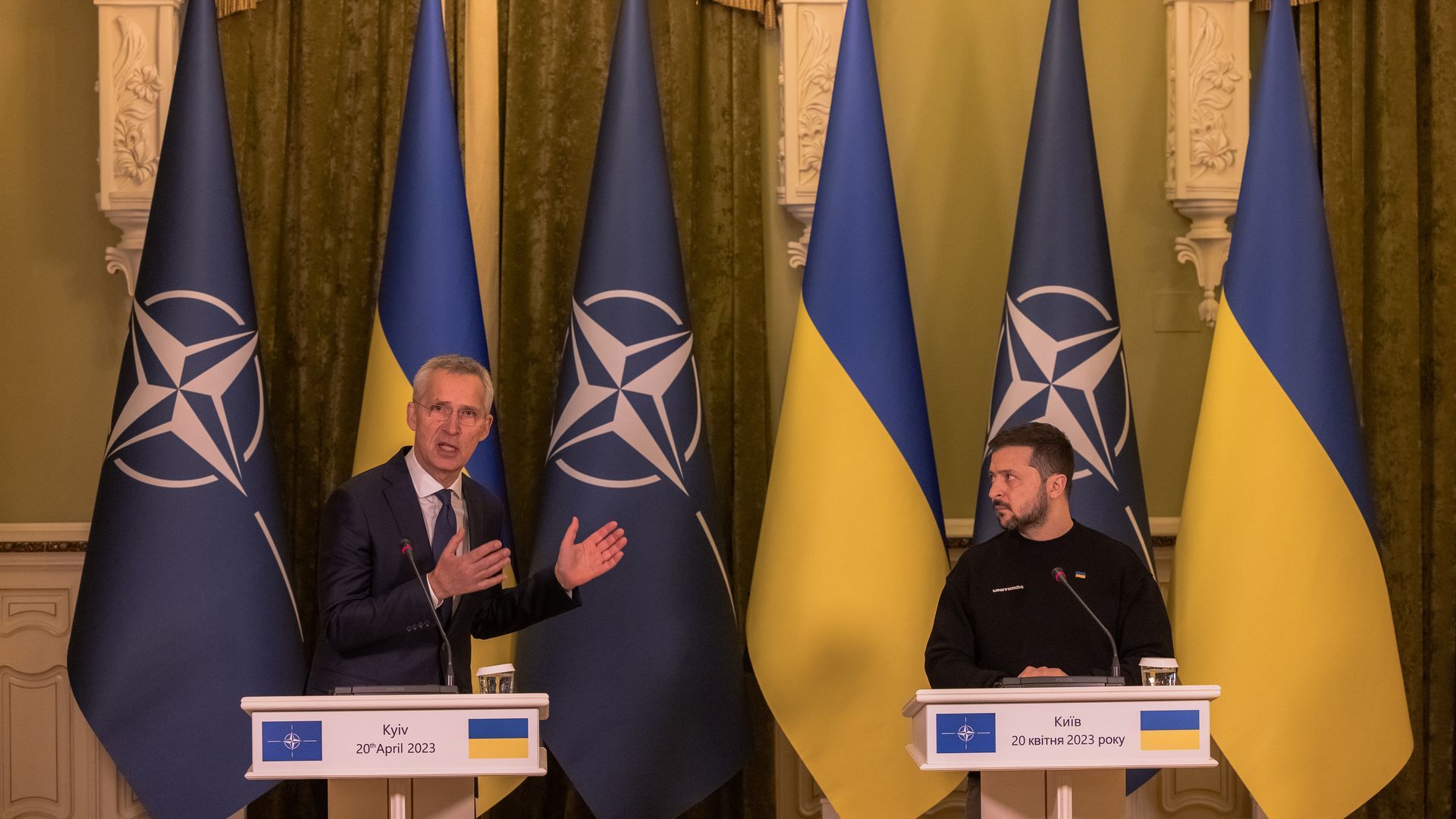 President Biden supports a plan from NATO Secretary-General Jens Stoltenberg to announce that Ukraine will not have to complete a "membership action plan" (MAP) to join the alliance, two sources familiar with the discussions tell Axios.
Why it matters: Ahead of a critical summit next month in Vilnius, allies have been sharply divided over how to handle the question of Ukraine's future membership.
Bringing Ukraine under NATO's security umbrella today would effectively mean signing up for war with Russia. However, Ukrainian President Volodymyr Zelensky argues that Ukraine has proved its value to the alliance and must be given a concrete pathway to membership.
Biden and German Chancellor Olaf Scholz have reportedly been among those reluctant to move beyond the commitment made in 2008 that Ukraine will one day become a member.
Several NATO allies in Eastern Europe have taken up Zelensky's call, though, and pressed Biden to agree to demonstrate that Ukraine will join sooner rather than later.
Behind the scenes: At the White House on Tuesday, Stoltenberg raised a proposal whereby the alliance would state that Ukraine has made progress toward membership, and won't need to complete the step-by-step MAP process other Eastern European members went through before joining, the two sources say.
That process lays out specific criteria and reforms and can take years or even decades to complete.
Biden had been looking for a "middle ground" solution that could unify NATO, and supported the idea, one of the sources said. It's not yet clear whether that formulation will satisfy Zelensky and the other 30 NATO members.
The Washington Post first reported that Biden had tentatively backed the MAP plan.
A National Security Council spokesperson said: "We are committed to NATO's Open Door Policy. Any Alliance decision is between the 31 Allies and the aspirant country."
At the same time, the U.S., France, Germany and the U.K. have also been discussing what some are calling "the Israel option" — promising to arm and support Ukraine for the long haul without committing to defend it.
The National Security Council spokesperson confirmed that the U.S. and other allies were holding talks "on how we can reassure Ukraine about their long-term security to deter any future aggression for after this war ends."
While the agreements would be between individual countries and Ukraine, rather than alliance-wide, they're likely to be rolled out around the Vilnius summit, which will take place July 11-12.
The big picture: Biden and other NATO leaders will also be navigating two other key challenges over the four weeks leading up to Vilnius: deciding on a candidate to replace Stoltenberg, and convincing Turkey to allow Sweden to join.
Turkish President Recep Tayyip Erdoğan has held up Swedish accession, claiming that Stockholm has harbored members of the Kurdistan Workers' Party, which has waged an insurgency in Turkey.
After Erdoğan won re-election and Sweden took several steps to assuage his concerns, U.S. and Swedish officials expected Erdoğan to change his tune. The Turkish President warned Wednesday that Stockholm shouldn't hold its breath.
​​"It seems unlikely that we'll see movement before Vilnius," U.S. Ambassador to Turkey Jeff Flake told Axios' Hans Nichols in an interview on Thursday. Flake said it's possible a deal could be reached at the summit.
On the leadership question, Stoltenberg's tenure has already been extended three times, and he insists he plans to step down this fall as scheduled — but there doesn't appear to be any consensus candidate to replace him.
Poland has come out against Danish Prime Minister Mette Frederiksen, who had emerged as the front-runner, per the WSJ.
Some in central and eastern Europe are floating Estonian Prime Minister Kaja Kallas, but her hawkishness toward Russia might make some allies uncomfortable.
The U.K. has put forward Defense Minister Ben Wallace, but the French and others are unlikely to back him, according to Ivo Daalder, who served as former President Obama's ambassador to NATO.
What to watch: "Don't be surprised if Stoltenberg is asked to stay on for one more year," Daalder says.
Go deeper