Scoop: New "Lose Cruz" PAC to funnel millions in 2024 race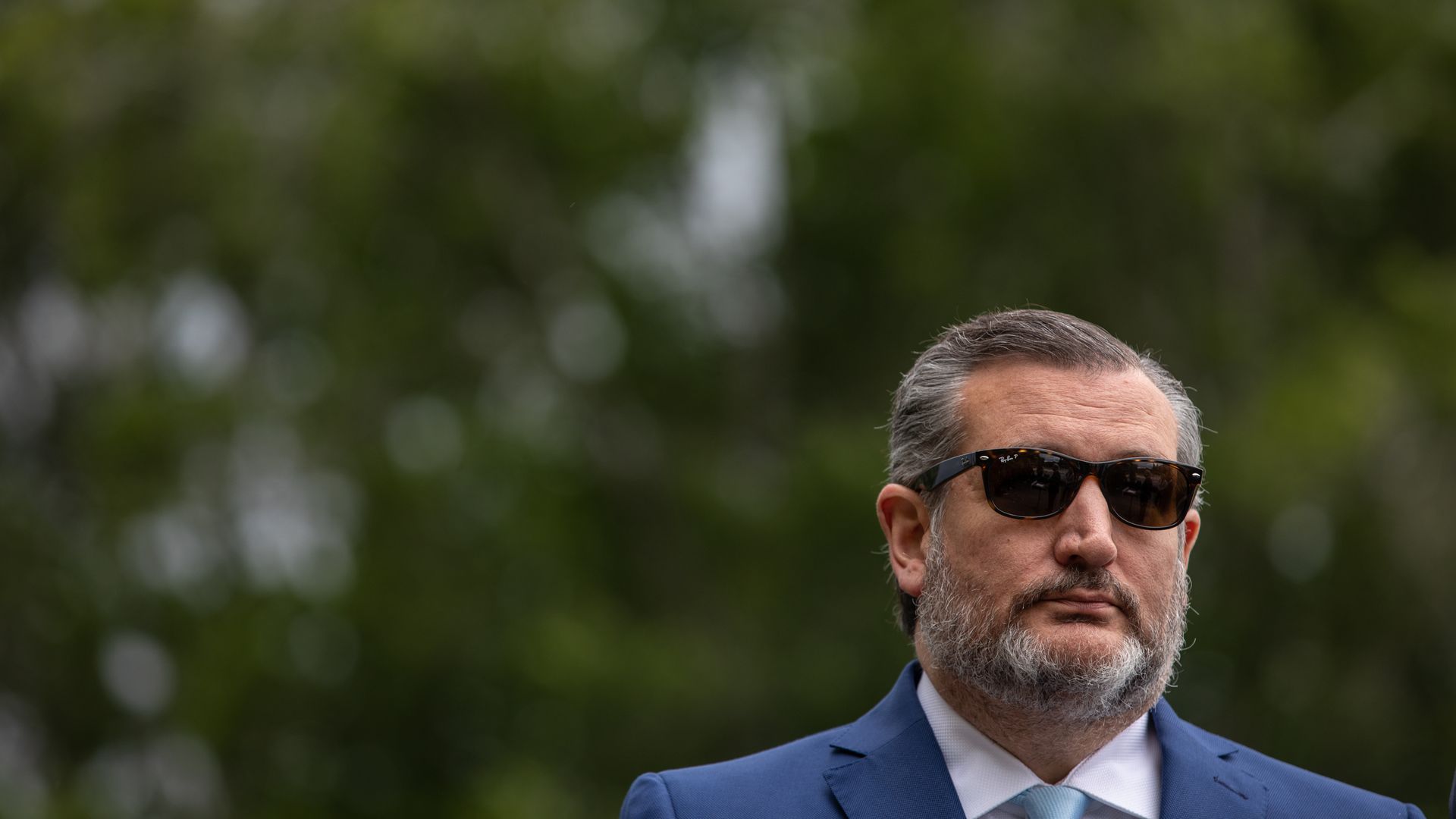 A new anti-Ted Cruz PAC launching Wednesday aims to spend millions to convince Texans to dump the Texas Republican senator in 2024, Axios has learned.
Why it matters: Cruz is one of the few vulnerable Senate Republicans in 2024, while Democrats are forced to defend 23 Senate seats next year.
The PAC aims to pounce on Cruz's low approval ratings and recent scandals in the hopes of flipping his seat.
It will be used as "a good old fashioned attack machine to expose all of Ted Cruz's deplorable actions and the consequences of them," Sean Haynes, founder of the Lose Cruz PAC, told Axios.
Rep. Colin Allred (D-Tex.) has stepped up as a serious Cruz challenger. The PAC will not support any particular Democratic candidate for now, focused instead on general opposition to Cruz.
Catch up quick: Cruz has had a tumultuous, scandal-ridden few years since last facing re-election — including his visit to Cancún during a devastating winter storm in Texas.
Between the lines: The PAC already has several million dollars committed to spend attacking Cruz in the lead up to the 2024 election.
It plans to pounce on recent controversies and distaste for Cruz in ad and messaging campaigns. That includes potentially linking him to state Attorney General Ken Paxton — who has long been mired in controversy and legal battles, culminating in impeachment last month.
"I think one of the few times that Americans across the aisle are united is when we're talking about how much we dislike Ted Cruz," said Olivia Julianna, a young, political activist and social media influencer, who joins the PAC as a senior advisor.
The other side: Cruz has strong name recognition and Texas overall remains staunchly Republican — despite years of forecasts and investment in turning the state blue.
His seat is rated "likely Republican" by Cook Political Report.
A Cruz spokesperson told Axios: "It's not surprising that Democrats are already starting to pour money into Colin Allred's campaign. He has no name ID and is running on a radical leftist record that Texans have rejected time and time again. Allred is a reflection of the current state of the Democrat Party in Texas: unpopular, unknown, and hopeless."
What to watch: Haynes said they hope to break up what he views as herd mentality among Texas voters. He believes there are many Texans who do not typically vote Democrat, but would be willing to vote against Cruz — especially if they knew how many people felt similarly.
Organizers told Axios they hope to reach eight-figures in their fundraising efforts.
With so many Senate seats for Democrats to defend, state-level Democrats will be critical in the anti-Cruz fight.
"It's really important to Democrats in Texas to stop waiting for somebody to come save us. We've got to save ourselves," said Matt Angle, director of the Lone Star Project and a PAC senior advisor.
The bottom line: It's still unclear whether the anti-Cruz forces can translate the near-miss particulars of Cruz's 2018 vulnerabilities into victory in 2024, says Axios Austin's Asher Price.
Six years ago, Texas Democrats had a motivated base eager to show their displeasure at Trump and their support for a charismatic, fund-raising phenom of their own, says Price.
Go deeper