"Obviously a mistake": Ted Cruz back in Texas after outrage over Cancún trip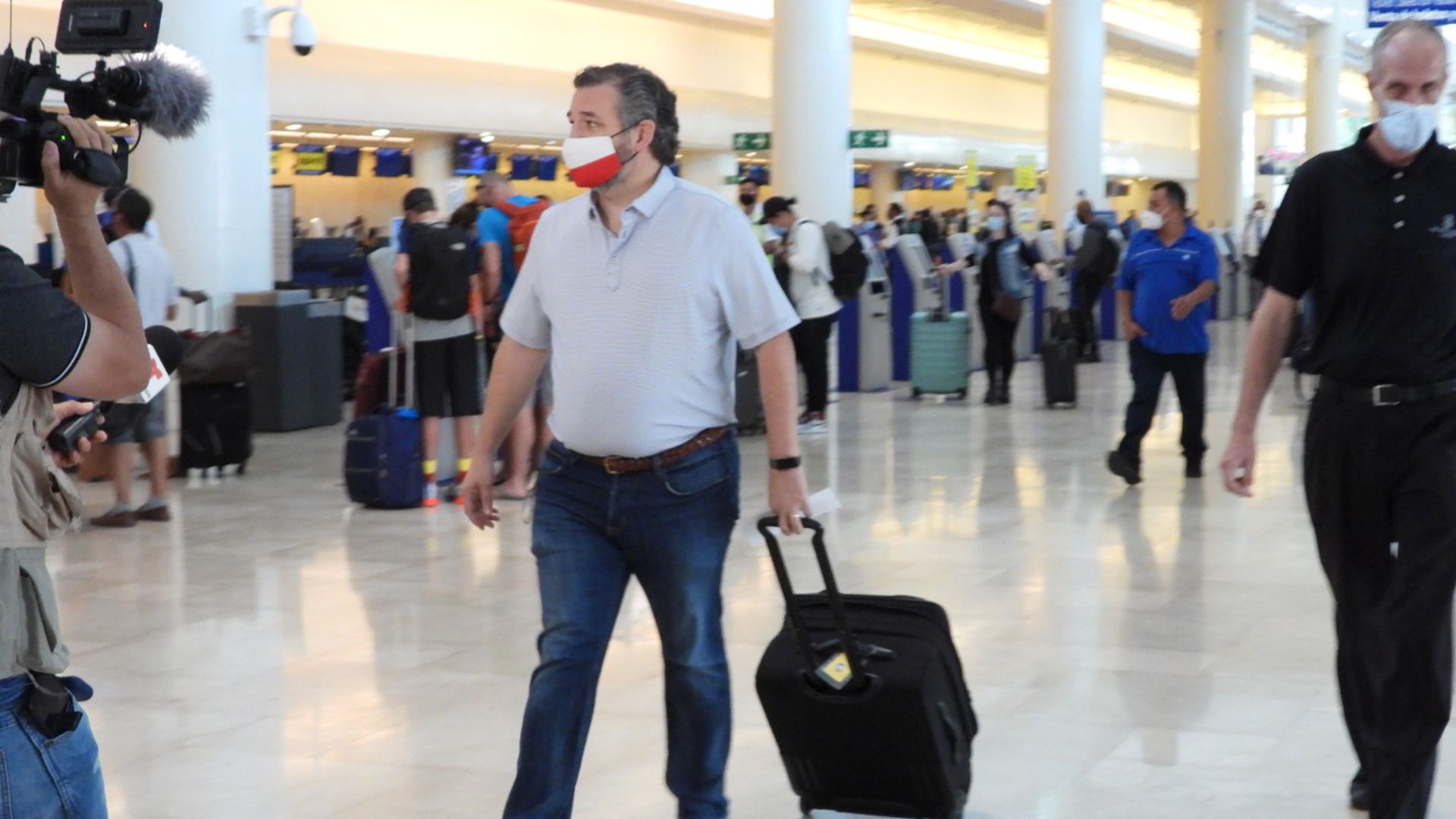 Sen. Ted Cruz (R-Texas) flew to Cancún, Mexico, on Wednesday with plans to "stay through the weekend," as hundreds of thousands of his constituents went without power and heat in Texas after a winter storm caused deadly outages.
The latest: Addressing reporters outside his Houston home on Thursday, Cruz admitted his original intentions, but claimed he started having second thoughts "almost the moment I sat down on the plane."
What he's saying: Travel plans were made after his daughters wanted to go somewhere "not so cold" amid the outages, Cruz said.
"As parents, we have a responsibility to take care of our family ... but I also have a responsibility that I take very seriously of fighting for the state of Texas," he added.
"Frankly, leaving when so many Texans were hurting didn't feel right and so I ... flew back on the first available flight I could take."
"It was obviously a mistake, and in hindsight, I wouldn't have done it."
He said he understood why people were upset, but suggested the "venom and vitriol" of Twitter and the media fed into it.
It's "unfortunate" his trip became a "distraction" from Texans' suffering, he added.
Earlier on Thursday, Cruz said in statement that in "wanting to be a good dad," he accompanied his daughters on the flight to Mexico for a vacation they wanted to take.
The big picture: While Cruz has no direct control over the power situation in Texas as a federal lawmaker, outraged critics argued the senator should be stateside trying to find solutions for his constituents.
More than 30 people have died as a result of the extreme weather sweeping across the South this week.
The Texas Democratic Party has called on Cruz to resign. Cruz's former Senate opponent Beto O'Rourke is coordinating volunteer efforts to check in on senior citizens in Texas.
Between the lines: The CDC has advised that individuals "should avoid all travel to Mexico" due to the coronavirus pandemic and that "[a]ll air passengers coming to the United States, including U.S. citizens, are required to have a negative COVID-19 test" before boarding a U.S.-bound flight.
Editor's note: This story has been updated with Cruz's comments to reporters on Thursday.
Go deeper