Biden accomplishments get new life in $20 million ad campaign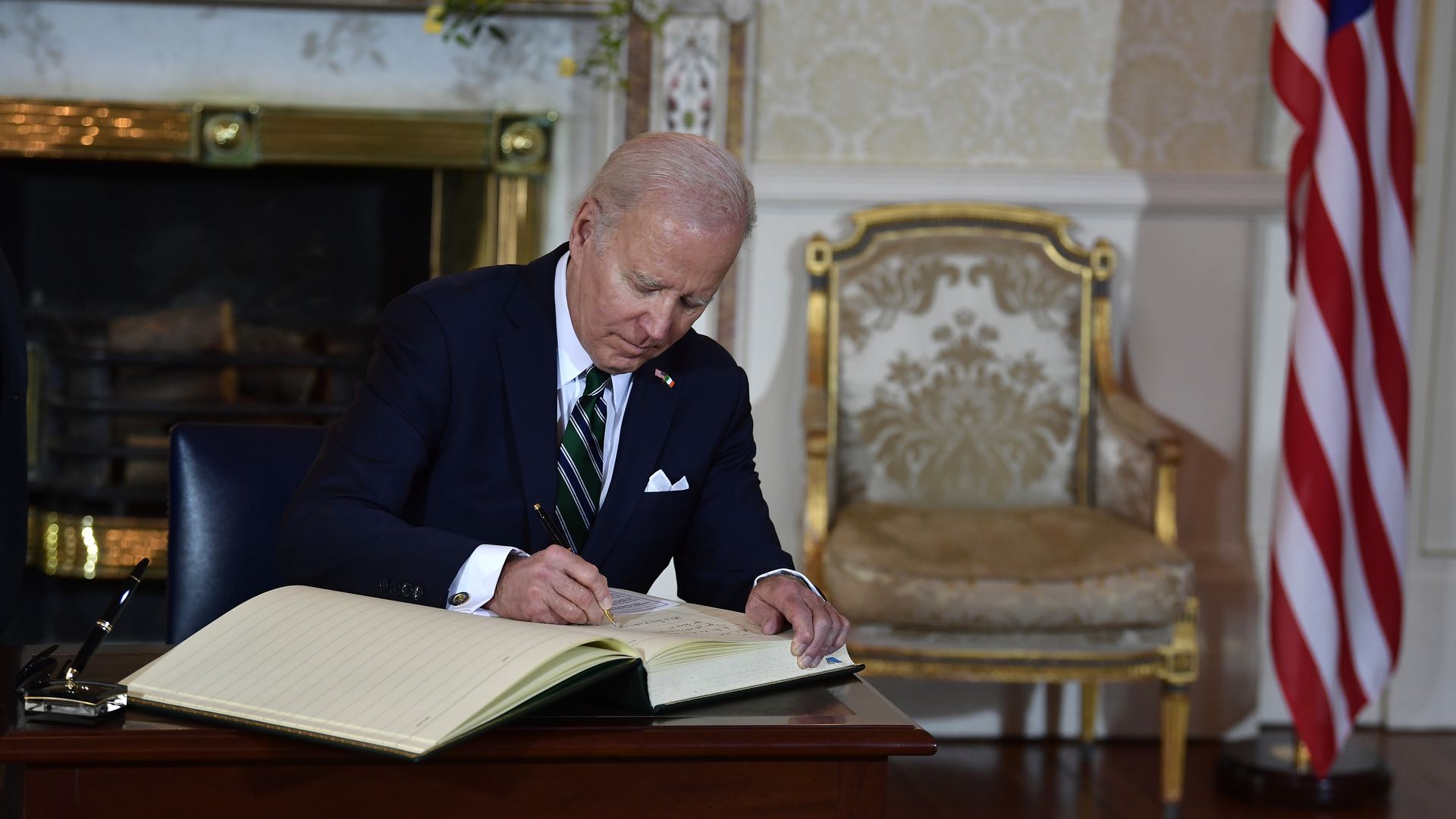 A trio of pro-Biden groups are targeting disaffected Democratic voters with ads on pocketbook issues, ranging from utility bills to the cost of insulin.
Why it matters: It's part of a broader $20 million campaign inspired by Way to Win polling that found 78% of midterm voters couldn't name a single accomplishment of the Biden-Harris administration.
An earlier Washington Post-ABC poll found similar results: Over 60% of Americans surveyed said they think Biden hasn't achieved much at all.
Democrats worry that this knowledge gap gives the GOP more room to shape the narrative around Biden and the economy.
Driving the news: The three groups — Way To Win Fund, Future Forward USA Action, and Climate Power — announced their joint partnership for a $20M ad blitz to boost President Biden last month, as first reported by the AP.
"Voters don't know enough about what Biden has done," said Jenifer Fernandez Ancona, VP & Chief Strategy Officer at Way To Win.
The ads tie Democratic messaging around democracy and freedom to economic issues, saying they've seen in polling and focus groups that those remain top issues for voters.
The details: One ad highlights what Biden has done to limit the cost of insulin; another promotes the administration's work to create clean energy jobs and reduce pollution; the third spot makes a personal appeal, using Biden's middle-class upbringing to elevate his work to lower utility costs and health care costs.
The groups tested 50 ads and conducted research between polling and focus groups to identify what Americans know about Democrats' wins — and which issues animate them most.
"You need to say fewer things and say them more often. Repetition really matters because it creates cognitive ease," said Anat Shenker-Osorio, who wrote the ad copy and is a leading messaging consultant for Democratic groups and campaigns.
"A message more familiar to people is weighted to be more credible and likable because people recognize it," Shenker-Osorio told Axios.
Between the lines: Health care has been a winning issue for Democrats in recent elections cycles, like the 2018 and 2022 midterms.
What to watch: This round of ads will run for several weeks and hopes to reach voters across the Democratic electorate, but particularly those who might be more checked out or have been less involved over the years.
Their strategy is to use better storytelling — not just a laundry list of policies — as a way to show Americans why they're doing what they've done.
Instead of saying you support paid family leave, for example, Sheneker-Osorio said a more compelling message is that "you were there for the first time your child smiled."
Go deeper