Atlanta council approves controversial "Cop City" after heated meeting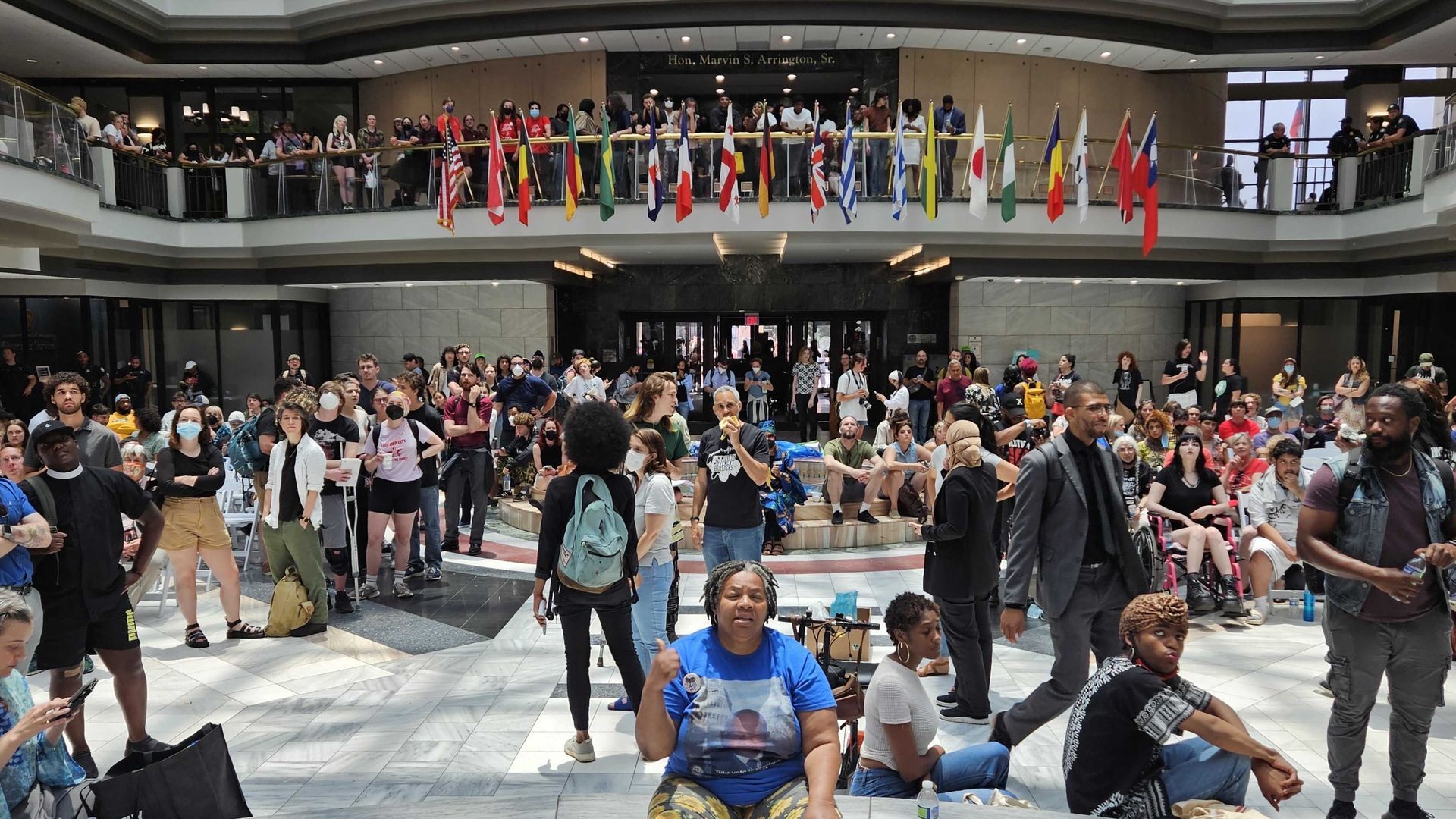 Atlanta's controversial police and fire training center got the green light just before sunrise Tuesday as city council voted to approve $31 million in public funding for the project.
Driving the news: Council voted 11-4 after a marathon meeting that began just after lunch Monday and lasted until around 5:30am ET Tuesday.
The event sparked cries of "Cop City will never be built!" from the activists who packed City Hall to oppose the measure.
Opponents say the project will result in the decimation of the South River Forest, where it is to be built, and the training facilities will lead to the militarization of the Atlanta Police Department.
City leaders and other supporters, such as the Atlanta Police Foundation — the nonprofit responsible for planning and building the center — argue the complex will provide much-needed training facilities for Atlanta's police officers and firefighters.
Zoom in: Hundreds of people lined up outside City Hall ahead of Monday's meeting to sign up for public comment, which lasted for about 14 hours.
About 350 people initially signed up and after some pressure from the audience, City Council members opted to allow even more who were there to say their piece.
The city set up the lobby with dozens of chairs where attendees watched the meeting on television, chanted, and refueled with pizza and Chick-fil-A ordered by supporters.
What they're saying: Virtually all who spoke during the Council meeting — the longest in memory — opposed the project and urged officials to reject the public funding proposal.
They said Atlanta should instead invest in programs addressing the underlying causes of crime, consider alternative sites or send the legislation back to committee for more feedback.
The Rev. Keyanna Jones, another city resident and activist, also said opponents showed up "because we want you to know that we are not letting this go."
"This is not the end because we have a duty to stand against injustice in all of its forms," she said.
The other side: One supporter, who became an Atlanta police recruit in 2017, said he was "underwhelmed" by the state of the police department's training facilities.
He said officers have to travel to other jurisdictions, including 60 miles south of Atlanta to the city of Forsyth, to learn how to operate their patrol cars.
"As the state of policing evolves, it is crucial that not only is Atlanta up to date with the training but lead in the way of 21st-century policing," he said.
Of note: Hundreds of opponents cheered, clapped and shouted "viva viva Tortuguita" — a reference to the activist who was killed by law enforcement at the site of the future training center earlier this year — and "Stop Cop City" throughout the public comment period.
Council member Michael Julian Bond was also taunted by opponents when he responded to several public commenters throughout the night, with some turning their backs when he spoke.
"I plan to support the training center," he said, which drew boos. "I have been completely transparent and honest throughout the process."
The Council took a 15-minute break where Liliana Bakhtiari said some of her fellow elected officials had been threatened and asked the audience not to call them out by name so public comment could proceed without interruptions.
"I'm begging you to stop," she said. "I get that I'm part of a system that you guys despise and that is very valid, even though I'm sitting here talking to you all. I get that I'm part of that."
Go deeper