Chuck Todd to leave NBC's "Meet the Press" in September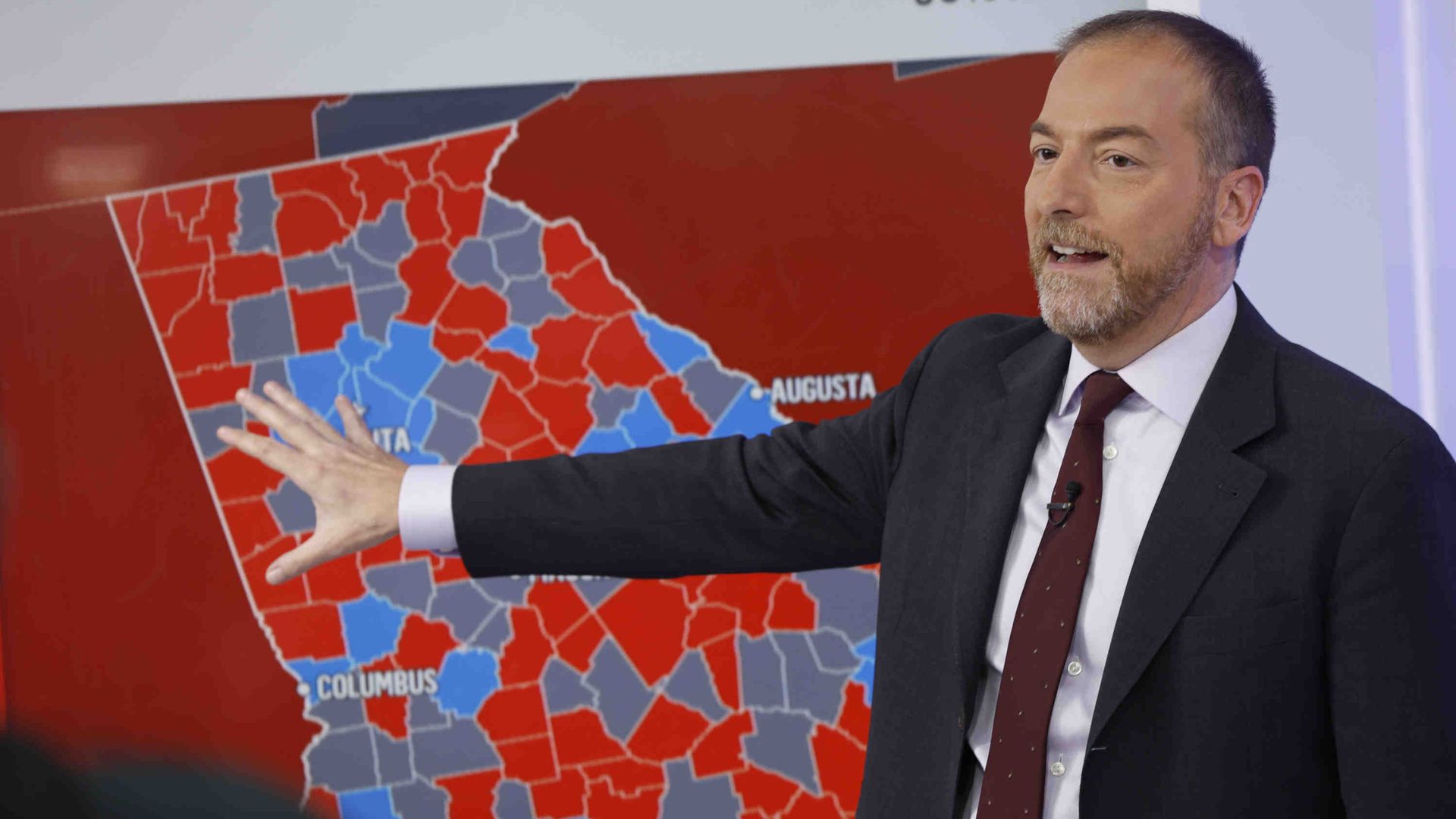 Chuck Todd, the longtime moderator of NBC's "Meet the Press," will step down from the hourlong political show later this year.
Driving the news: Todd, who has hosted "Meet the Press" for nine years, will depart the show in September, he said at the close of the June 4 show.
He will be replaced by Kristen Welker, who currently serves as NBC News' co-chief White House correspondent.
Todd will transition to a new role with NBC News, he said Sunday, though no details were given as to what that will be.
What he's saying: "It's been an amazing nearly decadelong run. I am really proud of what this team and I have built over the last decade," Todd said on Sunday's show.
"I've loved so much of this job, helping to explain America to Washington and explain Washington to America."
Todd grew emotional when he said he's let work "consume" his life for nearly 30 years. "I've watched too many friends and family let work consume them before it was too late, and I promised my family I wouldn't do that."
"I'd rather leave a little bit too soon than stay a little bit too long," Todd said of his departure from the show.
Todd began as the "Meet the Press" moderator in 2014, and helped expand the show from its traditional Sunday timeslot to MSNBC and the show "MTP Daily," which ran from 2014 to 2022.
Todd further pushed "Meet The Press" to expand its brand with the development of two streaming shows: "Meet the Press Reports" and "Meet the Press NOW," which air on the NBC News Now app.
He has been NBC News' political director since joining the network in 2007, anchored election night coverage and served as the co-moderator for two presidential debates during the 2020 election cycle.
What's next: Welker will take over the show in September, though a specific date was not given for when the handover will occur.
Todd praised Welker in his closing remarks, saying she has been ready for the job for "a long time."
"I've had the privilege of working with her from essentially her first day here in Washington. And let me just say she is the right person in the right moment."
"This is how I always hoped this is how it would end for me, that I would be passing the baton to her."
Welker joined NBC News in 2010 and was named a co-host of "Weekend TODAY" in 2020.
Welker served as moderator for the final presidential debate between then-President Trump and Joe Biden in October 2020.
The bottom line: In his final remarks Sunday, Todd said he was departing the show "feeling concerned about this moment in history."
"We didn't tolerate propagandists and this network and program never will. But it doesn't mean sticking your head in the sand either; if you ignore reality, you'll miss the biggest story," he said.
"Being a real political journalist isn't about building a brand, it's about reporting what's happening and explaining why it's happening and letting the public absorb the facts. If you do this job seeking popularity, you are doing this job incorrectly. "
Go deeper: Listen to the Axios Today podcast, where Margaret Talev, filling in for host Niala Boodhoo, and Sara Fischer talk about what Chuck Todd's departure means amid larger changes in the media.
Go deeper