Ukrainians use the same app to file taxes and track Russian troops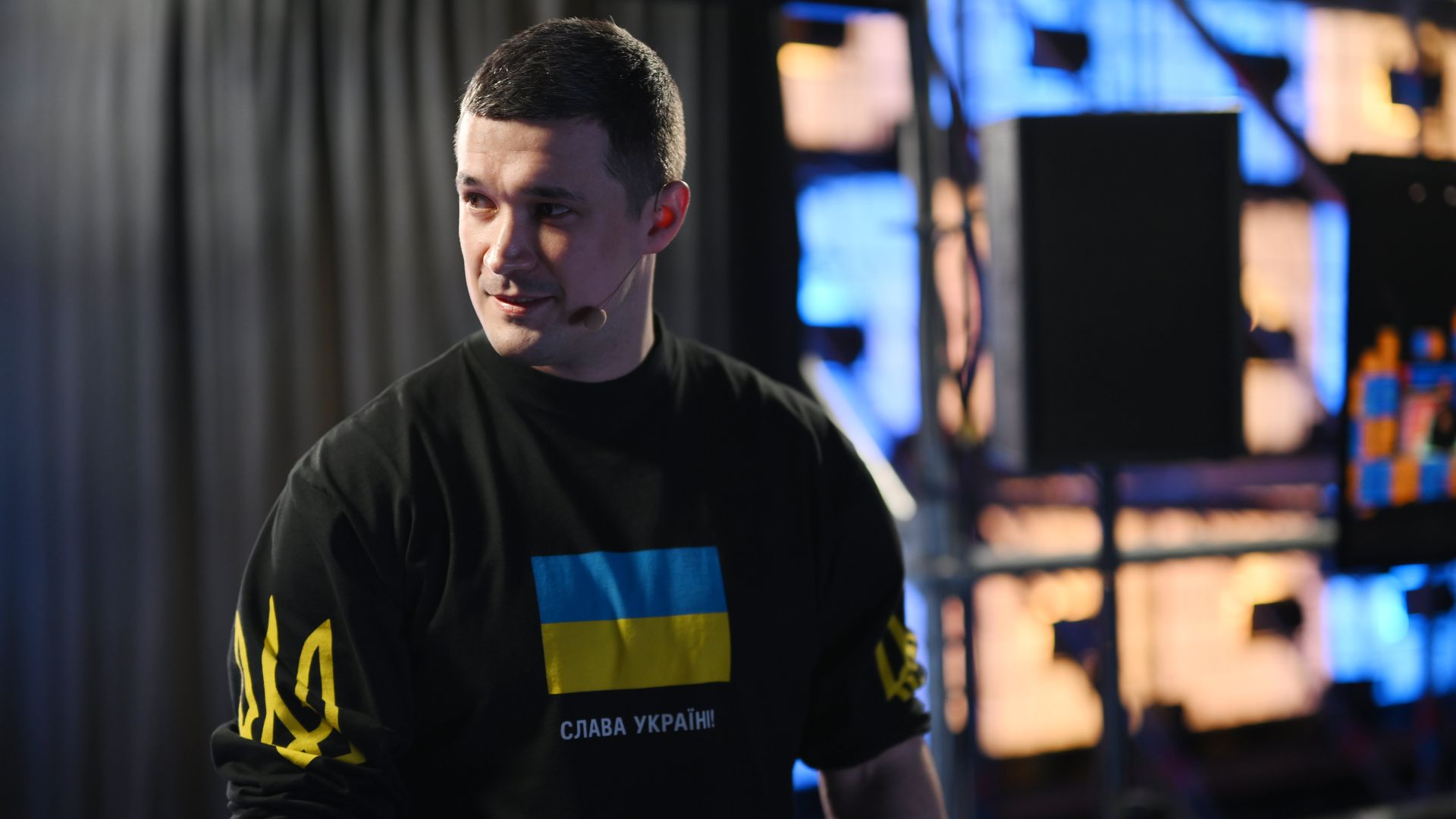 Ukrainian President Volodymyr Zelensky was elected in 2019 on a pledge to put "the state in a smartphone." That effort has become more complex but also more urgent as a result of Russia's invasion.
The big picture: The man leading the initiative, Deputy Prime Minister and Minister for Digital Transformation Mykhailo Fedorov, told Axios that Zelensky instructed him to "create the most convenient governance system" in the world.
The resulting app, Diia, provides citizens with a digital ID and allows them to register a business or obtain dozens of other government services without waiting in line or being asked to pay a bribe, an all-too-common occurrence.
19 million Ukrainians now use Diia, and the app has been downloaded on 70% of the smartphones in Ukraine, Fedorov said. New features are added regularly, and every government ministry now has a "chief digital transformation officer" to push that process along.
Fedorov, 32, never expected to be rolling out some of the newer functions.
Ukrainians can use Diia to seek evacuation assistance or file a claim if their home is damaged by Russian shelling. Nearly 1 million war bonds have been purchased using the app, according to Fedorov.
Using an "e-Enemy" feature, they can also submit reports and even videos of Russian troop movements. "There is a situational awareness system and this information is fed into this system," Fedorov explained to Axios. "And then of course they [the military] have to verify — they use satellite images, other sources — before they act on it."
When millions of Ukrainians were facing blackouts during the World Cup final in December, Fedorov's team decided to stream the match on Diia. More than 1 million people tuned in.
Fedorov gave a splashy presentation about the app — complete with a pre-recorded address from Zelensky — before a packed house at Washington's Warner Theater on Tuesday.
USAID Administrator Samantha Power, whose agency provided funding to help launch Diia, said the app gave Congress and the administration confidence that the billions of dollars they're providing to keep Ukraine's government running are being allocated in a transparent way.
Power announced pilot programs to build similar apps in Colombia, Kosovo and Zambia. Estonia has already launched its own app based on Diia, which Fedorov told Axios was "our thank you to them" for providing weapons and aid.
Ukraine doesn't expect to be paid to share its technology, Fedorov said. "We have not really considered how we can make money. We are thinking of this as a value that Ukraine can export."
Yes, but: Putting the "state in a smartphone" raises privacy concerns, whether from government surveillance or external cyberattacks.
Fedorov said data is stored in separate registries rather than through the app itself. His team is developing a feature whereby users will be notified through Diia of any requests to access their data, such as when a doctor is seeking medical records.
Cybersecurity has been a top priority from the beginning, Fedorov said. He said in his presentation that Russia had attempted cyberattacks on Ukrainian systems and even struck a government data pickup center with a missile early in the war, but user data has not been compromised.
What to watch: Fedorov said Diia was launched as part of an effort to build Ukraine into a technologically advanced, services-based economy.
Ukraine now has more international partners for that effort — Google and Visa, in addition to the U.S. and U.K. governments, are working with Fedorov's agency — but millions of tech-savvy young people have left as a result of the war.
"We want to create conditions that will make them want to come back," Fedorov said, such as providing free training for IT workers and slashing taxes for the tech sector.
Go deeper