Biden backs plan to provide Ukraine with advanced fighter jets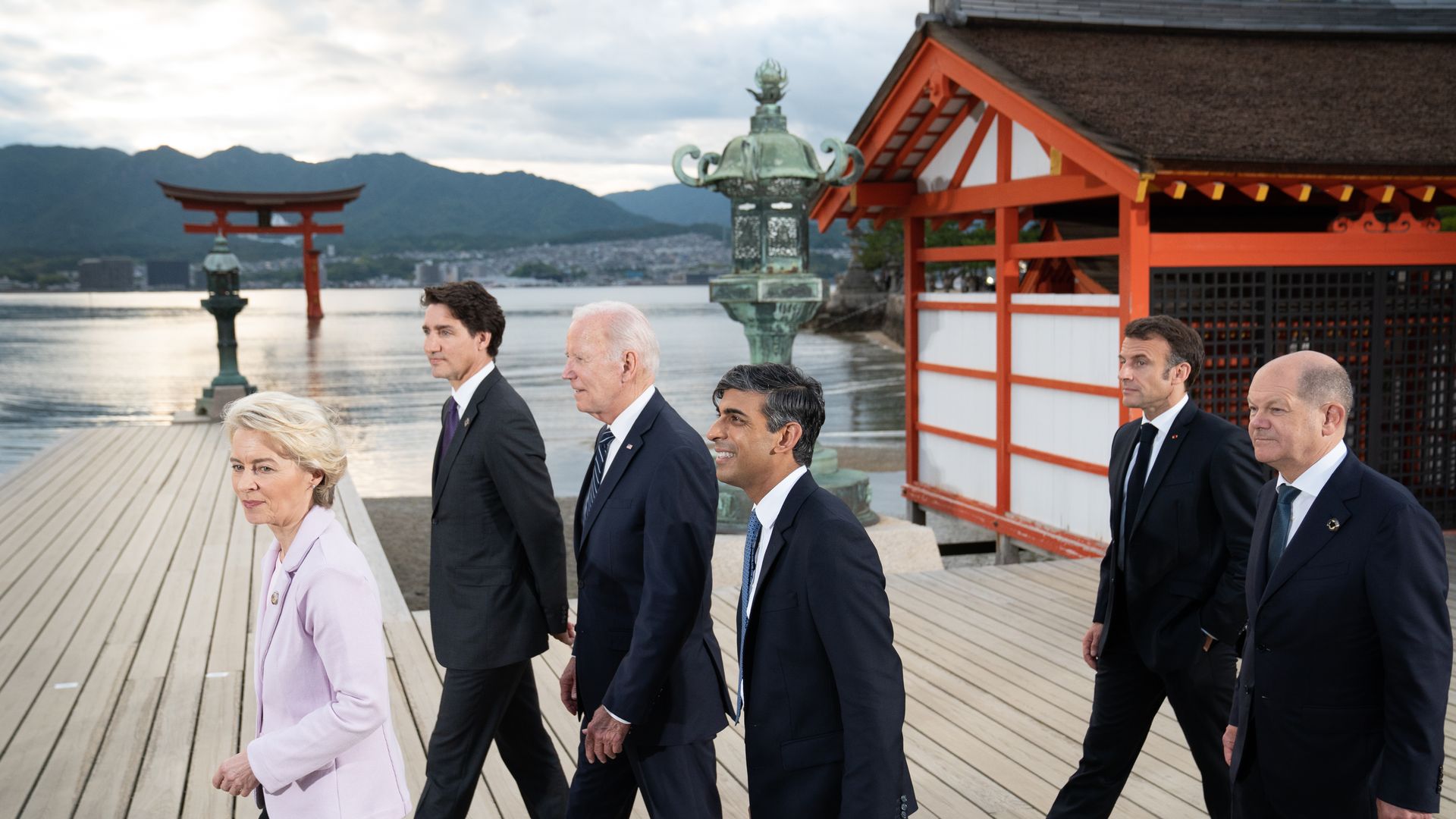 President Biden on Friday told his fellow leaders at the G7 summit that the U.S. will support a joint plan to train Ukrainian pilots on advanced fighter jets, including U.S.-made F-16s, a senior U.S. official confirmed to Axios.
Driving the news: After the training commences, the U.S. and its allies "will decide when to actually provide jets, how many we will provide, and who will provide them," the U.S. official said.
Why it matters: Ukraine has been lobbying for fighter jets for months, but Biden has declined to provide American-made planes and had wavered on the idea of allowing European allies to do so.
While Biden has now committed to helping Ukraine get advanced jets, it's not yet clear if the U.S. will supply F-16s directly.
The training scheme is being finalized at the G7 summit in Japan, where Ukrainian President Volodymyr Zelensky will be a guest.
G7 leaders are also preparing to roll out a new batch of Russia sanctions at the summit.
Details: The training will take place in Europe and could begin within weeks, but will take "months" to complete, according to a statement provided to Axios.
U.S. officials have previously said it could take 18 months to train pilots and deliver F-16s. Ukrainian officials believe the training could be completed sooner and have long argued that if the U.S. was concerned training would take too long, it should start it sooner.
Between the lines: The Biden administration had in recent months prioritized arming and training Ukrainian forces for the spring counter-offensive, the statement says.
That suggests U.S.-made fighter jets aren't part of the counter-offensive equation, but could be part of a longer-term commitment to Ukraine's defenses.
What they're saying: Zelensky in a tweet welcomed the U.S. decision.
"This will greatly enhance our army in the sky. I count on discussing the practical implementation of this decision at the #G7 summit in Hiroshima," he said.
The big picture: The White House has on multiple occasions opted to provide advanced weaponry it had previously ruled out sending — Patriot air defense systems or HIMARS missile launchers, for example — on the grounds that training would be too difficult, or they could be used in ways that provoke Russia
In the case of F-16s, the price tag is also a consideration. While F-16s are not the most advanced fighter jets the U.S. and its allies fly, they cost millions of dollars each and thus could take up a significant chunk of the funding Congress has appropriated to arm Ukraine.
But countries like the Netherlands and Denmark, which were already transitioning from the F-16 to the F-35, have expressed openness to the idea of sending F-16s to Ukraine.
Poland and Slovakia have provided Soviet-era aircraft, though Ukrainian officials say they are currently outgunned by Russian aircraft, and F-16s would be far more effective.
Editor's note: This story has been updated with additional details.
Go deeper