Mexico's border crisis: What the U.S. doesn't see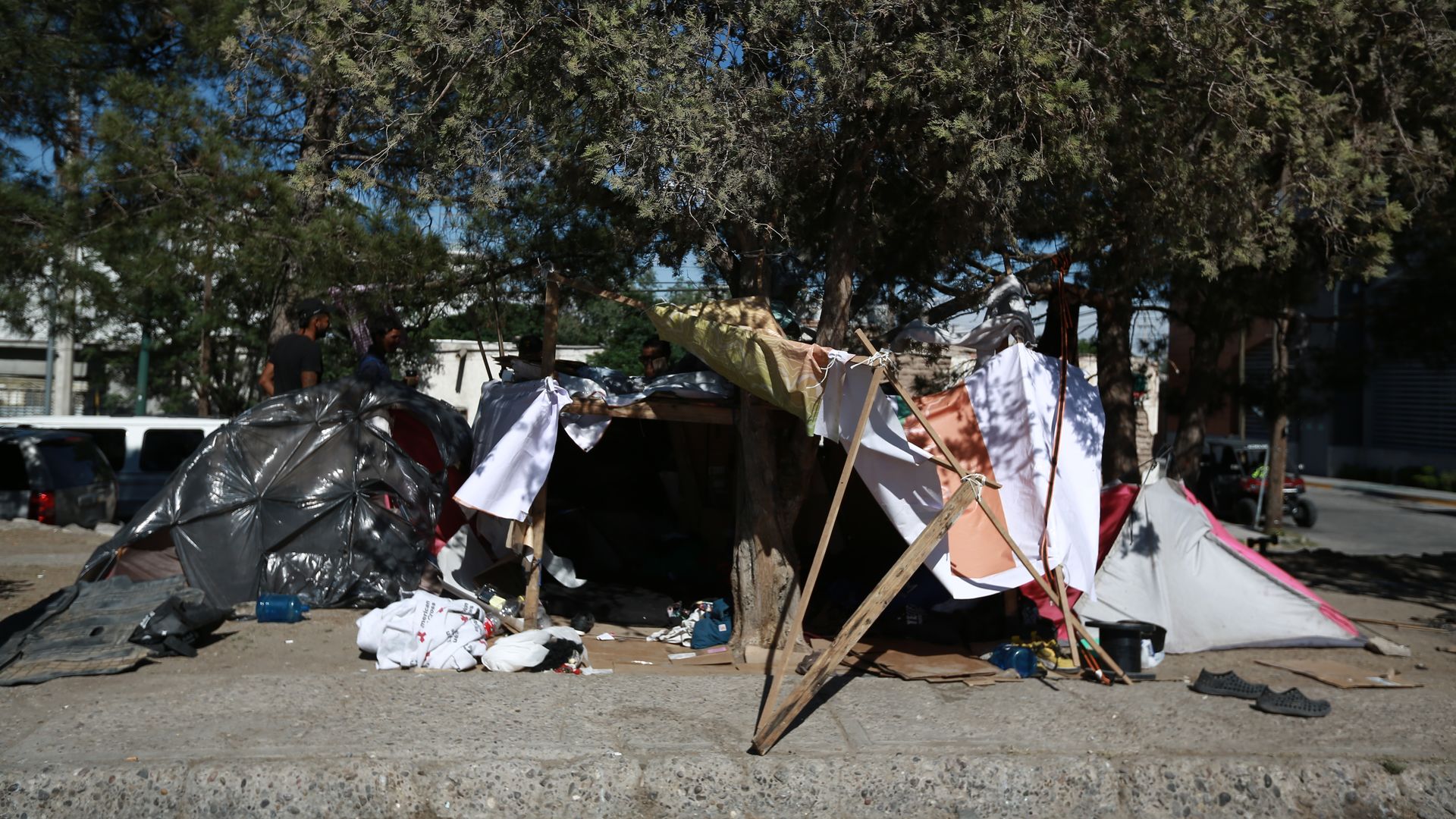 The U.S. side of the southwest border is surprisingly quiet two weeks after President Biden's strict limits on asylum took effect, but a backlog of tens thousands of migrants threatens a humanitarian crisis on the Mexico side.
Why it matters: Mexico's shelters are holding as much as six times their capacity, makeshift camps continue to pop up all over, intense summer heat is coming — and migrants hoping to enter the U.S. keep arriving from points south.
More than 25,000 migrants were still in shelters along the border and elsewhere in Mexico as of May 19, according to data collected by the U.N.'s International Organization for Migration (IOM).
Hundreds more have formed makeshift camps in Mexican cities along the border. Many others have rented apartments or found other temporary housing.
Crowding has strained local water and sanitation systems, and officials worry about health dangers posed by the coming heat, IOM's chief of mission in Mexico, Dana Graber Ladek, tells Axios.
Between the lines: Biden officials have touted a rapid decline in the number of migrants trying to illegally cross into the U.S. — falling from a record 10,000+ crossings a day before the end of pandemic-era migration restrictions known as Title 42, to less than 4,000 shortly after.
But the masses U.S. officials have been tracking in northern Mexico as poised to cross into the United States haven't turned back — they're just marking time south of the border.
"It's a bit of a holding pattern right now, as migrants try to figure out what their options are," Ladek said.
As of last week, shelters were beyond capacity in every Mexican border city except Ciudad Juarez, according to data collected by IOM.
Zoom in: Biden's tough new asylum rules and the threat of deportation with a five-year ban on re-entry seem to have deterred many migrants from crossing illegally.
But new legal pathways — which administration officials have cited in differentiating their policies from those of former President Trump — are falling far short of demand.
In four months, there already have been more than 1.5 million requests from people in the U.S. to sponsor migrants from Venezuela, Nicaragua, Cuba and Haiti, according to CBS News.
With a maximum of 30,000 arrivals permitted each month under Biden's new rules, the backlog is growing rapidly.
Biden's border plans have relied heavily on a new app that enables asylum seekers still in Mexico to schedule interviews with U.S. border officials at legal crossing points.
But an IOM study in five Mexican cities found that half of migrants seeking to schedule appointments through the app couldn't do so, Ladek said.
Zoom out: Mass migration continues south of Mexico. People from around the world are making their way north through the perilous jungles of the Darién Gap, which separates Colombia from Panama.
Panamanian statistics of these crossings have been a good indicator of when future waves will arrive at the U.S.-Mexico border.
Last month, more than 40,000 migrants entered Panama through the Darién and tens of thousands more have crossed this month.
The top nationalities crossing through the Darien are Venezuelans, Haitians, Ecuadorians, Chinese and Colombians — a reflection of the diversity of migrants through the Americas.
What they're saying: "The number of individuals attempting to cross through the Darién and unlawfully enter (the U.S.) through the Southwest border decreased significantly" because of Biden's new policies and preparation for post-Title 42, a Department of Homeland Security spokesperson told Axios in a statement.
What we're watching: U.S. officials expect it will be a while before the full impact of their new policies on the region becomes clear, an administration official said.
For now, though, Mexico is scrambling to prevent a humanitarian crisis.
Go deeper: Listen to the Axios Today podcast, where Margaret Talev, filling in for host Niala Boodhoo, and Stef Kight share what's happening on the Mexican side after the end of Title 42.
Go deeper