Democrats filled by debt ceiling dread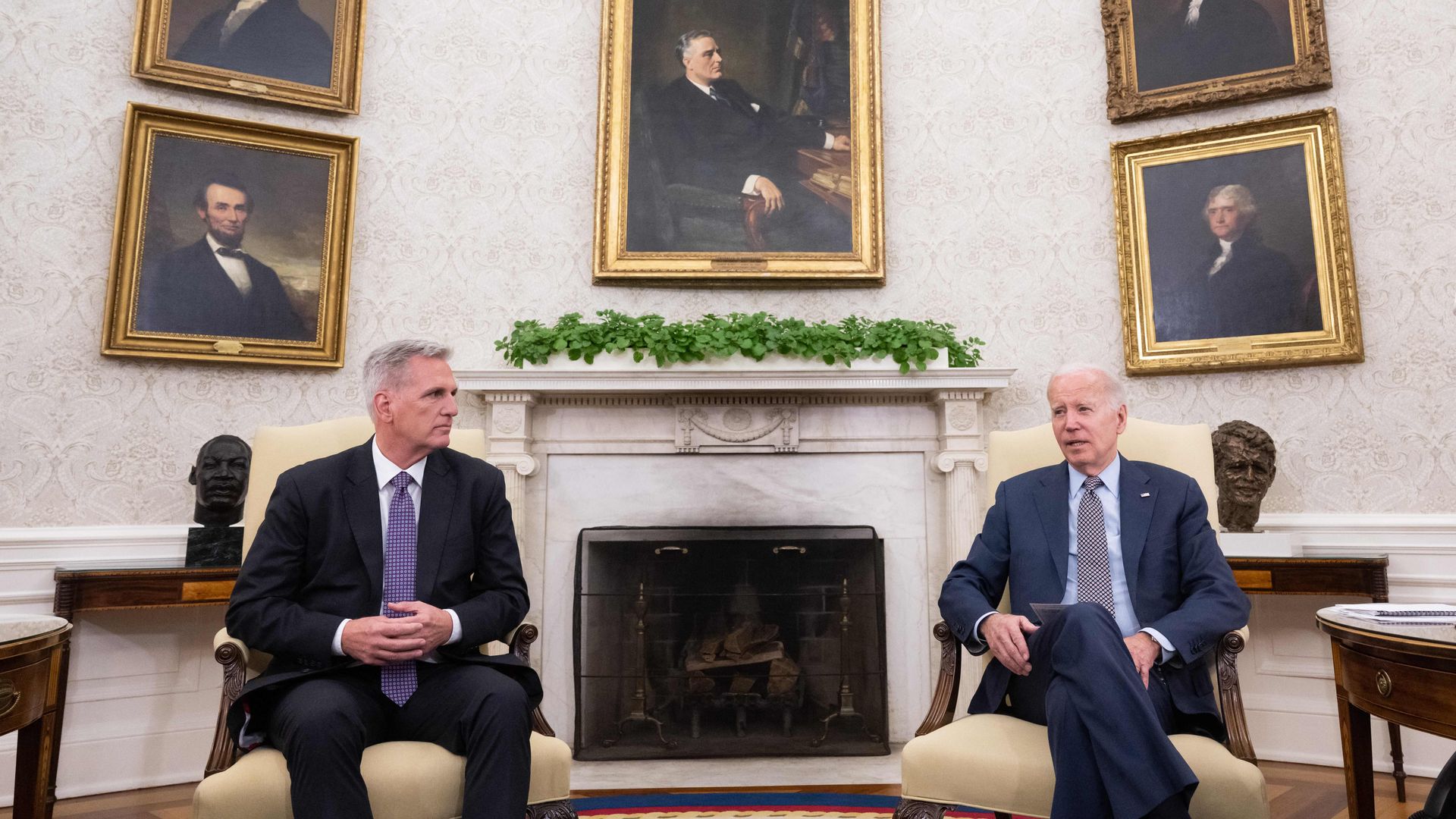 Congressional Democrats are dreading a potential debt default. They are also dreading a potential debt ceiling deal.
Why it matters: What's good for President Biden – and the economy – might not feel so good for congressional Democrats, who are largely in the dark on the deal's specifics and concerned they'll be forced to support a bill that eviscerates programs they have long championed.
Those Democrats are pinning their hopes on Biden forcing House Speaker Kevin McCarthy (R-Calif.) to accept a deal that will need a big block of Democratic votes to win passage.
"[W]hile Democrats know they will have to eat a turd sandwich, the Republicans will have to put some Nutella spread on it first," one House Democrat told Axios.
Driving the news: McCarthy was mildly positive Wednesday after the negotiating teams spent four hours in the Eisenhower Executive Office Building.
"Things are going a little better," he said on Fox Business.
But the speaker insisted that a final deal still required Biden to accept deeper spending cuts.
Fitch Ratings announced Wednesday evening it was reviewing whether the U.S. should keep its top credit rating, citing "brinkmanship over the debt ceiling."
The Treasury Department was quick to seize upon the potential downgrade, saying it "underscores the need for swift bipartisan action by Congress to raise or suspend the debt limit and avoid a manufactured crisis for our economy," according to Lily Adams, a department spokesperson.
The big picture: Behind the big policy differences on spending levels and work requirements, there's a tactical disagreement between McCarthy and Biden on how to get to 218 votes.
If they cut programs too deeply, House progressives — and maybe some Democratic centrists — will vote no.
If they don't cut deeply enough, House conservatives will try to blow up the deal.
"We have been clear any deal that the White House strikes has to be something that we House Democrats also are a part of and at the table for," said House Progressive Caucus Pramila Jayapal (D-Wash.).
By the numbers: With Social Security and Medicare off the table, McCarthy and Biden are debating how much to cut the discretionary spending portion of the federal budget.
McCarthy is opposed to cutting the Pentagon's portion, meaning that most of the cuts will fall on the non-defense side side of the equation.
The White House estimates that programs in that category — including grants to states for education and transportation to foreign aid — would face cuts as high much as 30% of their budget.
What they are saying: Progressives are sounding the alarm about what Republicans are proposing.
"Let's understand what's going on here," Rep. Jim McGovern (D-Mass.) said of GOP plans to add new work requirements for some welfare benefits.
"The people that will be adversely impacted are veterans, people who are homeless, people who are just graduating out of foster care, are people with undiagnosed mental illness.
The other side: Other Democrats seemed more likely to accept a potential deal. "We have to make compromises but in a way that will not hurt our economy and even further," said Rep. Andre Carson (D-Ind.).
"Concessions are relative," said Rep Dean Phillips (D-Minn.) "I know some of my colleagues will consider anything damaging or destructive."
Between the lines: White House officials have unofficially calculated that McCarthy will have to rely on 100 Democratic votes to pass a compromise bill, Politico reported.
While McCarthy has accepted that any potential deal will need to be bipartisan, he's never publicly estimated how many Republican votes he's prepared to lose – and how many Democrats he'll need to cover his defection.
Axios' Eugene Scott contributed reporting.
Go deeper