Uvalde families' push for gun control barely moves the needle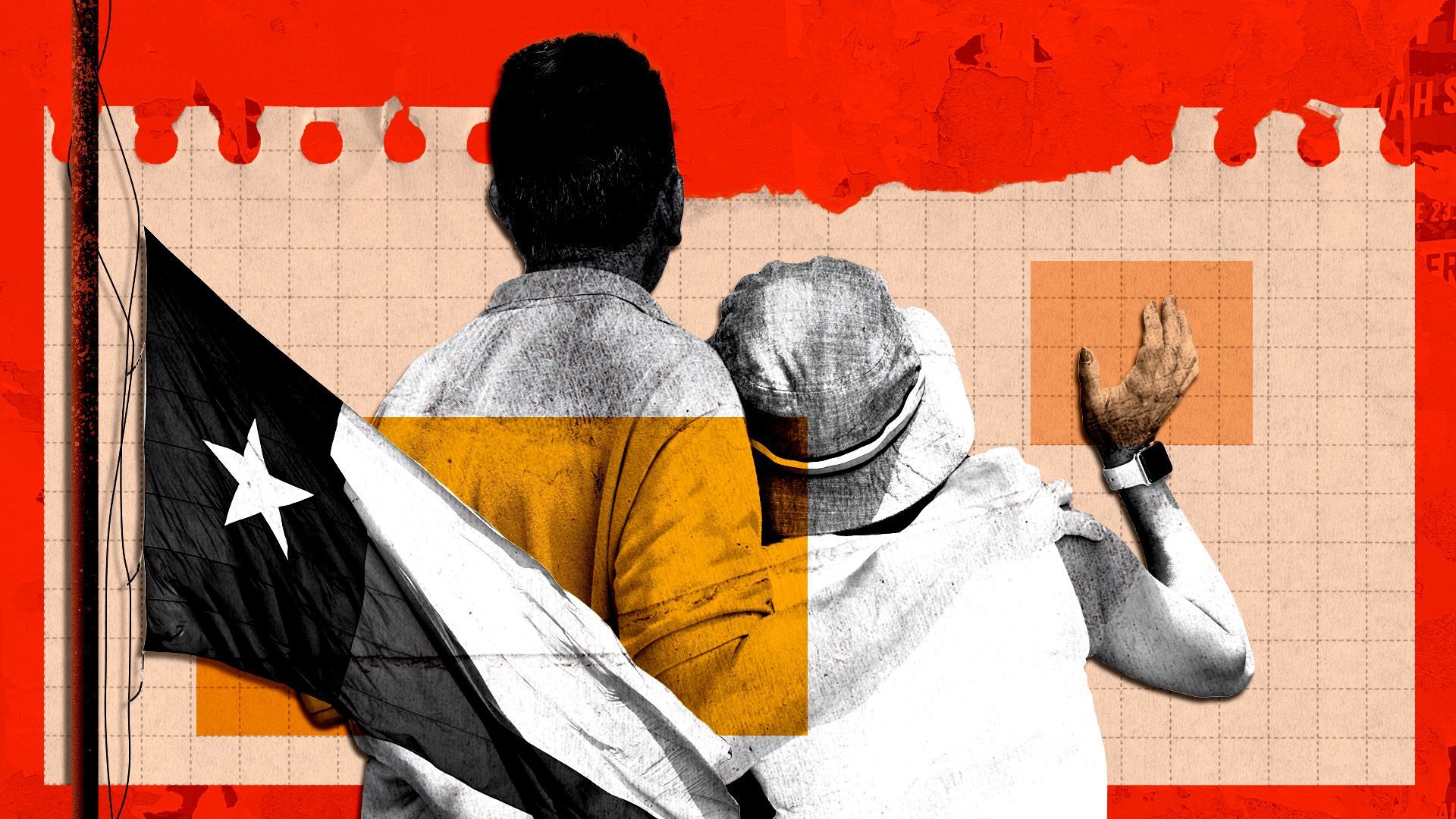 In the year since the Uvalde school shooting, the GOP-controlled Texas Legislature has largely ignored pleas for stricter gun laws from victims' families who have been spurred into activism.
The big picture: Over the summer and fall and during the legislative session, families drove 2 1/2 hours each way to the Capitol for multiple rallies and to meet with lawmakers.
But the issue remained intensely partisan, with Republican leaders unwilling to restrict firearm access. Instead, they moved to beef up security measures in schools, arm teachers and provide more access to mental health care.
Background: In the 140-day legislative session, a bill to raise the minimum age to buy certain semi-automatic rifles from 18 to 21 — a priority for the Uvalde families — advanced in a dramatic vote when two Republicans joined Democrats in voting the bill out of a House committee.
The vote from the Republicans, who represent the Dallas and Houston suburbs, came after the shooting at a mall in Allen, Texas, that left eight people dead earlier this month.
Republicans blocked a debate on the bill, known as HB 2744, in the full House.
Zoom out: Policies that a majority of Texans support according to polling, such as raising the minimum purchasing age, safe gun storage requirements, so-called red flag laws and background checks on all firearm purchases have been unpopular among Republicans in the Legislature.
Instead, the Legislature in recent years rolled back restrictions, allowing people to carry handguns openly and without a permit, among other measures.
Yes, but: Gun control activists say they saw some signs of cracks in the Legislature this session, which ends Monday.
Lawmakers approved a bipartisan measure to send juvenile mental health checks to the Texas Department of Public Safety, which they say is key to improving federal background checks on gun purchases. However, background checks are not required in certain private sales in Texas.
Plus, a bill to restrict straw purchases — when a person purchases a gun on behalf of someone who is not allowed to have one — will head to the governor if the Senate agrees with the House's changes.
What they're saying: Texas Gun Sense executive director Nicole Golden called the committee's approval of the raise-the-age bill "a milestone achievement," and the first time in recent history that gun control legislation inched forward.
"We were often forced to play a game of defense," Golden told Axios. "We won some of those battles, and we've frankly lost some of those battles — much to the detriment of our public safety."
The other side: Gun rights activists sprang into action over the committee's passing of the raise-the-age bill.
"We firmly believe that anyone who can exercise the fundamental right to vote or is considered old enough to die for their country should also enjoy all the protections our Constitution guarantees," the Texas Young Republican Federation said in a statement condemning the bill.
Of note: Rep. Justin Holland, a Rockwall Republican who voted to advance the raise-the-age bill, said in a statement after the vote that he does not believe in gun control.
"But after listening to many hours of testimony over this session, I became convinced that this small change to the law might serve as a significant roadblock to a young person (not old enough to buy tobacco or alcohol) acquiring a specific type of semi-automatic rifle intent upon using it in a destructive and illegal manner," Holland wrote.
Still, the measure failed behind closed doors as Uvalde families and activists filled the Capitol rotunda before a 10pm legislative deadline earlier this month.
Brett Cross, the guardian of 10-year-old Uvalde victim Uziyah Garcia, was escorted out for chanting too loudly outside the House chamber.
The bottom line: Parents and advocates say they won't stop fighting.
"I don't think there's some sort of bottom we're going to hit" that will make lawmakers change their minds, Golden said. "I think we've hit that bottom when children and teachers are slaughtered at a school."
In a tweet following the missed deadline and his removal from the Capitol, Cross tweeted: "2744 may have died tonight, but we will never stop!"
Go deeper