Kari Lake fails in legal challenge to Arizona governor's race loss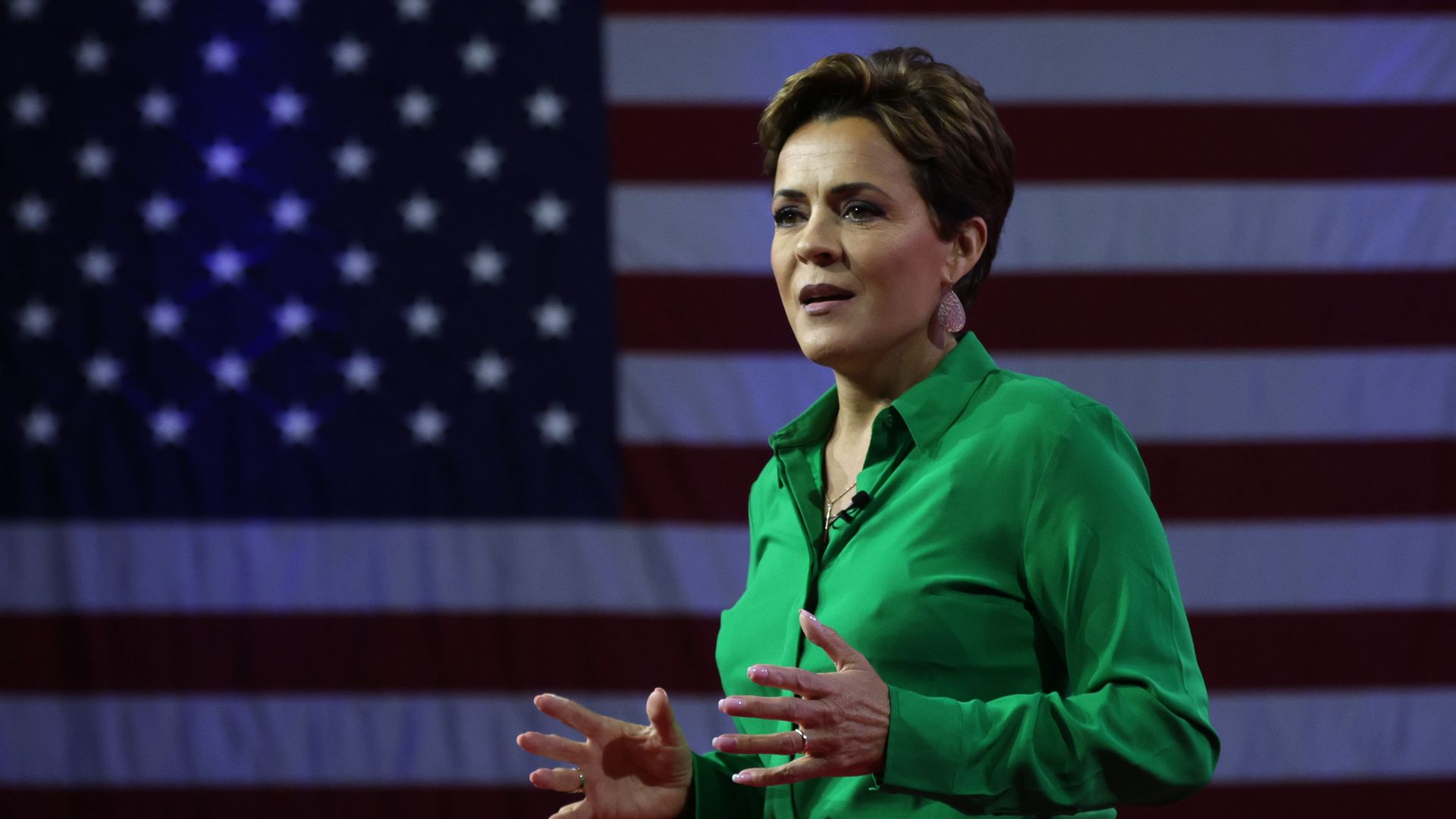 A judge on Monday evening rejected defeated GOP gubernatorial candidate Kari Lake's allegation that Maricopa County didn't verify signatures on early 2022 ballots.
Why it matters: The ruling strikes down the final claim in her long-running attempt to overturn her loss to now-Gov. Katie Hobbs.
Driving the news: Maricopa County Superior Court Judge Peter Thompson ruled Lake failed to show that signature verification didn't occur in accordance with state statute or the Election Procedures Manual, which is drafted by the secretary of state's office and has the force of law.
Zoom in: Thompson noted that two of Lake's own witnesses who worked in signature verification during the 2022 election demonstrated the process did in fact occur. Rey Valenzuela, the county's elections director, did as well, describing the process in detail.
One of Lake's witnesses, Jacqueline Onigkeit, "expressed her concern that this review was done hastily and possibly not as thoroughly as she would have liked – but it was done."
Valenzuela testified there were 153 people conducting level-one signature review, along with 43 second-level reviewers and two ongoing audits.
Between the lines: Lake's attorneys said 274,000 signatures were verified in less than two seconds and 70,000 in less than one.
They argued that amount of time isn't enough to determine whether two signatures match, which effectively meant the statutorily required process was not conducted on those ballots.
Yes, but: Thompson wrote there is no requirement in law or the EPM that reviewers spend a minimum amount of time examining each signature.
Reviewers must only determine whether a signature is consistent with others in a voter's record, the judge said.
Valenzuela testified reviewers can verify signatures in that span of time if the broad strokes are consistent.
"The Court finds that looking at signatures that, by and large, have consistent characteristics will require only a cursory examination and thus take very little time," Thompson wrote.
What they're saying: "Wild claims of rigged elections may generate media attention and fundraising pleas, but they do not win court cases," said Clint Hickman, chair of the Maricopa County Board of Supervisors, in a press statement.
"When 'bombshells' and 'smoking guns' are not backed up by facts, they fail in court."
Catch up quick: The Arizona Supreme Court upheld lower court rulings in March that rejected the bulk of Lake's challenge to Hobbs' November victory of about 17,000 votes.
The state Supreme Court found the trial court improperly dismissed Lake's claims over signature verification fining her two attorneys $2,000 for making an "unequivocally false" statement in a previous filing.
What's next: It's unclear whether Lake will appeal Monday's ruling, and a spokesperson did not respond to an inquiry from Axios.
Lake tweeted thereafter she has a "big announcement" coming Tuesday.
Thompson set a 5pm Tuesday deadline for Maricopa County, Hobbs and Arizona Secretary of State Adrian Fontes to petition the court for attorney fees.
A spokesperson for Fontes told Axios he isn't asking for sanctions while the case is headed for appeal.
Of note: While claiming to be Arizona's rightfully elected governor, Lake is also considering a run for the U.S. Senate seat currently held by Sen. Kyrsten Sinema.
Go deeper