Official death toll in Myanmar from Cyclone Mocha jumps to at least 145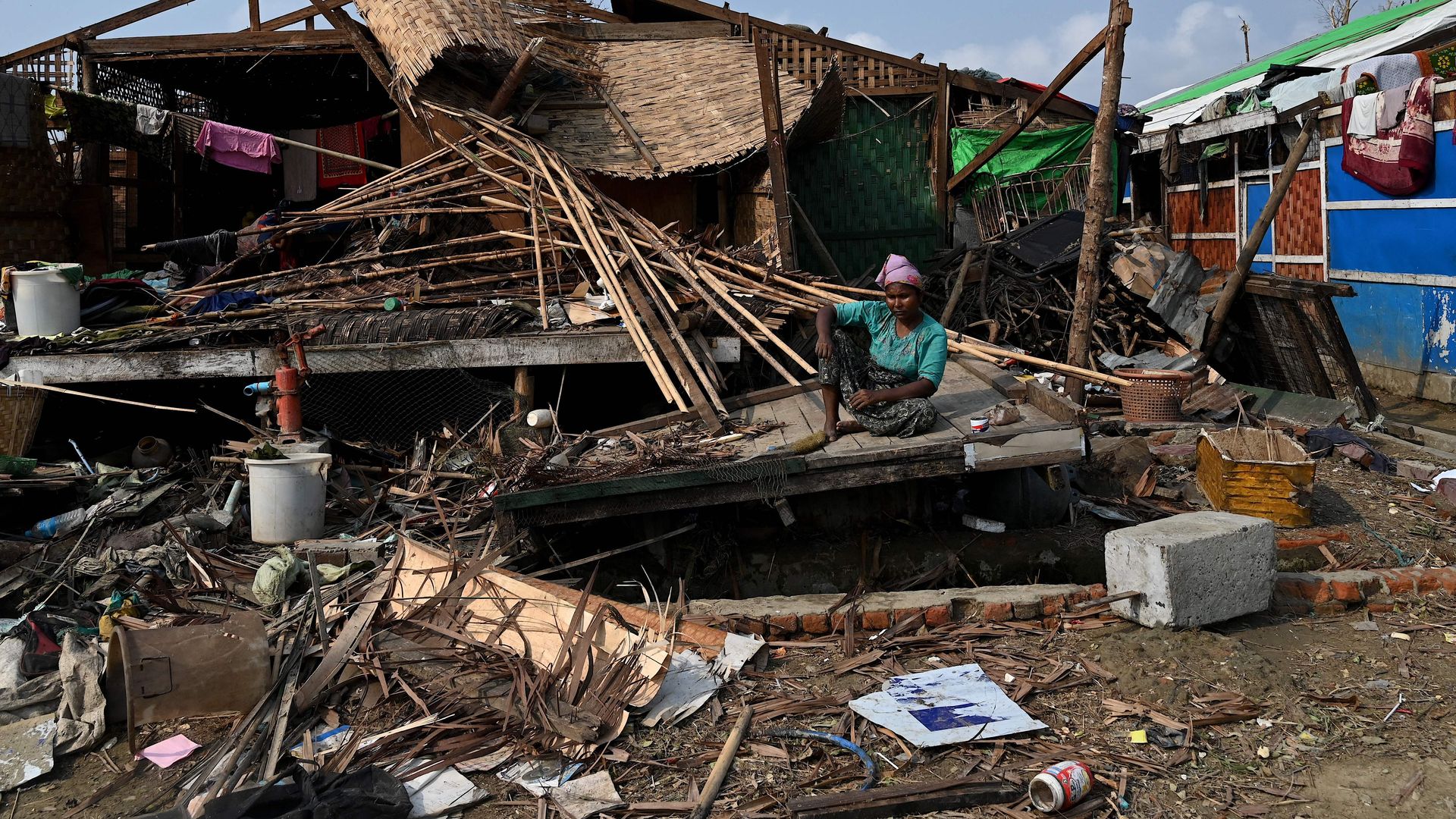 The official death toll in Myanmar's Rahkine state from Cyclone Mocha climbed to at least 145 on Friday, state media reported, though aid groups fear it could continue to rise as they gain access to some of the most-affected areas.
The big picture: It's been difficult to assess the full extent of the devastation in Myanmar due to limited communication in the most-affected areas and the military government's tight control over movement and damage in the country. It's also taken days for much-needed aid to get to some hard-hit areas.
It remains unclear if there were any storm-related deaths in parts of Myanmar outside of Rakhine.
State of play: The World Food Program said it began distributing food, cash assistance and nutrition supplies to about 190,000 people in need in central Rakhine state on Friday. WFP estimates that more than 800,000 people are in need of emergency food assistance in Myanmar.
The storm packed maximum sustained winds of 155 mph as it moved ashore just north of the port city of Sittwe on Sunday.
More than 6 million people across Myanmar, including hundreds of thousands of displaced people in Rakhine state, were already in need of humanitarian assistance before the storm hit on Sunday, the UN estimated.
What they're saying: "Vulnerable people, including women, expectant mothers, children and the elderly, many of whom have not previously experienced displacement, are seeking shelter in evacuation centers and monasteries after being left homeless by the cyclone," the UN Office for the Coordination of Humanitarian Affairs (OCHA) said in a humanitarian update on Friday.
"Those who have returned home are facing the daunting task of rebuilding their damaged houses with limited available resources," OCHA said, noting that the soaring prices of basic shelter supplies make rebuilding hard, if not impossible, for some.
OCHA added that fuel shortages are complicating efforts to support essential public services like health facilities and water treatment.
Health services were interrupted for at least three days in Rakhine, and several medical clinics in IDP camps were completely destroyed, the World Health Organization said on Friday. "There are rising concerns in flooded areas for [the] spread of waterborne diseases," the WHO added.
Zoom out: Myanmar's Rakhine state bore the brunt of the storm, but coastal areas of neighboring Bangladesh were also hit with high winds, heavy rain and flooding.
This included Cox's Bazar, which is home to nearly 1 million Rohingya refugees. Many of those refugees fled their homes in Myanmar's Rakhine state after the country's military in 2017 intensified a bloody campaign against the mostly Muslim ethnic group.
Cox's Bazar suffered damage to shelters and other structures, but no deaths were reported.
Context: Cyclone Mocha "is a catastrophic example of a rapidly strengthening storm — one that leaps multiple intensity categories," Axios' Andrew Freedman wrote this week.
"Rapid intensification, along with higher rainfall rates, are key ways that climate change is influencing nature's strongest storms," Freedman reported, adding that "a detailed study of climate change's possible role in Cyclone Mocha's intensification would need to be completed in order to make more definitive conclusions."
Go deeper