Once a fringe theory, "greedflation" gets its due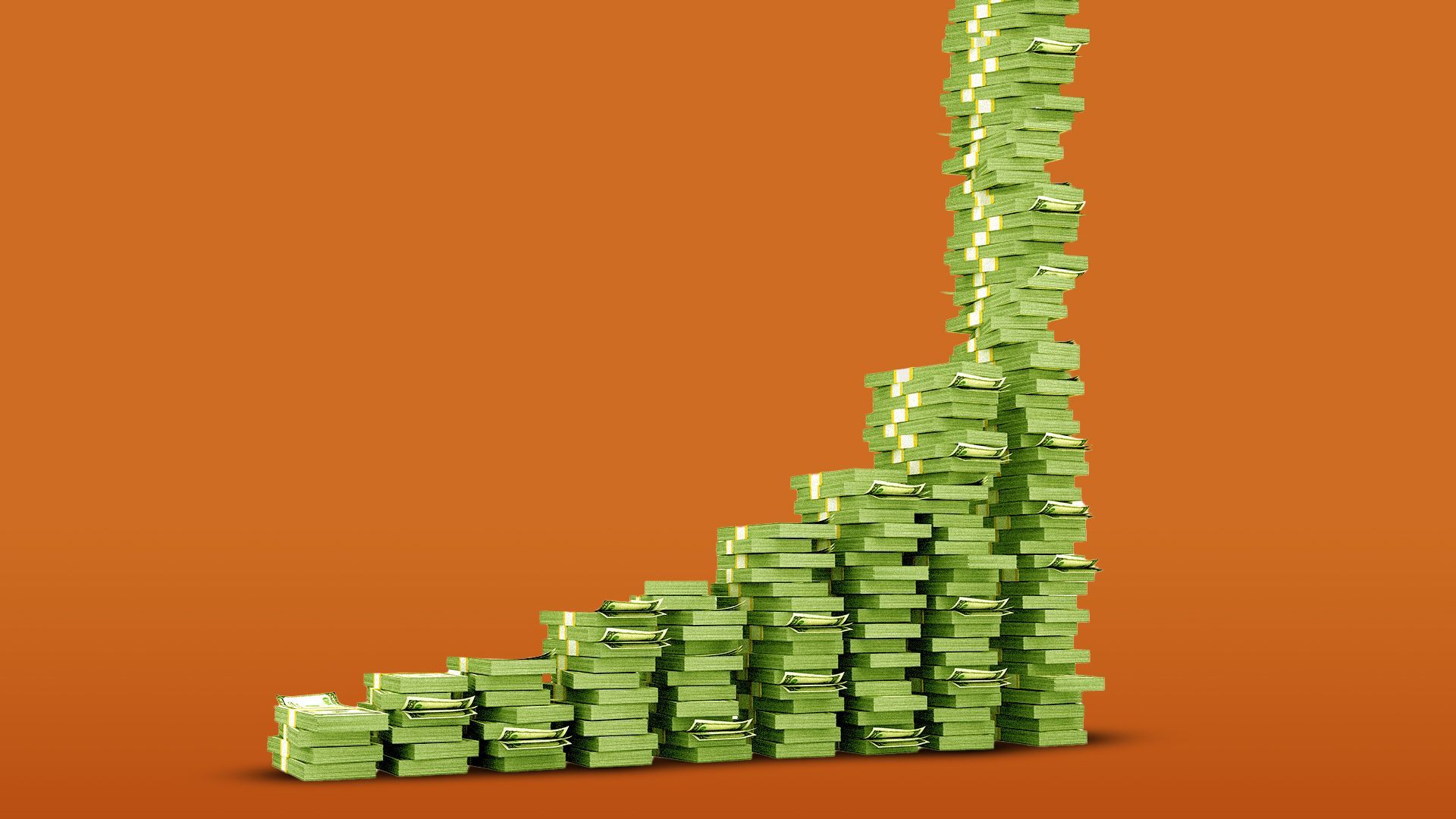 Once dismissed as a fringe theory, the idea that corporate thirst for profits drives up inflation, aka "greedflation," is now being taken more seriously by economists, policymakers and the business press.
Why it matters: Though inflation is starting to come down, it still remains well above the Fed's target level of 2%, and understanding what's causing inflation is key to combatting it — now and the next time.
The idea that profits drove our current bout of inflation surfaced in the last few years among progressive economists and lawmakers but was waved away by more mainstream types as a "conspiracy theory." That changed earlier this year.
In a speech in January, then-Fed vice chair Lael Brainard said wages weren't the main driver of inflation and pointed to a "price-price spiral," where companies mark up prices far higher than the increases in their input costs.
In March, the chief economist at UBS Global Wealth Management, Paul Donovan, published a note on "profit margin-led inflation," describing how in late 2022 and into this year, companies — particularly retailers and consumer goods makers — convinced consumers that they needed to raise prices. (They didn't really.)
Most of the time, these companies have "weak pricing power," meaning they depend on repeat customers and can't just wildly increase prices because consumers will abandon them, he says.
But businesses both large and small had a convincing story to tell: They really didn't want to raise prices, but there was "this terrible war or the pandemic or labor shortages or whatever," Donovan tells Axios. "That's what's basically been going on."
With so much in flux, people were more accepting of higher costs for everything, and more convinced companies HAD to raise prices.
In earnings conference calls last year especially, executives spoke in corporate lingo about consumers accepting such price increases.
Key point: Most folks aren't sticking with the "greedflation" label — that got a lot of blowback from those who argued that companies have long been "greedy."
That's not what's at play — Donovan's work describes companies taking advantage of a window of opportunity to raise prices more than normal. Like kids in a candy shop.
A few weeks after Donovan's paper came out, European Central Bank executive board member Fabio Panetta expressed worries that inflation growth was "due to increasing profits."
The following month, a column in Bloomberg Opinion drew attention to increasing profit margins and urged consumers to push back. "The idea that corporate profit expansion has been a big driver of inflation was once mostly confined to trade unions and left-wing academics, but it's now taken seriously by central bankers," the authors wrote.
By May, the Wall Street Journal published a story on how corporate profits were keeping inflation high, citing the work of Isabella Weber, an economist at the University of Massachusetts, Amherst, who was derided for her work on the topic back in late 2021.
In a stunning comeback this month, The Times of London profiled Weber's rise from a lone voice to star economist who's drawn attention to the notion that companies and certain sectors can drive inflation — she calls it "sellers' inflation," not greedflation.
What she's saying: "Suddenly everybody wants to know how to think about inflation differently," Weber tells Axios. She's been inundated with calls recently, she says, from central bankers, Parliamentarians, think tanks and academics — and reporters, of course.
Zoom out: When inflation kicked up in 2021, economists were on watch for the kind of wage-price spiral the U.S. saw back in the 1970s.
That is, as prices for goods increased, workers would demand and receive higher pay, which would in turn drive prices even higher.
But the spiral never quite materialized, leading many to search for other answers. Data and research from Weber and other places helped bolster the case for inflation's connection to corporate profits.
Even Fed chair Jerome Powell said earlier this month that wages are not the principal driver of inflation — an apparent pivot from his views in late 2021.
Yes, but: When asked if he thought corporate profits were a cause, Powell said no. Plenty of other economists are still on that side of the fence, too.
The bottom line: Though there's nothing like consensus on the topic, "the discussion has widened," Claudia Sahm, a former Fed economist, tells Axios.
Go deeper