The fraught fight to stop the trans health care bans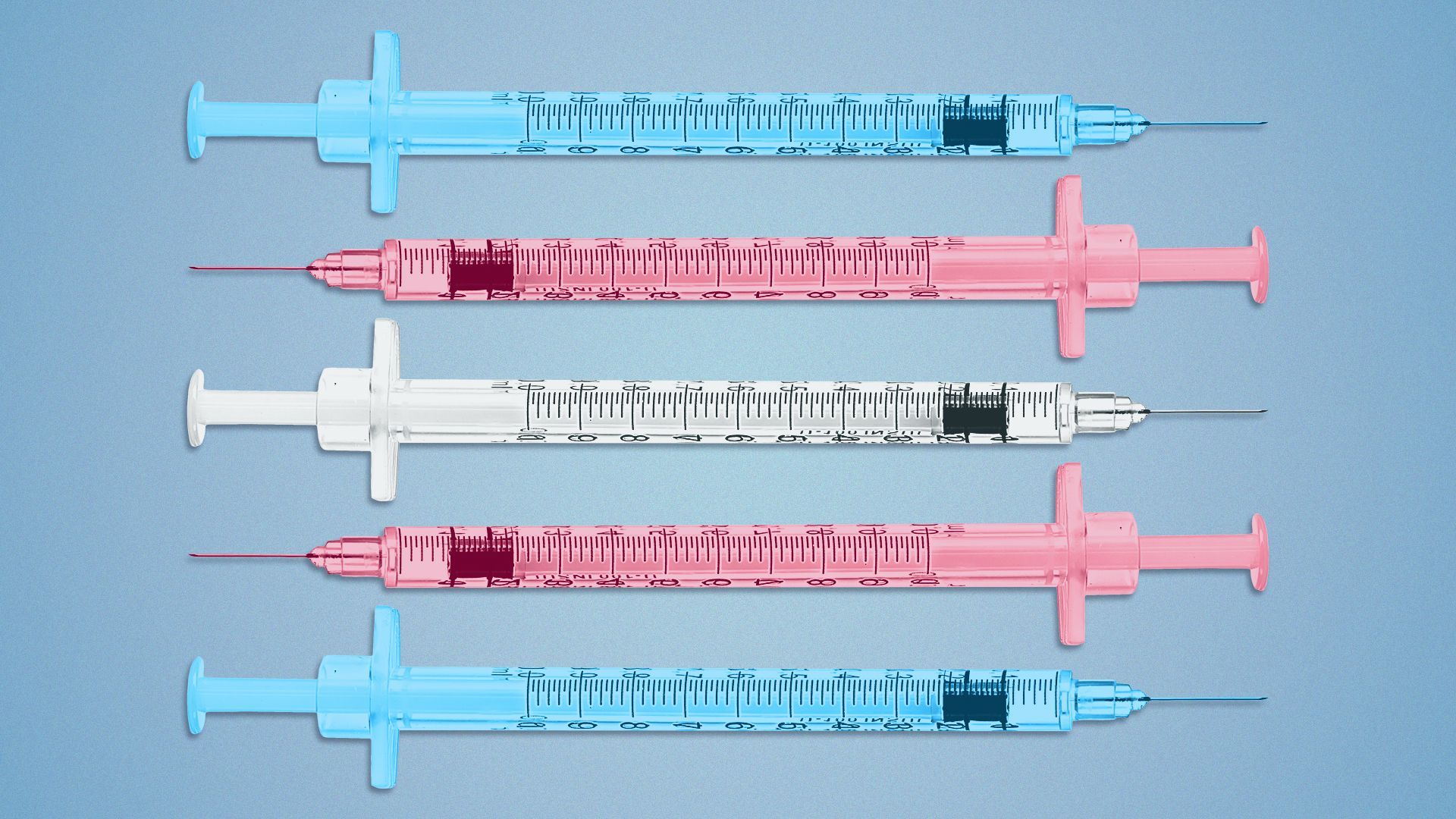 Across the country, Democratic lawmakers in GOP states have struggled to stop an onslaught of bills restricting gender-affirming health care for transgender minors.
Driving the news: A Texas bill to ban hormone therapy, puberty blockers and surgeries for minors could reach the governor's desk this week.
The big picture: More than a dozen states have passed similar bans. Advocates and experts say it's in part due to the misinformation that has proliferated about a subject most Americans don't understand, affecting a very small population.
An estimated 0.6% of Americans ages 13 and older identify as transgender, and nearly 1 in 5 are ages 13-17, per the Williams Institute.
Plus, the number of trans minors who feel safe to speak publicly, let alone testify in a legislative hearing, is even smaller.
Why it matters: Major medical organizations consider such care necessary and potentially lifesaving.
Between the lines: Democrats simply don't have the votes to stop many of these bills. But they've also been ineffective at slowing them down.
Experts acknowledge that there has been a learning curve for both political parties in understanding the subject. Conspiracy theories spreading on the right have made fighting the bills even more difficult.
What they're saying; "As a physician, it's been frustrating to see policymakers act in ways that I truly believe it takes clinicians decades of education and experience and nuanced understanding," said Utah Democratic state Sen. Jen Plumb, a physician and parent of a transgender daughter who tried to fight the state's ban.
"As a mom, it's been heartbreaking."
Georgia Democratic state Sen. Sally Harrell told Axios there's a "lack of knowledge" on both sides of the aisle. (Also the parent of a transgender child, she advocated against Georgia's recent ban.)
Meanwhile, proponents of these bills have been organizing for years. "There's an enthusiasm gap between those going after trans rights and those defending them," said the ACLU's Gillian Branstetter.
"Right now, anti-trans politicians are benefitting from playing a long game," she told Axios. "And we're similarly going to need to create a long game."
State of play: The long game has had an effect. Recent Texas polling reveals that anti-transgender legislation is clear politics for Republicans — and complicated for Democrats.
By the numbers: Republican voters in Texas nearly unanimously think gender is defined by the sex listed on a person's birth certificate, according to a recent poll by the University of Texas-Austin.
Meanwhile, Texas Democrats are split, with 33% agreeing and 49% disagreeing; 17% were unsure.
National polling shows 57% of Americans think gender is based on sex assigned at birth.
"Opinion representing misconceptions"
"Fear of the unknown" is driving the bills, Elizabeth Wagner, a Georgia parent of a trans child, told Axios.
"It is the rhetoric that is sweeping our nation: There's something wrong with these kids. It's not that they're trans. They're just mentally ill. So we need to fix them."
"But the fact of the matter is, that depression, that anxiety comes because of their gender identity struggle — when it's not affirmed," she said.
Be smart: The very introduction of these bills has already taken a toll on the mental health of trans Americans.
Zoom in: Conservative legislators and anti-trans activists have focused on transition-related surgeries, which Republicans have inaccurately decried as "genital mutilation" and cited as a rationale for bills that also target hormone therapy and puberty blockers.
That's even though comparable surgeries like breast augmentations and reductions, for example, are not being regulated in the same way for the rest of the population — minors or adults.
Reality check: Surgery is almost never recommended for trans minors.
"None of the current trusted protocols are recommending that minors outright get surgery," says Jason Rafferty, a pediatrician and clinical psychiatrist who chairs the section on LGBTQ health and wellness for the American Academy of Pediatrics.
"Some will suggest it for a mature 16- or 17-year-old … but surgery really is something that's largely reserved for adult populations."
Of note: The use of puberty blockers on trans minors in the U.S. first happened in 2007 in Boston, Rafferty said. But the science has been around far longer: They have been used by European trans minors since the early 1990s and were prescribed for decades for precocious puberty.
In fact, the process of gender-affirming care is "very nuanced," Rafferty said, and takes a lot of time and consultation between doctors and families.
Most of the work, he said, is in creating space for children to "openly communicate and talk about some of the struggles and some of the questions that they may have."
"Hormones are a small piece of the pie of what we do in terms of young people. And surgery… is almost insignificant."
For any transgender minor to testify and set the record straight, there are "significant hurdles," said Georgia Democratic state Sen. Kim Jackson.
"But safety is certainly high on the list."
Just one Georgia trans youth testified publicly against the ban.
Threat level: Cathryn Oakley, the Human Rights Campaign's state legislative director pointed to Texas Gov. Greg Abbott ordering officials to launch child abuse investigations into minors receiving gender-affirming care.
"Chilling effect just doesn't seem like a strong enough characterization" of how that has impacted people's willingness to speak out, she said.
"The intentional and concerted effort to give misinformation and disinformation about what transition is has seeped into folks' consciousness whether they know it or not," she added.
"We have to do a better job of educating folks so they know what it means to be a trans kid who is going through transition," she said.
The big picture: Undergirding all of this has been a dearth of reliable epidemiology research on the transgender community broadly, which could help counter the misinformation, said Rafferty. He highlighted that there's not a large-scale, reliable study of how many trans Americans there are.
There's a need for more data on how puberty blockers affect bone health, and research on those who might change their mind about hormonal treatment — a group Republicans often cite as a rationale for these bills.
"In some of these areas … the lack of research has really allowed opinion, and often opinion representing misinformation or misconceptions about what is actually happening, to come into the dialogue," he said.
That's had negative effects on legislation and on trust in providers, he said.
But, but, but: Private conversations between families and lawmakers have had an effect on Republicans, insists Georgia Democratic lawmaker Sally Harrell. "There were cracks" in Republicans' resolve as a result, she said.
It gives her hope for a more effective fight in the future.
"I think that there are some policymakers who have learned some things through this process," she said.
"And it is my hope that they will go home and think about it and maybe next year we can go back and fix some of the unintended consequences that are going to hurt very real people in families."
Editor's note: This article has been corrected to note that puberty blockers were first used in Europe in the 1990s, not in 2007 in the U.S.
Go deeper