Telly's free TV is latest take on ad-supported hardware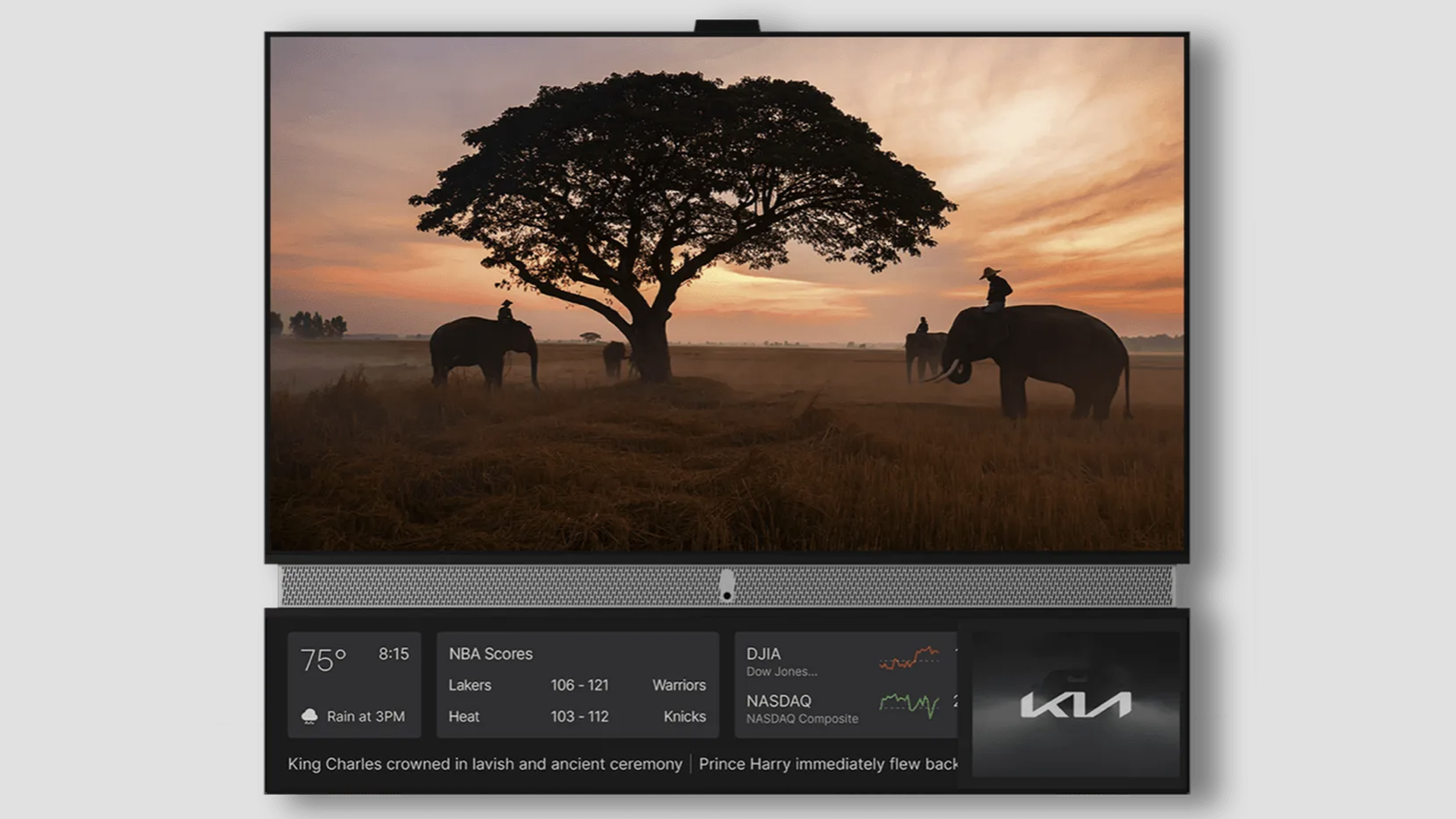 Ads have supported free TV content for a long time, but one startup is betting they can even subsidize the cost of the television itself.
How it works: Telly, which was started by Pluto TV co-founder Ilya Pozin, is giving away half a million 55-inch 4K televisions — with the condition that recipients also install a separate second display underneath that is constantly displaying ads and other information.
Telly also comes with a soundbar, voice assistant and integrated camera, with the company promising music, video chat, games and fitness services in addition to TV. TV content can come via any traditional cable or satellite TV provider or through a streaming device, such as Fire TV Stick or Roku.
The required second display sits below the main screen and sound bar and can display stock quotes and sports scores in addition to the mandatory ads. The company uses an obligatory survey done at signup to deliver the targeted advertising — so you are giving at least some data in addition to your attention.
The company promises to begin shipping the units this summer.
Telly recently closed a seed round that was led by consumer VC fund Protagonist and LightShed Ventures, the investment arm of media research and analyst firm LightShed Partners. Additional institutional investors include LionTree and Gary Vaynerchuck's VaynerFund. The company did not say how much it raised.
The big picture: The notion of using ads to subsidize tech gear is not a new one. The approach has been tried with cell phones, web-surfing devices and even computers, though more often than not the gadgets have been discounted rather than provided wholly for free.
Amazon, for example, offered cheaper versions of its Kindle e-reader to those who agreed to view ads on their lock screen.
Between the lines: There's a lot of fine print, and the company also warns its terms of service could change at any time. If you ever decide the deal isn't for you, you have to return the hardware.
Our thought bubble: There's a weak link in the ad-subsidy model, since the customers most attracted to it typically have lower disposable incomes — and therefore are less attractive to advertisers.
Bottom line: The key here is, what is your time and attention worth?
Go deeper