Race for RSV shots heats up with maternal vaccine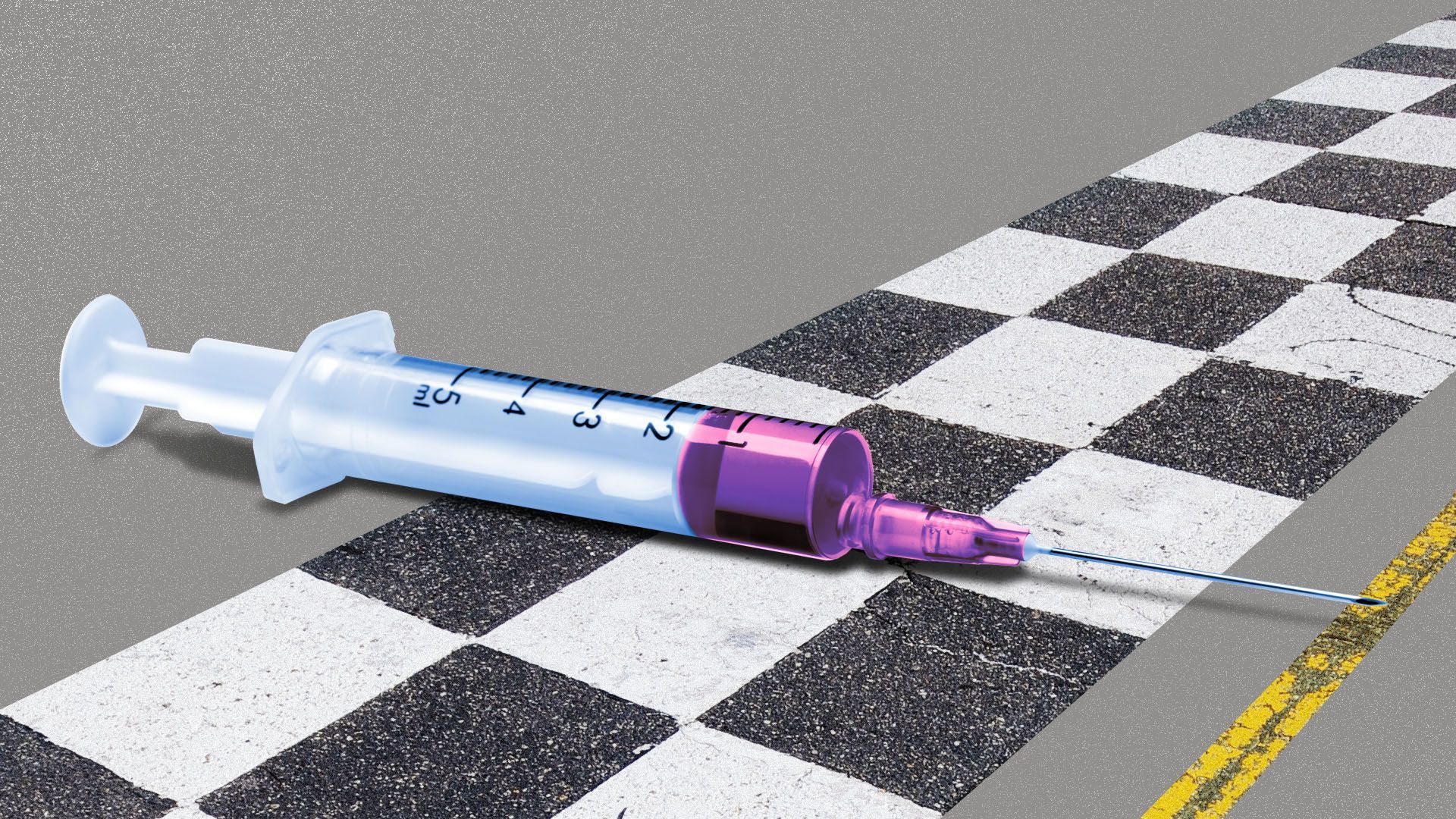 After decades of research and multiple failed attempts, Americans could find themselves with several respiratory syncytial virus vaccines to choose from by next winter.
Driving the news: FDA advisers tomorrow will weigh whether it's safe to protect infants against the respiratory virus by giving pregnant people an experimental Pfizer shot.
The deliberations come two weeks after the FDA approved a GlaxoSmithKline vaccine against RSV in older adults, making it the first authorized RSV shot in the U.S.
Catch up quick: RSV was part of last winter's "tripledemic" and was blamed for filling some children's hospitals to capacity.
The virus has symptoms similar to the common cold but can be life-threatening for infants, young children and the elderly. 3.6% of deaths among infants aged between 28 days and six months are attributed to RSV, according to a 2022 study.
The Centers for Disease Control and Prevention estimates that each year RSV leads to up to 80,000 hospitalizations and as many as 300 deaths in children aged five and younger.
Older adults are another high-risk group, with the disease causing up to 10,000 deaths and as many as 160,000 hospitalizations for people 65 and up per year, per CDC data.
Zoom in: The FDA approved GlaxoSmithKline's RSV vaccine for people aged 60 and older, and the agency is expected to issue a decision on Pfizer's vaccine for that same age group at the end of this month.
Moderna is in the process of developing an mRNA vaccine for adults 60 and older, which was found to be 83.7% effective in preventing RSV with one or two more symptoms. The company plans to apply for FDA approval this quarter.
The appeal of a maternal vaccine like the one being debated tomorrow is the way it would create neutralizing antibodies in pregnant women that can be transferred to infants in the womb.
But there are health risks, including preterm births. And safety concerns led GlaxoSmithKline to halt a trial of its RSV shot last year.
Details: Pfizer's RSV vaccine was found to be 85.7% effective at preventing severe infection in older adults. For infants, the shot had an 81.7% efficacy at protecting newborns in the first three months of life against severe illness and a 69.4% efficacy through the first six months.
FDA staff seemed supportive of Pfizer's vaccine in briefing documents, saying that the safety data was "generally favorable."
Following the FDA advisory meeting, the agency itself is expected to issue a final decision in August on what could become the first RSV maternal vaccine on the market.
Don't forget: The CDC's immunization advisory committee is likely to discuss FDA-approved RSV vaccines during its June meeting. If the agency gives the go-ahead, shots could be available to the public in the fall, when respiratory viruses typically begin surging.
The intrigue: Pfizer has started evaluating how its shot performs in other age groups, Iona Munjal, director of clinical research and development at Pfizer, told Axios.
Pfizer last week began studying how their RSV candidate impacts high -risk adults between the ages of 18 and 60. Later this summer, the company plans to start a phase 1 RSV study for people aged 2 through 18 years old.
Between the lines: Health experts are calling for tougher scrutiny of Pfizer's vaccine for newborns, after trials for GlaxoSmithKline halted trial for a similar shot over increased risks of preterm births and neonatal deaths.
Pfizer has not reported similar safety concerns, but some health experts told the British Medical Journal that they hope FDA staff will take the GlaxoSmithKline results into consideration when reviewing the vaccine.
FDA reviewers said that while there were more preterm births in the vaccine group (5.7%) than in the placebo group (4.7%), it was not "statistically significant" because it was lower than the incidence for the general population (10%).
The fetal deaths present in the vaccine group (0.3%) were not related to Pfizer's vaccine, FDA staff concluded. Similarly, 4 out of 5 infant deaths were considered unrelated to the shot, with one being possibly connected to the shot, although that remains unclear.
What we're watching: Sanofi and AstraZeneca are working on an RSV antibody for infants under 12 months of age and the FDA has scheduled an advisory committee meeting for June 8, said Jon Heinrichs, global head of innovation and emerging sciences for Sanofi.
"The advantage of having an antibody approach is that you can deliver that to an infant in a very flexible way," Heinrichs told Axios. It can be delivered to an infant before the RSV season starts and offer protection for the length of the season, he said.
The antibody was found to be 83.2% effective in reducing RSV-related hospitalizations in a real-world trial.
Go deeper