North Carolina's 12-week abortion ban becomes law despite governor's veto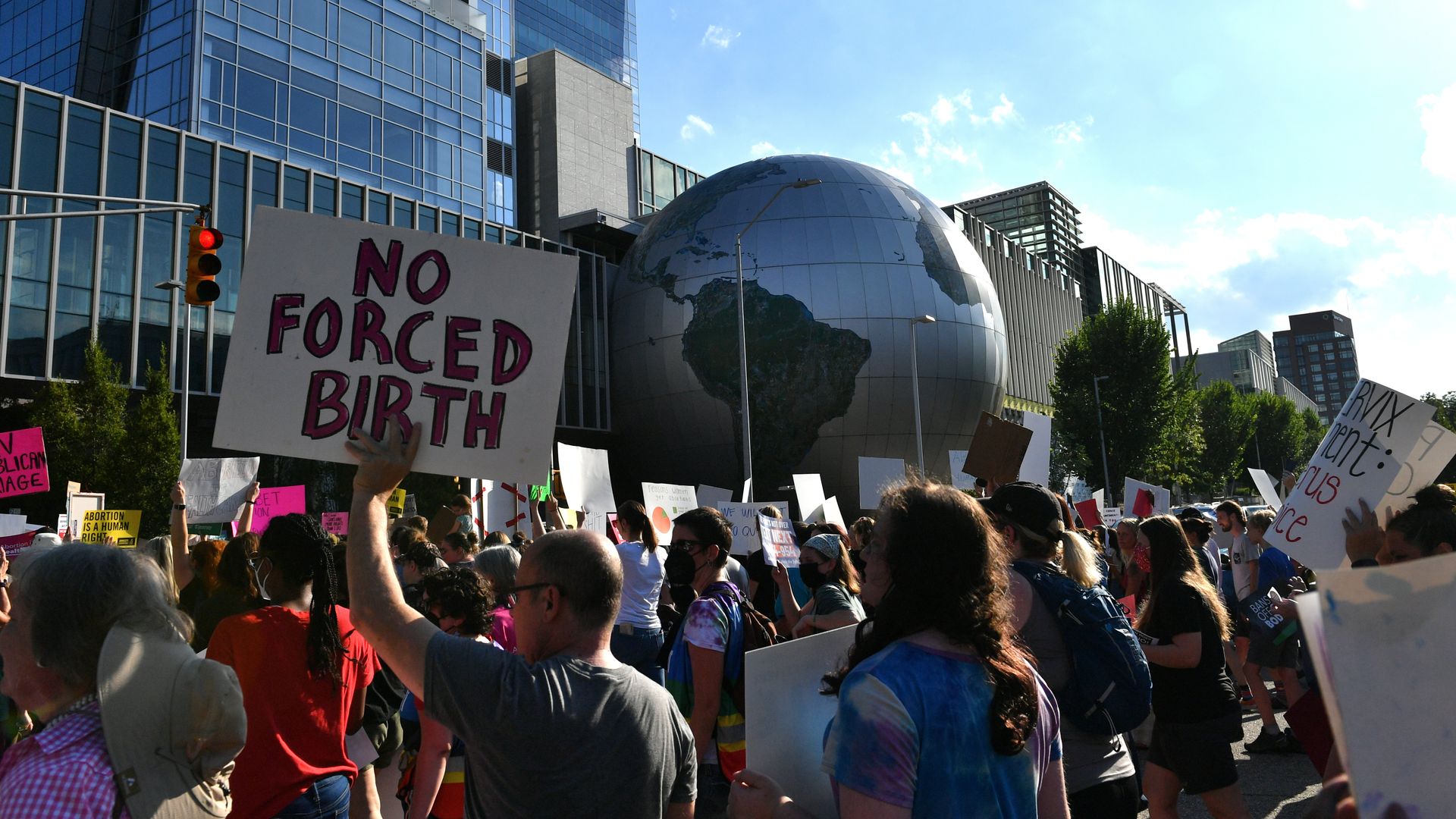 Most abortions will no longer be legal in North Carolina after 12 weeks of pregnancy.
Driving the news: The state's GOP-controlled legislature Tuesday night carried out a razor-thin override of Democratic Gov. Roy Cooper's veto of a 46-page bill that tightens restrictions on abortion care here.
The law, which lowers the state's cutoff for most abortions from 20 weeks to 12 weeks and requires patients to meet in-person with a physician at least 72 hours before the procedure, goes into effect July 1.
Why it matters: The historic override votes alter women's health care in a state that has been a refuge for people seeking abortion care in the South.
Defending the bill Tuesday, Republicans in the Senate and House argued it is a compromise and not a "ban," one they say will reduce the number of terminated pregnancies and make the procedures safer.
They needed every vote to reach the three-fifths majority required for the override: It passed 30-20 in the Senate and 72-48 in the House.
Rep. Tricia Cotham, who last month changed her party affiliation, giving Republicans a supermajority, voted in favor of overriding the veto.
The other side: House Democrats slammed the bill for going against both the will of constituents and the guidance of medical professionals. They also slammed Republicans for rushing it through the legislature.
"Members know this devastating ban on abortion is deeply unpopular," Rep. Julie von Haefen (D-Wake) said.
Details: The 12-week ban includes exceptions for rape and incest (20 weeks) and life-limiting fetal anomalies (24 weeks). Also, abortions will be legal when a doctor declares a medical emergency, such as when the mother's life is in danger.
It also says that in medical abortions — or procedures that involve an "abortion-inducing drug" like mifepristone — physicians "shall" first verify that the fetus' gestational age is less than 70 days, or 10 weeks.
Zoom out: North Carolina's new law is still among the least restrictive measures in the South, where neighboring states such as Tennessee made abortion after six weeks a felony, just months after the U.S. Supreme Court overturned Roe v. Wade in 2022.
In South Carolina, lawmakers are currently in a special session debating a six-week abortion ban, even though the state's supreme court struck down a previous six-week ban arguing that it violated the South Carolina Constitution.
Catch up quick: State Republicans spent the first four months of this legislative session struggling to form a consensus over how far to go with restrictions. Then in early May, they introduced a 12-week ban and passed it within 48 hours.
Abortion-rights advocates and Democrats, led by Cooper, spent two weeks raising alarm over the required 72-hour window for patients to see a doctor before their abortion procedure. They say it will limit access for North Carolinians living in poverty and people traveling here from out of state.
Cooper also contends that the 10-week requirement for medical abortions ultimately makes the measure a ban.
Cooper vetoed the bill at a rally Saturday, setting up the override vote.
Republicans point to other provisions tucked into the 46-page bill, including millions of dollars to bolster contraception access and increase funding for child care, foster care and paid parental leave.
"Our bill puts to rest all of the noise and lies we've been hearing this past week, and brings to life a culture that cherishes motherhood and saves the lives of the unborn," four Republican women state senators — Joyce Krawiec, Lisa Barnes, Amy Galey, and Vickie Sawyer — said in a joint release.
By the numbers: Most recent CDC data shows that of all the abortion procedures in 2020, about 10% would now be illegal under the new law.
About 34% of all abortions performed in the state that year were surgical procedures before 13 weeks of gestation. Another 57% were medical abortions at or before nine weeks.
The big picture: The override is a victory for conservatives, Catholic bishops, and demonstrators who have set up outside of North Carolina's clinics in the past decade.
One large anti-abortion group purchased land adjacent to a busy Charlotte abortion clinic in 2018, and has staged weekly rallies on the property in which they use bullhorns and speakers to shout at patients with claims like, "Murderers will not enter the kingdom of God."
One of the leading voices of the Charlotte protests, evangelical minister Flip Benham, counts among his many claims to fame that he baptized Norma McCorvey the plaintiff Roe v. Wade case, and helped her become an anti-abortion activist.
Benham told me in 2018 that his organizations planned to stage the rallies by going "clinic to clinic, state to state," until abortions were halted around the country.
The owner of that Charlotte clinic, Calla Hales, told Axios' Danielle Chemtob last year: "I spent the past five years surrounded by people who told me I was overreacting for being upset about these things. And here we are, and they're just now seeing it. When it's almost, if not already, too late."
Editor's note: This story has been updated with additional details.
Go deeper