Democrats target vulnerable House Republicans over veterans benefits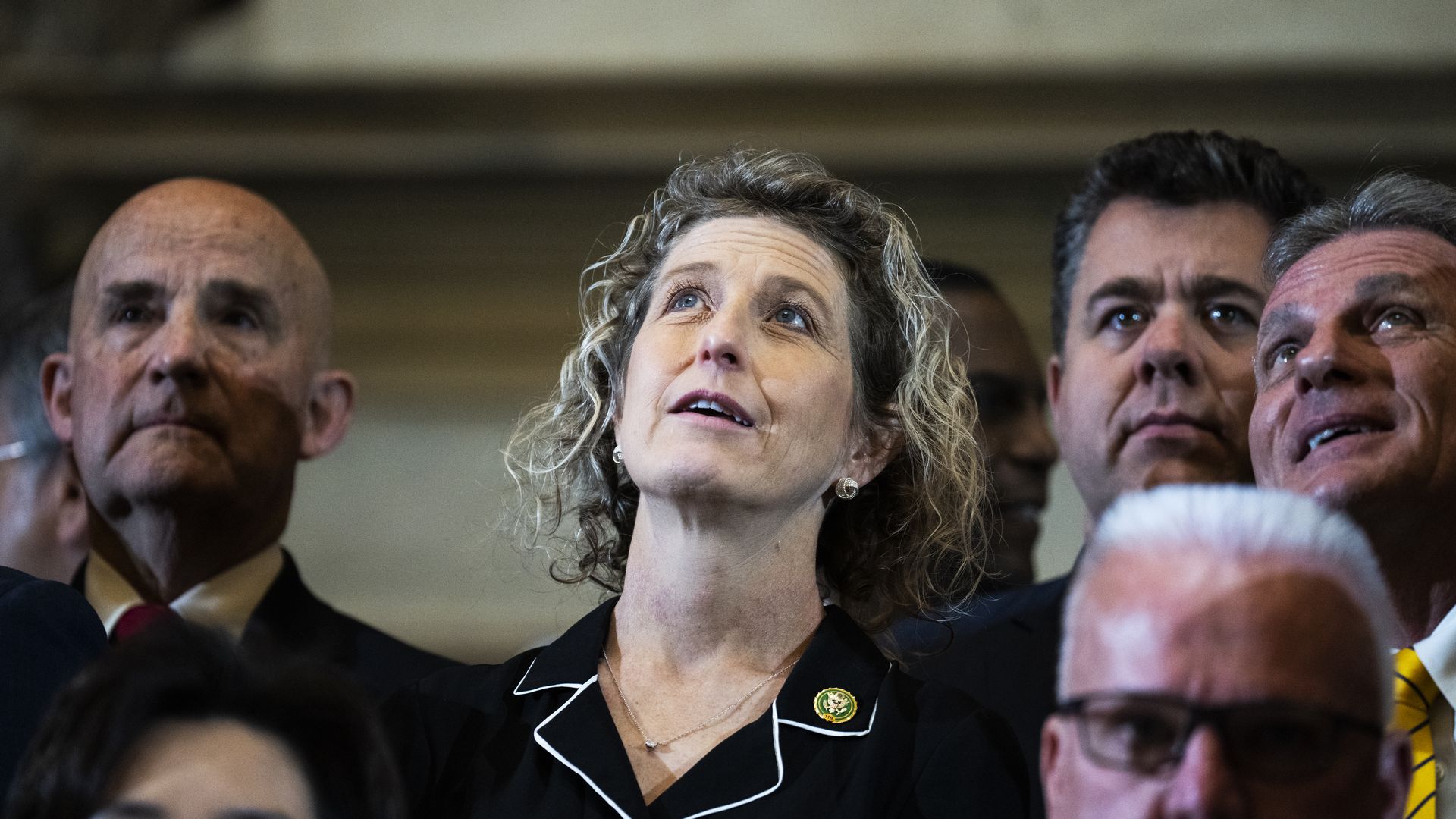 Four House Republicans are the targets of a growing pressure campaign using the GOP debt ceiling bill to try to tank vulnerable moderates.
Why it matters: House Speaker Kevin McCarthy's fight extends far beyond Washington, with a coalition of outside groups ratcheting up the heat by highlighting the bill's potential cuts to veterans benefits.
Courage For America (CFA), a Democratic group focused the House of Representatives, is going after Republicans in Virginia, New York, and California.
They released a new TV ad on Tuesday in Rep. Jen Kiggans' (R-VA.) district featuring one of her constituents who is a retired Coast Guard veteran.
By voting for Speaker Kevin McCarthy's debt bill, Rep. Kiggans is "jeopardizing veteran's health care," the woman in the ad says.
CFA and others will also host events later this week with veterans and constituents of Republican Rep. John Duarte of California, and Reps. Mark Molinaro and Brandon Williams of New York in their districts.
The big picture: More than half a dozen outside groups are targeting 20+ House Republicans on the issue, Axios has learned, with 7-figure campaigns and hundreds of thousands of organizers.
Dems need to net five U.S. House seats to take back control in 2024.
The debt ceiling showdown gives their party a clear opening to hit the GOP on issues that typically help them appeal to voters: Veterans, policing, and border security.
Zoom in: MoveOn, one of the other organizations involved, is targeting fiscal conservatives in its digital ad campaigns highlighting the potential for veterans cuts, Executive Director Rahna Epting told Axios.
They're focused on 18 House Republicans who represent districts that Biden won in 2020 and have been branding them as "the complicit caucus" — meaning, complicit with the MAGA wing of the GOP — since January.
Epting said MoveOn has over 600,000 members across those 18 districts who are prepared to organize against Republicans and educate voters about the debt bill through the 2024 election.
Unrig Our Economy, a progressive group, hammered the same four House Republicans as CFA back in April with a 7-figure ad campaign, but over how working people would be negatively affected.
The other side: "Congresswoman Kiggans is the granddaughter of a veteran, daughter of a veteran, spouse of a veteran, mother of future veterans, and a veteran herself - it's laughable for anyone to claim she is anything but the fiercest advocate for the men and women who have served our country," said a spokesperson for Kiggans.
"The progressive-left continues to spread lies and stoke fear over debt ceiling negotiations. Rep. Williams has always fought to protect benefits for veterans, he is one," said Taylor Weyeneth, a spokesperson for Williams.
Go deeper